| | | |
| --- | --- | --- |
| COMMUNICATION | | |
Star-Shaped Electron Acceptor based on Naphthalenediimide-Porphyrin for Non-Fullerene Organic Solar Cells
Shichao ZHOU1,2,Guitao FENG2,Dongdong XIA2,Cheng LI2,*(

),Yonggang WU1,*(

),Weiwei LI2,*(

)
1 College of Chemistry and Environmental Science, Hebei University, Baoding 071002, Hebei Province, P. R. China
2 CAS Key Laboratory of Organic Solids, Institute of Chemistry, Chinese Academy of Sciences, Beijing 100190, P. R. China
Abstract
Non-fullerene organic solar cells are of broad and current interest in the field of organic solar cells, and show promising application in high performance solar cells. When designing conjugated molecules as non-fullerene materials, several parameters, such as absorption, energy levels, charge transport, and crystallinity should be considered. Among them, absorption spectra are an important parameter that determine the efficiency of sun-light harvesting. In this work, we explore a new near-infrared electron acceptor naphthalenediimide-porphyrin (NDI-Por) by using electron-donating porphyrin as the core, and four NDI as end groups with ethynyl as linkers attached to the meso-position of porphyrin. This star-shaped molecule exhibits absorption spectra up to 900 nm. NDI-Por was incorporated into non-fullerene solar cells as an electron acceptor, and together with a wide-band gap polymer donor, an initial power conversion efficiency of 1.80% could be achieved. In particular, the solar cells exhibit a broad photo-response from 300 to 900 nm. Our results demonstrate that it is an efficient strategy to incorporate porphyrin into conjugated molecules to realize non-fullerene materials with near-infrared absorption spectra.
Received: 11 August 2017 Published: 11 September 2017
Fund: the National Natural Science Foundation of China(51773207);the National Natural Science Foundation of China(21574138);the National Natural Science Foundation of China(51603209);the National Natural Science Foundation of China(91633301);the National Natural Science Foundation of China(21474026);the Strategic Priority Research Program(XDB12030200)
Corresponding Authors: Cheng LI,Yonggang WU,Weiwei LI E-mail: licheng1987@iccas.ac.cn;wuyonggang@hbu.edu.cn;liweiwei@iccas.ac.cn
Fig 1 The chemical structures (a) naphthalenebisimide – porphyrin based star-shaped electron acceptor NDI-Por and (b) the donor polymer PBDB-T.

Fig 2 (a) Absorption spectra of NDI-Por in CHCl3 solution and in a thin film, PBDB-T in a thin film, (b) cyclic voltammogram of the NDI-Por thin film.

Fig 3 (a) J–V characteristics in the dark (dashed line) and under illumination with white light (solid line), (b) EQE of the optimized PBDB-T:NDI-Por solar cells.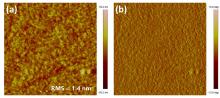 Fig 4 AFM height image (a) and phase image (b) of PBDB-T:NDI-Por blend film.
| | |
| --- | --- |
| 1a | Li Y. Acc. Chem. Res. 2012, 45, 723. |
| 1b | Zhao Y. F. ; Zou W. J. ; Li H. ; Lu K. ; Yan W. ; Wei Z. X. Chin. J. Polym. Sci. 2017, 35, 261. |
| 1c | Krebs F. C. ; Espinosa N. ; H?sel M. ; S?ndergaard R. R. ; J?rgensen M. Adv. Mater. 2014, 26, 29. |
| 2 | Lu L. ; Zheng T. ; Wu Q. ; Schneider A. M. ; Zhao D. ; Yu L. Chem. Rev. 2015, 115, 12666. |
| 3a | Yu G. ; Gao J. ; Hummelen J. C. ; Wudl F. ; Heeger A. J. Science 1995, 270, 1789. |
| 3b | Wienk M. M. ; Kroon J. M. ; Verhees W. J. H. ; Knol J. ; Hummelen J. C. ; van Hal P. A. ; Janssen R. A. J. Angew. Chem. Int. Ed. 2003, 42, 3371. |
| 4a | Lin Y. ; Wang J. ; Zhang Z. G. ; Bai H. ; Li Y. ; Zhu D. ; Zhan X. Adv. Mater. 2015, 27, 1170. |
| 4b | Jiang W. ; Ye L. ; Li X. ; Xiao C. ; Tan F. ; Zhao W. ; Hou J. ; Wang Z. Chem. Commun. 2014, 50, 1024. |
| 4c | Nielsen C. B. ; Holliday S. ; Chen H. Y. ; Cryer S. J. ; McCulloch I. Acc. Chem. Res. 2015, 48, 2803. |
| 4d | Zhang S. Q. ; Hou J. H. Acta Phys. -Chim. Sin. 2017, 33, 2327. |
| 4d | 张少青; 侯剑辉. 物理化学学报, 2017, 33, 2327. |
| 4e | Yang F. ; Li C. ; Feng G. ; Jiang X. ; Zhang A. ; Li W. Chin. J. Polym. Sci. 2017, 35, 239. |
| 4f | Zhao R. Y. ; Dou C. D. ; Liu J. ; Wang L. X. Chin. J. Polym. Sci. 2017, 35, 198. |
| 4g | Shao R. ; Yang X. B. ; Yin S. W. ; Wang W. L. Acta Chim. Sin. 2016, 74, 676. |
| 4g | 邵绒; 杨鑫博; 尹世伟; 王文亮. 化学学报, 2016, 74, 676. |
| 4h | Liu Y. ; Zhang Z. ; Feng S. ; Li M. ; Wu L. ; Hou R. ; Xu X. ; Chen X. ; Bo Z. J. Am. Chem. Soc. 2017, 139, 3356. |
| 5 | Zhao W. ; Li S. ; Yao H. ; Zhang S. ; Zhang Y. ; Yang B. ; Hou J. J. Am. Chem. Soc. 2017, 139, 7148. |
| 6a | Liu J. ; Chen S. ; Qian D. ; Gautam B. ; Yang G. ; Zhao J. ; Bergqvist J. ; Zhang F. ; Ma W. ; Ade H. ; Ingan s O. ; Gundogdu K. ; Gao F. ; Yan H. Nat. Energy 2016, 1, 16089. |
| 6b | Meng D. ; Sun D. ; Zhong C. ; Liu T. ; Fan B. ; Huo L. ; Li Y. ; Jiang W. ; Choi H. ; Kim T. ; Kim J. Y. ; Sun Y. ; Wang Z. ; Heeger A. J. J. Am. Chem. Soc. 2016, 138, 375. |
| 6c | Jiang X. ; Xu Y. ; Wang X. ; Yang F. ; Zhang A. ; Li C. ; Ma W. ; Li W. Polym. Chem. 2017, 8, 3300. |
| 7a | Lin Y. ; He Q. ; Zhao F. ; Huo L. ; Mai J. ; Lu X. ; Su C. J. ; Li T. ; Wang J. ; Zhu J. ; Sun Y. ; Wang C. ; Zhan X. J. Am. Chem. Soc. 2016, 138, 2973. |
| 7b | Cheng P. ; Zhang M. ; Lau T. K. ; Wu Y. ; Jia B. ; Wang J. ; Yan C. ; Qin M. ; Lu X. ; Zhan X. Adv. Mater. 2017, 29, 1605216. |
| 7c | Yang F. ; Li C. ; Lai W. ; Zhang A. ; Huang H. ; Li W. Mater. Chem. Front. 2017, 1, 1389. |
| 7d | Yang Y. ; Zhang Z. G. ; Bin H. ; Chen S. ; Gao L. ; Xue L. ; Yang C. ; Li Y. J. Am. Chem. Soc. 2016, 138, 15011. |
| 8 | Lin Y. ; Zhao F. ; Wu Y. ; Chen K. ; Xia Y. ; Li G. ; Prasad S. K. K. ; Zhu J. ; Huo L. ; Bin H. ; Zhang Z. G. ; Guo X. ; Zhang M. ; Sun Y. ; Gao F. ; Wei Z. ; Ma W. ; Wang C. ; Hodgkiss J. ; Bo Z. ; Ingan s O. ; Li Y. ; Zhan X. Adv. Mater. 2017, 29, 1604155. |
| 9 | Zhang A. ; Li C. ; Yang F. ; Zhang J. ; Wang Z. ; Wei Z. ; Li W. Angew. Chem. Int. Ed. 2017, 56, 2694. |
| 10a | Yen W. N. ; Lo S. S. ; Kuo M. C. ; Mai C. L. ; Lee G. H. ; Peng S. M. ; Yeh C. Y. Org. Lett. 2006, 8, 4239. |
| 10b | Guo Y. ; Zhang A. ; Li C. ; Li W. ; Zhu D Chin. Chem. Lett 2017. |
| 11 | Liu Y. ; Zhang L. ; Lee H. ; Wang H. W. ; Santala A. ; Liu F. ; Diao Y. ; Briseno A. L. ; Russell T. P. Adv. Energy Mater. 2015, 5, 1500195. |