| | | |
| --- | --- | --- |
| ARTICLE | | |
Syntheses and Luminescent Properties of Coordination Polymers Based on 1, 2, 4-Triazole-Substituted Resorcin[4]arene
Xue HAN,Jin YANG*(

),Yingying LIU,Jianfang MA*(

)
Key Laboratory of Polyoxometalate Science, College of Chemistry, Northeast Normal University, Changchun 130024, P. R. China
Abstract
Two new coordination polymers, namely, [[Zn2(TTR4A)(L)2]·DMF·4H2O]n (compound 1) and [[Co(TTR4A)Cl2]·DMA·H2O]n (compound 2), have been synthesized under solvothermal conditions (TTR4A = tetrakis(1, 2, 4-triazol-ylmethylresorcin[4]arene), L = 4, 4'-biphenyldicarboxylic acid, DMF = N, N-dimethylformamide and DMA = N, N-dimethylacetamide). Crystal structures of the coordination compounds 1 and 2 were determined by single-crystal X-ray diffraction analyses, and further characterized by infrared spectra, elemental analyses, powder X-ray diffraction, and thermogravimetric analyses. In coordination compound 1, four L ligands bridge four adjacent Zn(Ⅱ) atoms to generate macrocyclic Zn4L4 units, which are further linked by the TTR4A ligands into a one-dimensional chain structure. In coordination compound 2, four 1, 2, 4-triazole groups of each TTR4A ligand bridge four Co(Ⅱ) atoms to form a two-dimensional layer structure. Furthermore, studies on the luminescent properties of compound 1 in solid state at room temperature reveal that it exhibits an intense emission peak. Luminescent-sensing detections for Fe3+, Cr2O72−, and nitrobenzene solvents were also investigated by using compound 1 as the potential luminescent sensor.
Received: 14 August 2017 Published: 15 September 2017
Fund: the National Natural Science Foundation of China(21471029)
Corresponding Authors: Jin YANG,Jianfang MA E-mail: yangj808@nenu.edu.cn;majf247@yahoo.com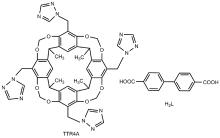 Fig 1 TTR4A and L ligands used in this work
Table 1
Crystal data and structure refinements for compounds 1 and 2.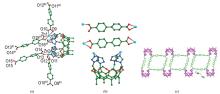 Fig 2 (a) Coordination environments of Zn(Ⅱ) ions in 1. Symmetry codes: #1 –x + 1, -y, -z + 2; #2 x -1, y, z -1; #3 x + 1, y, z + 1. (b) View of the coordination modes of the TTR4A. (c) View of the chain of the compound 1.
Fig 3 (a) Coordination environment of Co(Ⅱ) ion in compound 2. Symmetry codes: #1 –x + 1/2, -y + 1/2, z; #2 –y + 1/2, x, z; #3 y, -x + 1/2, z. (b) View of the coordination mode of the TTR4A in compound 2. (c) View of the 2D layer of compound 2.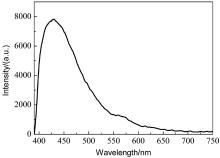 Fig 4 Solid-state emission spectrum for 1 at room temperature (λex = 350 nm).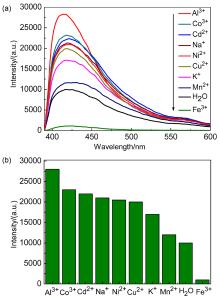 Fig 5 Emission intensities for 1 in aqueous solutions of different metal cations.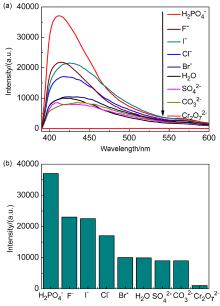 Fig 6 Emission intensities for 1 in aqueous solutions of different anions.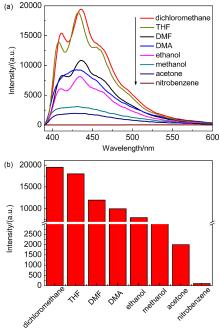 Fig 7 Fluorescence spectra and Emission intensities for compound 1 in different small molecules of solvents.
Fig 8 Fluorescence titration of compound 1 dispersed in DMF with nitrobenzene concentration varying from 100 to 2000 g·m-3.
| | |
| --- | --- |
| 1 | Baeyer A Chem. Ber. 1872, 5 (2), 1094. |
| 2 | Gutsche C. D. J.Org. Chem. 1978, 43 (25), 4905. |
| 3 | Andreetti G. D. ; Ungaro R. ; Pochini A. J.Chem. Soc., Chem. Comm. 1979, No. 22, 1005. |
| 4 | Tunstad L. M. ; Tucker J.A. ; Dalcanale E. ; Weiser J. ; Bryant J.A. ; Sgerman J. C. ; Helgeson R. C. ; Knobler C. B. ; Cram D. J. J. Org. Chem. 1989, 54 (6), 1305. |
| 5 | Zhao S. S. ; Yang J. ; Liu Y. Y. ; Ma J. F Inorg. Chem. 2016, 55 (5), 2261. |
| 6 | Zhang S. T. ; Yang J. ; Wu H. ; Liu Y.Y. ; Ma J.F. Chem. Eur. J. 2015, 21 (44), 1. |
| 7 | Sanz S. ; Ferreira K. ; Mcintosh R. D. ; Dalgarno S. J. ; Brechin E. K Chem. Commun. 2011, 47 (32), 9042. |
| 8 | Dong Y. B. ; Shi H. Y. ; Yang J. ; Liu Y. Y. ; Ma J. F Cryst. Growth Des. 2015, 15 (3), 1546. |
| 9 | Cook T. R. ; Zheng Y. R. ; Stang P. J Chem. Rev. 2013, 113 (1), 734. |
| 10 | Pei W. Y. ; Xu G. ; Yang J. ; Wu H. ; Chen B. ; Zhou W. ; Ma J. F. J. Am. Chem. Soc. 2017, 139 (22), 7648. |
| 11 | Lv L. L. ; Yang J. ; Zhang H. M. ; Liu Y. Y. ; Ma J. F Inorg. Chem. 2015, 54 (4), 1744. |
| 12 | Kovačević N. ; Kokalj A. J.Phys. Chem. C 2011, 115 (49), 24189. |
| 13 | Liu B. ; Yang J. ; Yang G. C. ; Ma J. F Inorg. Chem. 2013, 52 (1), 84. |
| 14 | Clainche L. L. ; Giorgi M. ; Reinaud O. Eur. J. Inorg. Chem. 2000, 2000 (9), 1931. |
| 15 | Memon S. ; Bhatti A. A. ; Bhatti A. A. ; Ocak ü. ; Ocak M. J Iran. Chem. Soc. 2015, 12 (10), 1739. |
| 16 | Hu Z. ; Lustig W. P. ; Zhang J. ; Zhang H. ; Wang H ; Teat S.J. ; Gong Q. ; Rudd N. D. ; Li J. J. Am. Chem. Soc. 2015, 137 (51), 16209. |
| 17 | Zhou J. ; Li H. ; Zhang H. ; Li H. ; Shi W. ; Cheng P Adv. Mater. 2015, 27 (44), 7072. |
| 18 | Gao R. C. ; Guo F. S. ; Bai N. N. ; Long Y. L. ; Yang F. ; Liang J. Y. ; Li Z. J. ; Wang Y. Y. Inorg. Chem. 2016, 55 (21), 11323. |
| 19 | Chen F. ; Wang Z. Y. ; Zhang Y. Y. ; Yu. K. H. ; Weng L. X. ; Wei W Acta phys. -Chem. Sin. 2017, 33 (7), 1446. |
| 19 | 陈凡; 王中跃; 张艳艳; 余柯涵; 翁丽星; 韦玮. 物理化学学报, 2017, 33 (7), 1446. |
| 20 | Wang H. ; Wang X. M Acta Phys. -Chim. Sin. 2016, 32 (5), 1267. |
| 20 | 王菡; 王晓敏. 物理化学学报, 2016, 32 (5), 1267. |
| 21 | Wen G. X. ; Wu Y. P. ; Dong W. W. ; Zhao J. ; Li D. S. ; Zhang J Inorg. Chem. 2016, 55 (20), 10114. |
| 22 | Hu Y. J. ; Yang. J ; Liu Y. Y. ; Song. S. ; Ma. J. F. Cryst. Growth Des. 2015, 15 (8), 3822. |
| 23 | Sheldrick G. M SHELXL-97, Programs for X-ray Crystal Structure Solution: University of Göttingen, Göttingen Germany 1997. |
| 24 | Sheldrick G. M SHELXL-97, Programs for X-ray Crystal Structure Refinement; University of Göttingen, Göttingen Germany 1997. |
| 25 | Spek A. L. J. Appl. Crystallogr. 2003, 36, 7. |
| 26 | Ding C. ; Li X. ; Ding Y. ; Li X. ; Ng S. W. ; Xie Y Cryst. Growth Des. 2012, 12 (7), 3465. |
| 27 | Zeng F. ; Ni J. ; Wang Q. ; Ding Y. ; Ng S. W. ; Zhu W. ; Xie Y Cryst. Growth Des. 2010, 10 (4), 1611. |
| 28 | Zha Q. ; Ding C. ; Rui X. ; Xie Y Cryst. Growth Des. 2013, 13 (10), 4583. |
| 29 | Zheng Q. ; Yang F. ; Deng M. ; Ling Y. ; Liu X. ; Chen Z. ; Wang Y. ; Weng L. ; Zhou Y Inorg. Chem. 2013, 52 (18), 10368. |
| 30 | Qu K. ; Wang J. ; Ren J. ; Qu. X. Chem. Eur. J. 2013, 19 (22), 7243. |
| 31 | Wang J. ; Li Y. ; Patel N. G. ; Zhang G. ; Zhou D. ; Pang Y Chem. Commun. 2014, 50 (82), 12258. |
| 32 | Xu H. ; Hu Z. C. ; Cao C. S. ; Zhao B Inorg. Chem. 2015, 54 (10), 4585. |
| 33 | Jin S. S. ; Han X ; Yang J. ; Zhang H. M. ; Liu X. L. ; Ma J. F. J. Lumin. 2017, 188, 346. |
| 34 | Zhou Y. ; Allen B. ; Reed J. M. ; Zou S. J. Phys. Chem. A 2014, 118 (39), 8971. |
| 35 | Hao Z. ; Song X. ; Zhu M. ; Meng X. ; Zhao S. ; Su S ; Yang W. ; Song S. ; Zhang H. J.Mater. Chem. A 2013, 1 (36), 11043. |
| 36 | Tian D. ; Li Y. ; Chen R. Y. ; Chang Z. ; Wang G. Y. ; Bu X. H. J.Mater. Chem. A 2014, 2 (5), 1465. |