| | | |
| --- | --- | --- |
| ARTICLE | | |
Role of Low-Temperature Fuel Chemistry on Turbulent Flame Propagation
Fan ZHANG,Zhe REN,Shenghui ZHONG,Mingfa YAO,Zhijun PENG*(

)
State Key Laboratory of Engines, Tianjin University, Tianjin 300072, P. R. China
Abstract
In modern advanced internal combustion engines such as homogeneous compression ignition engine (HCCI) and reactivity controlled compression ignition engine (RCCI), turbulence/chemistry interactions have a dramatic influence on the combustion efficiency. In particular, the low-temperature fuel chemistry and two-stage ignition of large hydrocarbon fuels can significantly affect the turbulent flame regimes and propagation. The turbulent flame propagation and flame structure of a turbulent premixed n-heptane/air flame is simulated in a slot, i.e., reactor-assisted turbulent slot (RATS) burner. In the center, a premixed n-heptane/air gas mixture flows out from the burner, exiting into the surrounding atmosphere. In order to maintain a high Reynolds number for the flame, a pilot flame consisting of stoichiometric methane/air is applied. The GRI3.0 mechanism for methane/air mixture is adopted. A three-dimensional (3D) numerical simulation model is established based on OpenFOAM reactingFoam solver. A reduced kinetic mechanism of n-heptane consisting of 44 species and 112 reactions is employed, which is validated against the detailed mechanism with regard to the ignition delay time over a wide range of the initial temperature, equivalence ratio, and pressure. Then, the effects of the reactant temperature (ranging from 450 to 700 K), inlet velocity (6 m·s−1 and 10 m·s−1), and pre-flame flow residence time (100 ms and 60 ms) on the turbulent flame combustion of the n-heptane/air mixture with an equivalent ratio of 0.6, are investigated by performing 3D simulations. Twelve cases are considered and analyzed based on the flow residence time and ignition delay time. The 2D span-wise temperature contour is used to show that when the ignition Da number and fuel reactivity increase, the flame temperature increases and the flame height decreases, indicating a stronger turbulent burning velocity (ST). The results coincide well with experiment results and indicate that the extent of fuel oxidation is affected by the reactant temperature and inlet velocity during the low-temperature ignition stage, since the ratio between the ignition delay time and flow residence time plays an important role. Moreover, a quantitative analysis is performed on the flame front. The intermediate species CH is used to mark the thin reaction zone, and the turbulent burning velocity is obtained. Two branches of turbulent burning velocities verified the upper and lower limits and are consistent with the fitting correlation of ST/SL from a previous semi-implicit expression by Won et al. (2014), in which SL is laminar burning velocity. In the upper limit, the fuel decomposes and produces a large amount of intermediate species like CH2O in the pre-heat zone, which subsequently increases the turbulent burning velocity. While in the lower limit in which the flow residence time is shorter than the first ignition delay time, it shows a smaller turbulent burning velocity and a thin reaction zone, which is in chemically-frozen-flow regime. A transitional regime between the low- to high-temperature ignition regimes is also identified, where the ignition delay time is comparable with the heated flow residence time before the flame was produced. With an increase in the reactant temperature, the turbulent flame gradually changes from the chemically frozen flow regime to the low-temperature ignition regime. When the temperature is higher than a certain value, the low-temperature ignition will not happen again and the flame will be classified as being in the high-temperature ignition regime.
Received: 21 December 2017 Published: 27 February 2018
Fund: the National Natural Science Foundation of China(51506146);the National Natural Science Foundation of China(91541205)
Corresponding Authors: Zhijun PENG E-mail: pengzj@tju.edu.cn

Fig 1 (a) Schematic of reactor-assisted turbulent slot burner; (b) computational domain of three-dimensional numerical simulation; (c) the grid mesh in the simulation.

Fig 2 Bottom inlet of the computational domain (a); inlet turbulent velocity (b).

Fig 3 Comparison of ignition delay time for n-heptane mechanism at φ = 1 (a) and φ = 0.6 (b) conditions between reduced and ver3.1 detailed mechanism.

Fig 4 Time-dependent change of pressure (a) and important species (b) of simplified mechanism.
Table 1
Component mass fraction of n-heptane mixture (φ = 0.6).
Table 2
Initial simulation parameters of 12 cases.

Fig 5 Temporal evolution of NXC7H16 (a) and CH2O (b) mass fraction at 450-700 K with equivalence ratio φ = 0.6.

Fig 6 2D temperature distributions at the burner outlet from 3D results for different reactant temperatures (450-700 K) but the same inlet velocity (U = 10 m∙s−1).

Fig 7 2D temperature distributions at the burner outlet from 3D results for different reactant temperatures (450-700 K) but the same inlet velocity (U = 6 m∙s−1).

Fig 8 2D temperature distributions at the burner outlet for two reactant temperatures 670 K, 700 K and two inlet velocities 6 m∙s−1, 10 m∙s−1.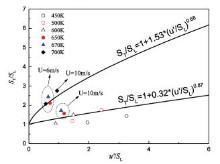 Fig 9 Measured turbulent burning velocity normalized by SL as a function of normalized turbulent intensity, u'/SL.

Fig 10 2D contour of intermediate species (CH2O, OH) mass fraction comparisons for different reactant temperatures 500 K and 670 K at flow residence time of τres = 100 ms.
Table 3
Time scale relations and flame regimes for 12 cases.
| | |
| --- | --- |
| 1 | Bell J. B. ; Cheng R. K. ; Day M. S. ; Shepherd I. G. Proc. Combust. Inst. 2007, 31 (1), 1309. |
| 2 | Bisetti F. ; Chen J. Y. ; Chen J. H. ; Hawkes E. R. Proc. Combust. Inst. 2009, 32 (1), 1465. |
| 3 | Soika A. ; Dinkelacker F. ; Leipertz A. Combust. Flame 2003, 132 (3), 451. |
| 4 | Wang J. H. ; Wei Z. L. ; Zhang M. ; Huang Z. H. Sci. China Technol. Sci. 2014, 57, 445. |
| 5 | Ju Y. Adv. Mech. 2014, 44, 201402. |
| 5 | 琚诒光. 力学进展, 2014, 44, 201402. |
| 6 | Dryer F. L. Proc. Combust. Inst. 2015, 35 (1), 117. |
| 7 | Li, B. Studies of Flame Propagation and Extinction Characteristics of Heavy Hydrocarbon Fuels[D]. Beijing: Tsinghua University, 2014. |
| 7 | 李博.高碳碳氢燃料的火焰传播特性和熄灭特性的研究[D].北京:清华大学, 2014. |
| 8 | Zhang M. ; Wang J. H. ; Jin W. ; Huang Z. H. ; Kobayashi H. ; Ma L. Combust. Flame 2015, 162, 2087. |
| 9 | Sun W. ; Chen Z. ; Gou X. ; Ju Y. G. Combust. Flame 2010, 157 (7), 1298. |
| 10 | Guo J. J. ; Li S. H. ; Tan N. X. ; Li X.Y. J. Eng. Thermophys. 2014, 11, 2298. |
| 10 | 郭俊江; 李树豪; 谈宁馨; 李象远. 工程热物理学报, 2014, 11, 2298. |
| 11 | Dooley S. ; Won S. H. ; Chaos M. ; Heyne J. ; Ju Y. G. ; Dryer F. L. ; Kumar K. ; Sung C. J. ; Wang H. W. ; Oehlschlaeger M. A. ; et al Combust. Flame 2010, 157 (12), 2333. |
| 12 | Lawes M. ; Ormsby M. P. ; Sheppard C. G. W. ; Woolley R. Combust. Flame 2012, 159 (5), 1949. |
| 13 | Joannon M. D. ; Cavaliere A. ; Faravelli T. ; Ranzi E. ; Sabia P. ; Tregrossi A. Prog. Energy Combust. Sci. 2004, 30 (4), 329. |
| 14 | Won S. H. ; Windom B. ; Jiang B. ; Ju Y. G. Combust. Flame 2014, 161 (2), 475. |
| 15 | Windom B. ; Sang H. W. ; Reuter C. B. ; Jiang B. ; Ju Y.G. ; Hammack S. ; Ombrello T. ; Carter C. Combust. Flame 2016, 169, 19. |
| 16 | Gou X. ; Sun W. ; Chen Z. ; Ju Y. Combust. Flame 2010, 157, 1111. |
| 17 | Krisman A. ; Hawkes E. R. ; Talei M. ; Bhagatwala A. ; Chen J. H. Proc. Combust. Inst. 2017, 36 (3), 3567. |
| 18 | Krisman A. ; Hawkes E. R. ; Talei M. ; Bhagatwala A. ; Chen J. H. Combust. Flame 2016, 172, 326. |
| 19 | Zhang F. ; Yu R. ; Bai X. S. Proc. Combust. Inst. 2015, 35 (3), 2975. |
| 20 | Zhang F. ; Yao M. Acta Phys. -Chim. Sin. 2016, 32 (8), 1941. |
| 20 | 张帆; 尧命发. 物理化学学报, 2016, 32 (8), 1941. |
| 21 | Liu S. ; Hewson J. C. ; Chen J. H. ; Pitsch H. Combust. Flame 2004, 137 (3), 320. |
| 22 | Curran H. J. ; Gaffuri P. ; Pitz W. J. ; Westbrook C.K. Combust. Flame 1998, 114, 149. |
| 23 | Tang Q. L. ; Geng C. ; Li M. K. ; Liu H. F. ; Yao M. F. Acta Phys. -Chim. Sin. 2015, 31 (12), 2269. |
| 23 | 唐青龙; 耿超; 李明坤; 刘海峰; 尧命发. 物理化学学报, 2015, 31 (12), 2269. |
| 24 | Xiao J. ; Zhang B. ; Zheng Z. L. Acta Phys. -Chim. Sin. 2017, 33 (9), 1752. |
| 24 | 肖杰; 张博; 郑朝蕾. 物理化学学报, 2017, 33 (9), 1752. |
| 25 | Zhou B. ; Brackmann C. ; Li Z. S. ; Alden M. Combust. Flame 2015, 162 (7), 2937. |