| | | |
| --- | --- | --- |
| ARTICLE | | |
Influence of Wettability on the Charging Dynamics of Electric Double-Layer Capacitors
Huachao YANG,Zheng BO*(

),Xiaorui SHUAI,Jianhua YAN,Kefa CEN
State Key Laboratory of Clean Energy Utilization, College of Energy Engineering, Zhejiang University, Hangzhou 310027, P. R. China
Abstract
Electric double-layer capacitors (EDLCs) are advanced electrochemical devices that have attracted tremendous attention because of their high power density, ultra-fast charging/discharging rate, and superior lifespan. A major challenge is how to further improve their energy density. At present, a large number of research efforts are primarily focusing on engineering the morphology and microstructure of electrodes to achieve better performance, for example, enlarging the specific surface area and designing the pore size. More importantly, wettability plays a crucial role in maximizing the effective utilization and accessibility of electrode materials. However, its primary mechanisms/phenomena are still partially resolved. Here, we explore the effects of wettability on the charging dynamics of EDLCs using molecular dynamics (MD) simulations. Typically, hydrophobic graphene (GP) and hydrophilic copper (Cu) are employed as the electrode materials. Differential capacitances (CD) as a function of electrode potentials (ϕ) are computed by means of Poisson and Gaussian equation calculations. Simulation results show that during the charging process of EDLCs, the differential capacitances of hydrophobic GP are insensitive to the electrode potentials. However, superhydrophilic Cu electrode exhibits an asymmetric U-shaped CD–ϕ curve, in which the capacitance at the negative polarization can be ~5.77 times greater than that of the positive counterpart. Such an unusual behavior is obviously different with the conventional Gouy-Chapman-Stern theory (i.e., symmetric U-shaped), room temperature ionic liquids (i.e., camel-, or bell-shaped), and hydrophobic counterpart, which is closely correlated with the free energy barrier distributions. Compared with the positive polarization or hydrophobic case, the energy barriers near the negative hydrophilic electrodes are remarkably suppressed, which benefits ion populations at the interface and enables the convenient orientation or distribution of ions to shield the external electric fields from electrodes, thereby yielding higher differential capacitances. With differentiating the ion charge density, the as-obtained CD–ϕ curves are well resembled, quantitatively establishing the correlations between EDL microstructures and differential capacitances. Besides, we also point out that enhancing the wettability could significantly decrease the EDL thickness from ~1.0 nm (hydrophobic) to ~0.5 nm (hydrophilic). In the end, we demonstrate that wetting property also impacts a prominent role in the charge storage behavior of EDLCs, transforming the charging mechanism dominated by counter-ion adsorption and ion exchange (hydrophobic) to pure counter-ion adsorption (hydrophilic). The as-obtained insights highlight the significance of wettability in regulating charging dynamics and mechanisms, providing useful guidelines for precisely controlling the wetting property of electrode materials for advanced charge storage of EDLCs.
Received: 10 February 2018 Published: 08 March 2018
Fund: the National Natural Science Foundation of China(51306159);Zhejiang Provincial Natural Science Foundation, China(LR17E060002)
Corresponding Authors: Zheng BO E-mail: bozh@zju.edu.cn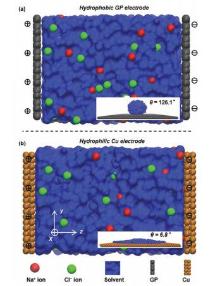 Fig 1 MD simulation models of (a) hydrophobic GP and (b) hydrophilic Cu electrodes.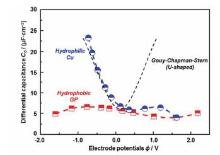 Fig 2 Differential capacitance CD as a function of electrode potential ϕ. Black dashed line denotes the schematic of U-shaped CD–ϕ curve for conventional Gouy-Chapman-Stern theory.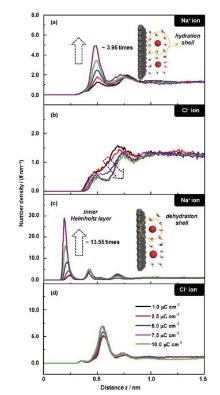 Fig 3 Number density profiles of (a) Na+, (b) Cl- ions near the GP surface and (c) Na+, (d) Cl- ions near the Cu electrode at the negative polarizations.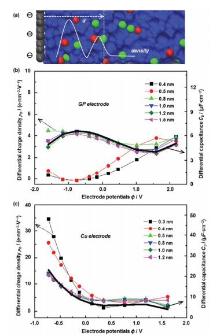 Fig 4 (a) Schematic of EDL thickness d; differential charge density as a function of thickness d for (b) GP and (c) Cu electrodes.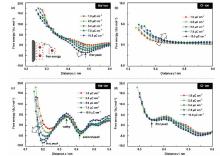 Fig 5 Free energy profiles of (a) Na+, (b) Cl- ions near the GP surface and (c) Na+, (d) Cl- ions near the Cu electrode at the negative polarizations.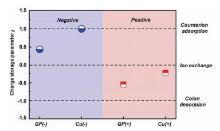 Fig 6 Charge storage parameter χ for GP and Cu electrodes.
| | |
| --- | --- |
| 1 | Zhang S. ; Pan N. Adv. Energy Mater. 2015, 5, 1401401. |
| 2 | Li X. Q. ; Chang L. ; Zhao S. L. ; Hao C. L. ; Lu C. G. ; Zhu Y. H. ; Tang Z. Y. Acta Phys. -Chim. Sin. 2017, 33, 130. |
| 2 | 李雪芹; 常琳; 赵慎龙; 郝昌龙; 陆晨光; 朱以华; 唐智勇. 物理化学学报, 2017, 33, 130. |
| 3 | Liu L. ; Niu Z. ; Chen J. Chem. Soc. Rev. 2016, 45, 4340. |
| 4 | Wu Z. ; Zhang X. B. Acta Phys. -Chim. Sin. 2017, 33, 305. |
| 4 | 吴中; 张新波. 物理化学学报, 2017, 33, 305. |
| 5 | Zhang F. ; Liu T. ; Li M. ; Yu M. ; Luo Y. ; Tong Y. ; Li Y. Nano Lett. 2017, 17, 3097. |
| 6 | Chmiola J. ; Yushin G. ; Gogotsi Y. ; Portet C. ; Simon P. ; Taberna P. L. Science 2006, 313, 1760. |
| 7 | Du W. S. ; Lu Y. K. ; Cai Z. W. ; Zhang C. Acta Phys. -Chim. Sin. 2017, 33, 1828. |
| 7 | 杜惟实; 吕耀康; 蔡志威; 张诚. 物理化学学报, 2017, 33, 1828. |
| 8 | Liu D. ; Shen J. ; Li Y. J. ; Liu N. P. ; Liu B. Acta Phys. -Chim. Sin. 2012, 28, 843. |
| 8 | 刘冬; 沈军; 李亚捷; 刘念平; 刘斌. 物理化学学报, 2012, 28, 843. |
| 9 | Qi J. L. ; Wang X. ; Lin J. H. ; Zhang F. ; Feng J. C. ; Fei W. D. Nanoscale 2015, 7, 3675. |
| 10 | Ye J. S. ; Liu X. ; Cui H. F. ; Zhang W. D. ; Sheu F. S. ; Lim T. M. Electrochem. Commun. 2005, 7, 249. |
| 11 | Zhao J. ; Lai H. ; Lyu Z. ; Jiang Y. ; Xie K. ; Wang X. ; Wu Q. ; Yang L. ; Jin Z. ; Ma Y. ; et al Adv. Mater. 2015, 27, 3541. |
| 12 | Qi J. L. ; Lin J. H. ; Wang X. ; Guo J. L. ; Xue L. F. ; Feng J. C. ; Fei W. D. Nano Energy 2016, 26, 657. |
| 13 | Kondrat S. ; Wu P. ; Qiao R. ; Kornyshev A. A. Nat. Mater. 2014, 13, 387. |
| 14 | Kondrat S. ; Kornyshev A. A. Nanoscale Horiz. 2016, 1, 45. |
| 15 | Cheng L. ; Xian K. ; Honglai L. ; Jianzhong W. J. Phys.: Condens. Matter 2016, 28, 464008. |
| 16 | Cheng L. ; Honglai L. ; Douglas H. ; Jianzhong W. J. Phys.: Condens. Matter 2016, 28, 414005. |
| 17 | Burt R. ; Birkett G. ; Zhao X. S. Phys. Chem. Chem. Phys. 2014, 16, 6519. |
| 18 | Feng G. ; Qiao R. ; Huang J. ; Sumpter B. G. ; Meunier V. ACS Nano 2010, 4, 2382. |
| 19 | Yang H. ; Zhang X. ; Yang J. ; Bo Z. ; Hu M. ; Yan J. ; Cen K. J. Phys. Chem. Lett. 2016, 153 |
| 20 | Bo Z. ; Yang H. ; Zhang S. ; Yang J. ; Yan J. ; Cen K. Sci. Rep. 2015, 5, 14652. |
| 21 | Yang H. ; Yang J. ; Bo Z. ; Zhang S. ; Yan J. ; Cen K. J. Power Sources 2016, 324, 309. |
| 22 | Yang H. ; Yang J. ; Bo Z. ; Chen X. ; Shuai X. ; Kong J. ; Yan J. ; Cen K. J. Phys. Chem. Lett. 2017, 3703. |
| 23 | Raj R. ; Maroo S. C. ; Wang E. N. Nano Lett. 2013, 13, 1509. |
| 24 | Wang S. ; Zhang Y. ; Abidi N. ; Cabrales L. Langmuir 2009, 25, 11078. |
| 25 | Kalluri R. K. ; Ho T. A. ; Biener J. ; Biener M. M. ; Striolo A. J. Phys. Chem. C 2013, 117, 13609. |
| 26 | Qiu Y. ; Chen Y. J. Phys. Chem. C 2015, 119, 23813. |
| 27 | Cheng A. ; Steele W. A. J. Chem. Phys. 1990, 92, 3858. |
| 28 | Yang H. ; Bo Z. ; Yang J. ; Kong J. ; Chen X. ; Yan J. ; Cen K. ChemElectroChem 2017, 4, 2966. |
| 29 | Berendsen H. J. C. ; Grigera J. R. ; Straatsma T. P. J. Phys. Chem. 1987, 91, 6269. |
| 30 | Striolo A. Nano Lett. 2006, 6, 633. |
| 31 | Liu L. ; Zhao J. ; Yin C. Y. ; Culligan P. J. ; Chen X. Phys. Chem. Chem. Phys. 2009, 11, 6520. |
| 32 | Wander M. C. F. ; Shuford K. L. J. Phys. Chem. C 2010, 114, 20539. |
| 33 | Plimpton S. J. Comput. Phys. 1995, 117, 1. |
| 34 | Humphrey W. ; Dalke A. ; Schulten K. J. Mol. Graphics 1996, 14, 33. |
| 35 | Swope W. C. ; Andersen H. C. ; Berens P. H. ; Wilson K. R. J. Chem. Phys. 1982, 76, 637. |
| 36 | Zhan C. ; Zhang Y. ; Cummings P. T. ; Jiang D. E. Phys. Chem. Chem. Phys. 2016, 18, 4668. |
| 37 | Sha M. ; Dou Q. ; Luo F. ; Zhu G. ; Wu G. ACS Appl. Mater. Interfaces 2014, 6, 12556. |
| 38 | Feng G. ; Zhang J. S. ; Qiao R. J. Phys. Chem. C 2009, 113, 4549. |
| 39 | Xu K. ; Ji X. ; Chen C. ; Wan H. ; Miao L. ; Jiang J. Electrochim. Acta 2015, 166, 142. |
| 40 | Jiang G. ; Cheng C. ; Li D. ; Liu J. Z. Nano Res. 2016, 9, 174. |
| 41 | Ho T. A. ; Striolo A. J. Chem. Phys. 2013, 139, 204708. |
| 42 | Feng G. A. ; Qiao R. ; Huang J. S. ; Sumpter B. G. ; Meunier V. J. Phys. Chem. C 2010, 114, 18012. |
| 43 | Huang J. S. ; Sumpter B. G. ; Meunier V. Chem. -Eur. J. 2008, 14, 6614. |
| 44 | Huang J. ; Sumpter B. G. ; Meunier V. Angew. Chem. Int. Ed. 2008, 47, 520. |
| 45 | Merlet C. ; Salanne M. ; Rotenberg B. ; Madden P. A. Electrochim. Acta 2013, 101, 262. |
| 46 | Lynden-Bell R. M. ; Frolov A. I. ; Fedorov M. V. Phys. Chem. Chem. Phys. 2012, 14, 2693. |
| 47 | Forse A. C. ; Merlet C. ; Griffin J. M. ; Grey C. P. J. Am. Chem. Soc. 2016, 138, 5731. |
| 48 | Forse A. C. ; Griffin J. M. ; Merlet C. ; Bayley P. M. ; Wang H. ; Simon P. ; Grey C. P. J. Am. Chem. Soc. 2015, 137, 7231. |