| | | |
| --- | --- | --- |
| PHYSICAL CHEMISTRY OF MATERIALS | | |
Preparation of Micro/Nano ZnO Pompons and Their Catalytic Activity for the Solar Degradation of Organic Dyes
La-Ga. TONG,Jin-Yan. LIU,Cen-Chen. WANG,Hua. RONG,Wei. LI*(

)
College of Chemical Engineering, Beijing Institute of Petro-chemical Technology, Beijing 102617, P. R. China
Abstract
A novel, high-yielding synthesis of micro/nano ZnO pompons using glutamic acid fluoborate (GluBF4) ionic liquid is reported. The precursor was prepared with zinc acetatedihydrate [Zn(Ac)2·2H2O] and sodium hydroxide (molar ratio = 1:6) as starting materials in an aqueous solution of the GluBF4 ionic liquid at room temperature, which was then heated by microwave to form nano-ZnO powder. The ZnO pompons were characterized using field emission scanning electron microscopy (FESEM), X-ray diffraction (XRD), specific Brunauer-Emmett-Teller (BET) surface area method, and energy dispersive spectrometry (EDS). The product displayed a hexagonal wurtzite structure. The pompon diameter was determined to be 20.4 nm, with a pompon specific surface area of 28.3 m2·g-1. A possible mechanism for the formation of the nano-ZnO pompons is discussed. The ZnO pompons displayed high photocatalytic reactivity and photostability under sunlight. Aqueous solutions of methyl orange (MO) and methyl violet (MV) containing the ZnO pompons were exposed to sunlight and the decolorization rates were determined by monitoring the drop in color intensity. After 5 h, the solutions reached 74.3% and 96.9% degradation, respectively. The total organic carbon (TOC) content decreased as the photodegradation process occurred. The morphology, color, and weight of the ZnO pompons remained unchanged even after being reused five times.
Received: 03 February 2015 Published: 14 May 2015
Fund: the National Undergraduates Research Training Program, China(URT: 201300078);Breeding Project ofOutstanding Academic Leaders of Beijing Institute of Petro-chemical Technology, China(BIPT-BPOAL-2014)
Corresponding Authors: Wei. LI E-mail: liwei77@bipt.edu.cn

Fig 1 Scanning electron microscopy (SEM) images of nano-ZnO pompons at different magnifications
Fig 2 XRD and energy spectrum diagram of ZnO pompons

Inset is the energy dispersive spectrum of the nano-ZnO pompons.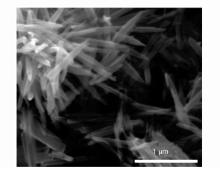 Fig 3 SEM image of nano-ZnO needles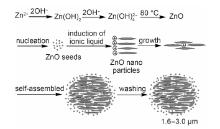 Fig 4 Formation of micro/nano ZnO pompons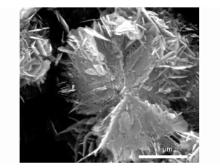 Fig 5 SEM image of grains at the core and on the surface of pompons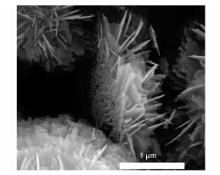 Fig 6 SEM image of half pompon along the vessel wall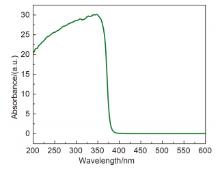 Fig 7 Ultraviolet-visible spectrum of nano-ZnO pompons

Fig 8 Ultraviolet-visible spectra of MO (a) and MV (b) with the change of photodegradation time catalyzed by nano-ZnO pompons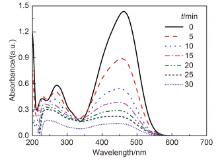 Fig 9 Ultraviolet-visible absorption spectra of MO catalyzed by nanoZnO pompons under ultraviolet light
Fig 10 Relationship between the decoloration rate and time when ZnO with different morphologies used to degrade MO or MV solutions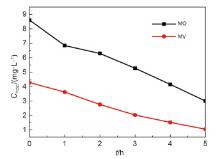 Fig 11 Variation of the TOC content in the dye solutions along with the degradation time
| | |
| --- | --- |
| 1 | Wu J. J. ; Liu S. C. Adv. Mater 2002, 14, 215. |
| 2 | Zhu Z. F. ; Yang D. ; Liu H. Adv. Powder Technol 2011, 22, 493. |
| 3 | Krishnakunar T. ; Jayaprakash R. ; Pinna N. ; Singh V. N. ; Mehta B. R. ; Phani A. R. Mater. Lett 2009, 63, 242. |
| 4 | Zhang L. X. ; Zhao J. H. ; Zheng J. F. ; Li L. ; Zhu Z. P. Appl. Surf. Sci 2011, 258, 711. |
| 5 | Hamedani N. F. ; Mahjoub A. R. ; Khodadadi A. A. ; Mortazavi Y. Sensors Actuators B 2011, 156, 737. |
| 6 | Li X. Q. ; Fan Q. F. ; Li G. L. ; Huang Y. H. ; Gao Z. ; Fan X. M. ; Zhang C. L. ; Zhou Z. W. Acta Phys. -Chim. Sin 2015, 31 (4), 783. |
| 6 | 李湘奇; 范庆飞; 李广立; 黄瑶翰; 高照; 范希梅; 张朝良; 周祚万. 物理化学学报, 2015, 31 (4), 783. |
| 7 | Du H. Y. ; Wang J. ; Qiao Q. ; Sun Y. H. ; Shao Q. ; Li X. G. Acta Phys. -Chim. Sin 2015, 31 (4), 800. |
| 7 | 杜海英; 王兢; 乔俏; 孙炎辉; 邵强; 李晓干. 物理化学学报, 2015, 31 (4), 800. |
| 8 | Han X. G. ; He H. Z. ; Kuang Q. ; Zhou X. ; Zhang X. H. ; Xu T. ; Xie Z. X. ; Zheng L. S. J. Phys. Chem. C 2009, 113, 584. |
| 9 | Huang J. F. ; Xia C. K. ; Cao L.Y. ; Zeng X. R. Mater. Sci. Eng. B 2008, 150, 187. |
| 10 | Venkatesha T. G. ; Nayaka Y. A. ; Viswanatha R. ; Vidyasagar C. C. ; Chethana B. K. Powder Technol 2012, 225, 232. |
| 11 | Shi R. X. ; Yang P. ; Dong X. B. ; Ma Q. ; Zhang A. Y. Appl. Surf. Sci 2013, 264, 162. |
| 12 | Wang W. W. ; Zhu Y. J. Inorg. Chem. Commun 2004, 7, 1003. |
| 13 | Hou X. M. ; Zhou F. ; Sun Y. B. ; Liu W. M. Mater. Lett 2007, 61, 1789. |
| 14 | Movahedi M. ; Kowsari E. ; Mahjoub A. R. ; Yavari I. Mater. Lett 2008, 62, 3856. |
| 15 | Goharshadi E. K. ; Ding Y. L. ; Nancarrow P. J. Phys. Chem. Solids 2008, 69, 2057. |
| 16 | Wang L. ; Xu S. Z. ; Li H. J. ; Chang L. X. ; Su Z. ; Zeng M. H. ; Wang L. N. ; Huang Y. N. J. Solid State Chem 2011, 184, 720. |
| 17 | Chen C. Y. ; Li Q. ; Nie M. ; Lin H. ; Li Y. ; Wu H. J. ; Wang Y. Y. Mater. Res. Bull 2011, 46, 888. |
| 18 | Sanes J. ; Carrion F. J. ; Bermudez M. D. Appl. Surf. Sci 2009, 255, 4859. |
| 19 | Lee K. M. ; Chiu W. H. ; Hsu C. Y. ; Cheng H. M. ; Lee C. H. ; Wu C. G. J. J. Power Sources 2012, 216, 330. |
| 20 | Min Y. L. ; Zhang K. ; Chen L. H. ; Chen Y. C. ; Zhang Y. G. Diamond & Related Materials 2012, 26, 32. |
| 21 | Sabbaghan M. ; Shahvelayati A. S. ; Bashtani S. E. Solid State Sci 2012, 14, 1191. |
| 22 | Tong L. ; Liu Y. ; Rong H. ; Gong L. Mater Lett 2013, 112, 5. |
| 23 | Rong H. ; Li W. ; Chen Z. Y. ; Wu X. M. J. Phys. Chem. B 2008, 112, 1451. |
| 24 | Lu F. ; Chen Y. N. ; Liu N. ; Cao Y. Z. ; Feng L. Chem. J. Chin. Univ 2014, 35 (2), 368. |
| 24 | 卢飞; 陈雨宁; 刘娜; 曹莹泽; 冯琳. 高等学校化学学报, 2014, 35 (2), 368. |
| 25 | Yu D. Z. ; Cai R. X. ; Liu Z. H. Spectrochim. Acta Part A 2004, 60, 1617. |
| 26 | Daneshvar N. ; Salari D. ; Khatee A. R. J. Photochem. Photobiol. A 2004, 162 (2/3), 317. |
| 27 | Su B. T. ; Hu C. L. ; Zuo X. W. ; Lei Z. Q. Chin. J. Inorg. Chem 2010, 26 (1), 96. |
| 27 | 苏碧桃; 胡常林; 左显维; 雷自强. 无机化学学报, 2010, 26 (1), 96. |
| 28 | Razali R. ; Zak A. K. ; Majid W. H. A. ; Darroudi M. Ceram. Int 2011, 37, 3657. |