| | | |
| --- | --- | --- |
| ELECTROCHEMISTRY AND NEW ENERGY | | |
Triple-Cation-Doped Li3V2(PO4)3 Cathode Material for Lithium Ion Batteries
Xiao-Fei. SUN1,2,*(

),You-Long. XU1,2,Xiao-Yu. ZHENG1,2,Xiang-Fei. MENG1,2,Peng. DING1,2,3,Hang. REN1,2,Long. LI1,2
1 Electronic Materials Research Laboratory, Key Laboratory of the Ministry of Education, Xi'an Jiaotong University, Xi'an 710049, P. R. China
2 International Center for Dielectric Research, Xi'an Jiaotong University, Xi'an 710049, P. R. China
3 Staff Room of Power, Wuhan Ordnance Non-Commissioned Officer Academy, Wuhan 430075, P. R. China
Abstract
Li3V2(PO4)3 and its triple-cation-doped counterpart Li2.85Na0.15V1.9Al0.1(PO4)2.9F0.1 were prepared by a conventional sol-gel method. The effect of Na-Al-F co-doping on the physicochemical properties, especially the electrochemical performance of Li3V2(PO4)3, were investigated by X-ray diffraction (XRD), high-resolution transmission electron microscopy (HRTEM), electron energy loss spectroscopy (EELS), Raman spectroscopy, scanning electron microscopy (SEM), X-ray energy dispersive spectroscopy (EDS), galvanostatic charge/discharge, cyclic voltammetry (CV), and electrochemical impedance spectroscopy (EIS). It was found that combined with surface coating from residual carbon, this triple-cation co-doping stabilizes the crystalline structure of Li3V2(PO4)3, suppresses secondary particle agglomeration, and improves the electric conductivity. Moreover, reversible deinsertion/insertion of the third lithium ion at deeper charge/discharge is enabled by such doping. As a consequence, the practical electrochemical performance of Li3V2(PO4)3 is significantly improved. The specific capacity of the doped material at a low rate of 1/9C is 172 mAh·g-1 and it maintains 115 mAh·g-1 at a rate of 14C, while the specific capacities of the undoped sample at 1/9C and 6C are only 141 and 98 mAh·g-1, respectively. After 300 cycles at 1C rate, the doped material has a capacity of 118 mAh·g-1, which is 32.6% higher than that of the undoped counterpart. It is also noteworthy that the multiplateau discharge curve of Li3V2(PO4)3 transforms to a slope-like curve, indicating the possibility of a different lithium intercalation mechanism after this co-doping.
Received: 03 February 2015 Published: 08 June 2015
Fund: the Natural Science Foundation of China(21343011);Natural Science Foundation of Shaanxi Province, China(2014JQ2-2007);111 Project(B14040);Fundamental Research Funds for the Central Universities of China(xjj2014044)
Corresponding Authors: Xiao-Fei. SUN E-mail: xfsunxjtu@mail.xjtu.edu.cn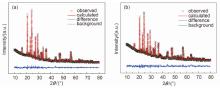 Fig 1 XRD patterns with Rietveld refinement of p-LVP (a) and d-LVP (b) p-LVP and d-LVP represent pristine-Li3V2(PO4)3 and doped-Li3V2(PO4)3, respectively.
Table 1
Refinement agreements and lattice parameters of p-LVP and d-LVP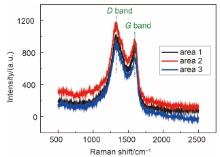 Fig 2 Micro-region Raman spectra of d-LVP

Fig 3 HRTEM image (a) and EELS spectrum (b) of d-LVP
Fig 4 SEM images of p-LVP (a) and d-LVP (b)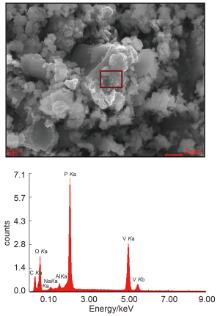 Fig 5 EDS spectrum on the selected area of d-LVP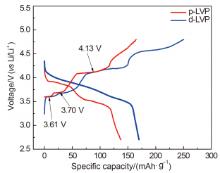 Fig 6 The first charge/discharge curves of p-LVP and d-LVP at 1/9C rate
Fig 7 Comparison on the CV curves of p-LVP (a) and d-LVP (b)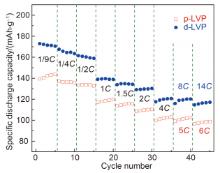 Fig 8 Comparison on the rate capability of p-LVP and d-LVP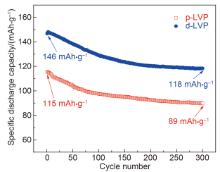 Fig 9 Cycling performance of p-LVP and d-LVP at 1C rate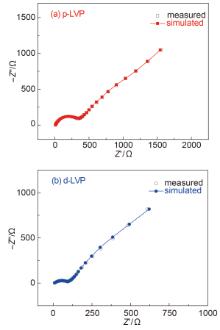 Fig 10 Measured and fitted EIS of p-LVP (a) and d-LVP (b)

Fig 11 Equivalent electric circuit for EIS simulation Rs represents the resistance of Li+ and electrons passing through the electrolyte, separator and externals; Csei and Rsei are the capacitance and resistance of the solid electrolyte interphase (SEI) layer, respectively; CPE(Q) and Rct are the charge transfer capacitance and resistance, respectively; and Zw is the Warburg impedance associated with Li+ diffusion in the active materials (p-LVP or d-LVP).
| | |
| --- | --- |
| 1 | Armand M. ; Tarascon J. M. Nature 2008, 451, 652. |
| 2 | Liu C. ; Li F. ; Ma L. P. ; Cheng H. M. Advanced Materials 2010, 22, E28. |
| 3 | Whittingham M. S. Proceedings of the IEEE 2012, 100, 1518. |
| 4 | Goodenough, J. B.; Kim, Y. Chemistry of Materials 2010, 22, 587. doi: 10.1021/cm901452z |
| 5 | Cabana J. ; Monconduit L. ; Larcher D. ; Palacín M. R. Advanced Materials 2010, 22, E170. |
| 6 | Liu Y. H. ; Xu Y. L. ; Sun X. F. New Chemical Materials 2014, 42, 1. |
| 6 | 刘养浩; 徐友龙; 孙孝飞. 化工新型材料, 2014, 42, 1. |
| 7 | Sun X. F. ; Xu Y. L. ; Liu Y. H. ; Li L. Acta Phys. -Chim. Sin. 2012, 28, 2885. |
| 7 | 孙孝飞; 徐友龙; 刘养浩; 李璐. 物理化学学报, 2012, 28, 2885. |
| 8 | Manthiram, A. The Journal of Physical Chemistry Letters 2011, 2, 176. doi: 10.1021/jz1015422 |
| 9 | Masquelier C. ; Croguennec L. Chemical Reviews 2013, 113, 6552. |
| 10 | Lee S. ; Park S. S. The Journal of Physical Chemistry C 2012, 116, 25190. |
| 11 | Fei L. ; Lu W. ; Sun L. ; Wang J. ; Wei J. ; Chan H. L. W. ; Wang Y. RSC Advances 2013, 3, 1297. |
| 12 | Hautier G. ; Jain A. ; Ong S. P. ; Kang B. ; Moore C. ; Doe R. ; Ceder G. Chemistry of Materials 2011, 23, 3495. |
| 13 | Lu Y. ; Wang L. ; Song J. ; Zhang D. ; Xu M. ; Goodenough J. B. Journal of Materials Chemistry A 2013, 1, 68. |
| 14 | Yin S. C. ; Grondey H. ; Strobel P. ; Anne M. ; Nazar L. F. J.Am. Chem. Soc. 2013, 125, 10402. |
| 15 | Morcrette M. ; Leriche J. B. ; Patoux S. ; Wurm C. ; Masquelier C. Electrochem. Solid State Lett. 2003, 6, A80. |
| 16 | Yang C. C. ; Kung S. H. ; Lin S. J. ; Chien W. C. Journal of Power Sources 2014, 251, 296. |
| 17 | Su, J.; Wu, X. L.; Lee, J. S.; Kim, J.; Guo, Y. G. Journal of Materials Chemistry A 2013, 1, 2508. doi: 10.1039/c2ta01254e |
| 18 | 唐艳,钟艳君,欧庆祝,刘恒,钟本和,郭孝东,王辛龙.物理化学学报, 2015, 31, 277. doi: 10.3866/PKU.WHXB201412172 |
| 18 | Tang, Y.; Zhong, Y. J.; Ou, Q. Z.; Liu, H.; Zhong, B. H.; Guo, X. D.; Wang, X. L. Acta Phys. -Chim. Sin. 2015, 31, 277. |
| 19 | Zhang S. ; Wu Q. ; Deng C. ; Liu F. L. ; Zhang M. ; Meng F. L. ; Gao H. Journal of Power Sources 2012, 218, 56. |
| 20 | Bini M. ; Ferrari S. ; Capsoni D. ; Massarotti V. Electrochimica Acta 2011, 56, 2648. |
| 21 | Liu H. ; Bi S. ; Wen G. ; Teng X. ; Gao P. ; Ni Z. ; Zhu Y. ; Zhang F. Journal of Alloys and Compounds 2012, 543, 99. |
| 22 | Yan J. ; Yuan W. ; Tang Z. Y. ; Xie H. ; Mao W. F. ; Ma L. Journal of Power Sources 2012, 209, 251. |
| 23 | Pivko M. ; Arcon I. ; Bele M. ; Dominko R. ; Gaberscek M. Journal of Power Sources 2012, 216, 145. |
| 24 | Gao, C.; Liu, H.; Liu, G.; Zhang, J.; Wang, W. Materials Science and Engineering B 2013, 178, 272. doi: 10.1016/j.mseb.2012.11.016 |
| 25 | Wang J. ; Wang Z. ; Li X. ; Guo H. ; Wu X. ; Zhang X. ; Xiao W. Electrochimica Acta 2013, 87, 224. |
| 26 | Duan W. ; Hu Z. ; Zhang K. ; Cheng F. ; Tao Z. ; Chen J. Nanoscale 2013, 5, 6485. |
| 27 | Zheng J. C. ; Li X. H. ; Wang Z. X. ; Li J. H. ; Wu L. ; Li L. J. ; Guo H. J. Acta Phys. -Chim. Sin. 2009, 25, 1916. |
| 27 | 郑俊超; 李新海; 王志兴; 李金辉; 伍凌; 李灵均; 郭华军. 物理化学学报, 2009, 25, 1916. |
| 28 | Kuang Q. ; Zhao Y. Journal of Power Sources 2012, 216, 33. |
| 29 | Yang S. T. ; Zhao N. H. ; Dong H. Y. ; Yang J. X. ; Hue H. Y. Electrochimica Acta 2005, 51, 166. |
| 30 | Yuan W. ; Yan J. ; Tang Z. ; Sha O. ; Wang J. ; Mao W. ; Ma L. Electrochimica Acta 2012, 72, 138. |
| 31 | Sun X. ; Xu Y. ; Ding P. ; Chen G. ; Zheng X. Mater. Lett. 2013, 113, 186. |
| 32 | Sun, X.; Xu, Y.; Wang, J. J. Solid State Electrochem. 2012, 16, 1781. doi: 10.1007/s10008-011-1619-x |
| 33 | Sato M. ; Ohkawa H. ; Yoshida K. ; Saito M. ; Uematsu K. ; Toda K. Solid State Ion. 2000, 135, 137. |
| 34 | Sun X. ; Xu Y. ; Ding P. ; Chen G. ; Zheng X. ; Zhang R. ; Li L. Journal of Power Sources 2014, 255, 163. |
| 35 | Sun X. ; Xu Y. ; Jia M. ; Ding P. ; Liu Y. ; Chen K. Journal of Materials Chemistry A 2013, 1, 2501. |
| 36 | Tang Y. ; Wang C. ; Zhou J. ; Bi Y. ; Liu Y. ; Wang D. ; Shi S. ; Li G. Journal of Power Sources 2013, 227, 199. |