| | | |
| --- | --- | --- |
| PHYSICAL CHEMISTRY OF MATERIALS | | |
Influence of Soldium Lignosulfonate with Different Molecular Weights on the Dispersion of Multiwalled Carbon Nanotubes
Huang-Qing. YE1,Yong-Hong. DENG1,Yan. YAN2,Mei-Jie. ZHANG2,Yong. QIAN1,Xue-Qing. QIU1,*(

)
1 School of Chemistry and Chemical Engineering, South China University of Technology, Guangzhou 510640, P. R. China
2 Cnano (Zhenjiang) Technology Limited, Zhenjiang 212000, Jiangsu Province, P. R. China
Abstract
The influence of sodium lignosulfonate (SLS) fractions with different molecular weights on the adsorption characteristics of multi-walled carbon nanotubes (MWCNTs) and their dispersion performance was studied using gel permeation chromatography (GPC), UV-Vis spectroscopy, elementary analysis, Fourier transform infrared (FT-IR) spectroscopy, zeta potential analysis, and scanning electron microscopy (SEM). The results indicate that SLS with higher molecular weight disperse MWCNTs better and that dispersed MWCNTs exhibit lower specific resistance and increased conductivity. It is supposed that SLS fraction with higher molecular weight has more aromatic rings, thus accounting for stronger π-π interactions with MWCNTs and increased adsorption amount.
Received: 02 July 2015 Published: 07 September 2015
Fund: The project was supported by the National Natural Science Foundation of China(21436004);The project was supported by the National Natural Science Foundation of China(21374032)
Corresponding Authors: Xue-Qing. QIU E-mail: xueqingqiu66@163.com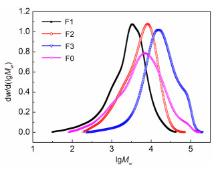 Fig 1 Weight-averaged molecular weight (Mw) distribution of diferent SLS fractions
Table 1
Molecular weight and polydispersity of different SLS fractions
Table 2
Elemental sulfur content of different SLS fractions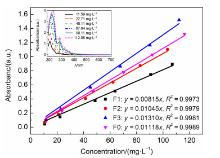 Fig 2 UV-Vis standard curves of different SLS fractions Insert shows the UV-Vis spectra of F3 at different SLS concentrations. x is the concentration of SLS, y is the absorbance value at 280 nm, R is the linear correlation coefficient.

Fig 3 SEM images of MWCNTs dispersed by different SLS fractions

(a) F0; (b) F1; (c) F2; (d) F3

Fig 4 Photographs (a) and UV-Vis spectra (b) of MWCNTs suspensions with different SLS fractions, diluted from ball-milling suspensions and stored for 3 months Insert shows UV-Vis spectra of MWCNTs without SLS, the concentration of MWCNTs is 0.18 mg·mL–1.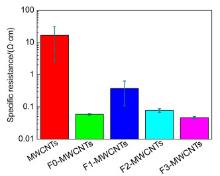 Fig 5 Specific resistance of MWCNTs and F-MWCNTs prepared with different SLS fractions after tableting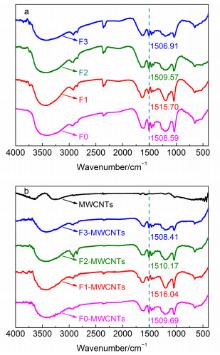 Fig 6 FT-IR spectra of different SLS (a) and F-MWCNTs prepared with different SLS fractions (b)
Table 3
Shift value of wavenumber of benzene skeleton vibration in different F-MWCNTs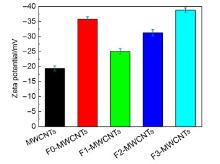 Fig 7 Zeta potential of MWCNTs and diluted MWCNTs ball-milling suspension with different SLS fractions
Table 4
Elemental content in F-MWCNTs and Adsorption capacity of different SLS fractions on MWCNTs
| | |
| --- | --- |
| 1 | Iijima S. Nature 1991, 354 (6348), 56. |
| 2 | Harris, P. J.; Harris, P. J. F. Carbon Nanotubes and Related Structures: New Materials for the Twenty-first Century; Cambridge University Press: Cambridge, 2001. |
| 3 | Bandyopadhyaya R. ; Nativ-Roth E. ; Regev O. ; Yerushalmi-Rozen R. Nano Letters 2002, 2 (1), 25. |
| 4 | Jung D. H. ; Ko Y. K. ; Jung H. T. Materials Science and Engineering: C 2004, 24 (1), 117. |
| 5 | Ausman K. D. ; Piner R. ; Lourie O. ; Ruoff R. S. ; Korobov M. The Journal of Physical Chemistry B 2000, 104 (38), 8911. |
| 6 | Star A. ; Liu Y. ; Grant K. ; Ridvan L. ; Stoddart J. F. ; Steuerman D. W. ; Diehl M. R. ; Boukai A. ; Heath J. R. Macromolecules 2003, 36 (3), 553. |
| 7 | Vaisman L. ; Wagner H. D. ; Marom G. Advances in Colloid and Interface Science 2006, 128, 37. |
| 8 | Liu Y. ; Gao L. ; Sun J. The Journal of Physical Chemistry C 2007, 111 (3), 1223. |
| 9 | Lou H. ; Lai H. ; Wang M. ; Pang Y. ; Yang D. ; Qiu X. ; Wang B. ; Zhang H. Industrial & Engineering Chemistry Research 2013, 52 (46), 16101. |
| 10 | Zhou M. ; Kong Q. ; Pan B. ; Qiu X. ; Yang D. ; Lou H. Fuel 2010, 89 (3), 716. |
| 11 | Li Z. ; Pang Y. ; Ge Y. ; Qiu X. The Journal of Physical Chemistry C 2011, 115 (50), 24865. |
| 12 | Qian Y. ; Deng Y. ; Qiu X. ; Li H. ; Yang D. Green Chemistry 2014, 16 (4), 2156. |
| 13 | Deng Y. H. ; Liu Y. F. ; Zhang W. J. ; Qiu X. Q. Acta Phys. -Chim. Sin 2015, 31, 505. |
| 13 | 邓永红; 刘友法; 张伟健; 邱学青. 物理化学学报, 2015, 31, 505. |
| 14 | Deng, Y.; Liu, Y.; Qian, Y.; Zhang, W.; Qiu, X. ACS Sustainable Chemistry & Engineering 2015, to be published |
| 15 | Liu Y. ; Gao L. ; Zheng S. ; Wang Y. ; Sun J. ; Kajiura H. ; Li Y. ; Noda K. Nanotechnology 2007, 18 (36), 365702. |
| 16 | Dong J. Q. ; Shen Q. Journal of Polymer Science Part B: Polymer Physics 2009, 47 (20), 2036. |
| 17 | Milczarek G. Journal of Electroanalytical Chemistry 2010, 638 (1), 178. |
| 18 | Milczarek G. ; Nowicki M. Mater. Res. Bull 2013, 48 (10), 4032. |
| 19 | Teng N.Y. ; Dallmeyer I. ; Kadla J. F. Industrial & Engineering Chemistry Research 2013, 52 (19), 6311. |