| | | |
| --- | --- | --- |
| BIOPHYSICAL CHEMISTRY | | |
Accurate Activity Predictions of B-Raf Type II Inhibitors via Molecular Docking and QSAR Methods
Hai-Chun. LIU1,Shuai. LU1,Ting. RAN1,Yan-Min. ZHANG1,Jin-Xing. XU1,Xiao. XIONG1,An-Yang. XU1,Tao. LU1,2,*(

),Ya-Dong. CHEN1,*(

)
1 School of Basic Science, China Pharmaceutical University, Nanjing 211198, P. R. China
2 State Key Laboratory of Natural Medcines, China Pharmaceutical University, Nanjing 210009, P. R. China
Abstract
B-Raf kinase plays an important role in the mitogen-activated protein kinase (MAPK) signaling transmission pathway and has been identified as an attractive target for cancer therapy. The exploitation of novel and efficient B-Raf inhibitors has become a hot research topic. In this study, we investigated quantitative structure-activity relationship (QSAR) to probe the origins of the inhibitory activities of B-Raf Type II inhibitors. We used structurally diverse B-Raf Type II inhibitors and an integrated docking and QSAR extended method. We focused mainly on two themes: bioactive conformations and descriptors. First, various molecular docking methods (Glide, Gold, LigandFit, Cdocker, and Libdock) were evaluated, and then all molecules were docked into the B-Raf active site to obtain the bioactive conformations. Secondly, based on the docking results, 16 scoring functions and 21 docking-generated energy-based descriptors were calculated to construct regression models. The results gave highly accurate fitting and had strong predictive abilities (M1: r2 = 0.852, r(CV)2 = 0.790, rpre2 = 0.864; M2: r2 = 0.738, r(CV)2 = 0.812, rpre2 = 0.8605). The important descriptors were also explored to elucidate the main factors influencing the inhibition activities. The models suggested that the scoring functions (G_Score, -ECD, Dock_Score, and PMF) and docking-generated energy-based descriptors (S(hb_ext), DE(int), and Emodel) were significant. Some new compounds that are potential B-Raf inhibitors were obtained through virtual screening and theoretical predictions using the established models. Such information is useful in guiding the design of novel and robust B-Raf Type II inhibitors.
Received: 09 July 2015 Published: 13 October 2015
Fund: the National Natural Science Foundation of China(21102181);the National Natural Science Foundation of China(81302634)
Corresponding Authors: Tao. LU,Ya-Dong. CHEN E-mail: lutao@cpu.edu.cn;ydchen@cpu.edu.cn
Cite this article:

Hai-Chun. LIU,Shuai. LU,Ting. RAN,Yan-Min. ZHANG,Jin-Xing. XU,Xiao. XIONG,An-Yang. XU,Tao. LU,Ya-Dong. CHEN. Accurate Activity Predictions of B-Raf Type II Inhibitors via Molecular Docking and QSAR Methods. Acta Physico-Chimica Sinca, 2015, 31(11): 2191-2206.

URL:

http://www.whxb.pku.edu.cn/10.3866/PKU.WHXB201510134 OR http://www.whxb.pku.edu.cn/Y2015/V31/I11/2191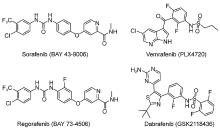 Fig 1 Structures of the approved B-Raf kinase inhibitors
Table 1
Molecular structures, actual activities vs predicted activities (Pre.) and residuals (Res.) of QSAR models (M1 and M2) for the training set and the test set of B-Raf inhibitors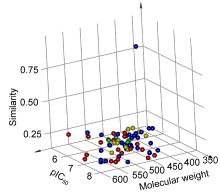 Fig 2 Chemical space covered by training set molecules and test set molecules (blue spheres)
Table 2
Molecular docking methods, scoring functions, and the various descriptors used for generating models
Table 3
Root mean square deviation (RMSD) values of Top3 configurations obtained through docking for docking reliability validated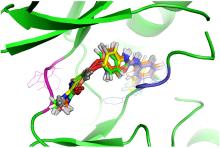 Fig 3 Superimposition of co-crystallized Sorafenib (green) and redocked Top1 conformation by multiple docking (the other colors) in the active site of B-Raf

Hinge region: magenta; DFG: blue; colors on web version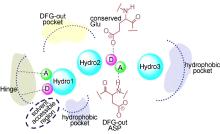 Fig 4 Schematic diagram of interaction patterns of B-Raf kinase inhibitor

D represents a hydrogen bond donor (red ball); A represents a hydrogen bond acceptor (green ball), Hydro represents hydrophobic character (blue ball) (colors on web version).
Table 4
Correlations of individual scoring function and descriptors with the experimental pIC50 values
Table 5
QSAR modeS M1, M2 and the corresponding statistics

Fig 5 Actual activity vs predicted activity using QSAR model M1 based on scoring functions

(a) training set, (b) test set

Fig 6 Actual activity vs predicted activity using QSAR model M2 based on scoring functions

(a) training set, (b) test set
Table 6
Chemical structures and predicted activity values of the hit compounds
| | |
| --- | --- |
| 1 | PeyssonnauxC.; EycheneA.. Biol. Cell, 2001, 93, 53. |
| 2 | Davies H. ; Bignell G. R. ; Cox C. ; Stephens P. ; Edkins S. ; Clegg S. ; Teague J. ; Woffendin H. ; Garnett M. J. ; Bottomley W. ; Davis N. ; Dicks E. ; Ewing R. ; Floyd Y. ; Gray K. ; Hall S. ; Hawes R. ; Hughes J. ; Kosmidou V. ; Menzies A. ; Mould C. ; Parker A. ; Stevens C. ; Watt S. ; Hooper S. ; Wilson R. ; Jayatilake H. ; Gusterson B. A. ; Cooper C. ; Shipley J. ; Hargrave D. ; Pritchard-Jones K. ; Maitland N. ; Chenevix-Trench G. ; Riggins G. J. ; Bigner D. D. ; Palmieri G. ; Cossu A. ; Flanagan A. ; Nicholson A. ; Ho J. W. C. ; Leung S. Y. ; Yuen S. T. ; Weber B. L. ; Seigler H. F. ; Darrow T. L. ; Paterson H. ; Marais R. ; Marshall C. J. ; Wooster R. ; Stratton M. R. ; Futreal P. A. Nature 2002, 417, 949. |
| 3 | Wan P. T. ; Garnett M. J. ; Roe S. M. ; Lee S. ; Niculescu-Duvaz D. ; Good V. M. ; Jones C. M. ; Marshall C. J. ; Springer C. J. ; Barford D. ; Marais R. Cell 2004, 116, 855. |
| 4 | Samowitz W. S. ; Sweeney C. ; Herrick J. ; Albertsen H. ; Levin T. R. ; Murtaugh M. A. ; Wolff R. K. ; Slattery M. L. Cancer Res 2005, 65, 6063. |
| 5 | Riesco-Eizaguirre G. ; Gutiérrez-Martínez P. ; García-Cabezas M. A. ; Nistal M. ; Santisteban P. Endocr-Relat. Cancer 2006, 13, 257. |
| 6 | Wang X. ; Kim J. J. Med. Chem 2012, 55 (17), 7332. |
| 7 | Wilhelm S. M. ; Carter C. ; Tang L. ; Wilkie D. ; McNabola A. ; Rong H. ; Chen C. ; Zhang X. ; Vincent P. ; McHugh M. ; Cao Y. ; Shujath J. ; Gawlak S. ; Eveleigh D. ; Rowley B. ; Liu L. ; Adnane L. ; Lynch M. ; Auclair D. ; Taylor I. ; Gedrich R. ; Voznesensky A. ; Riedl B. ; Post L. E. ; Bollag G. ; Trail P. A. Cancer Res 2004, 64, 7099. |
| 8 | Wilhelm S. ; Carter C. ; Lynch M. ; Lowinger T. ; Dumas J. ; Smith R. A. ; Schwartz B. ; Simantov R. ; Kelley S. Nat. Rev. Drug Discov 2006, 5 (10), 835. |
| 9 | Wilhelm S. M. ; Dumas J. ; Adnane L. ; Lynch M. ; Carter C. A. ; Schütz G. ; Thierauch K. H. ; Zopf D. Int. J. Cancer 2011, 129 (1), 245. |
| 10 | Strumberg D. ; Schultheis B. Expert Opin. Investig. Drugs 2012, 21 (6), 879. |
| 11 | Chapman P. B. ; Hauschild A. ; Robert C. ; Haanen J. B. ; Ascierto P. ; Larkin J. ; Dummer R. ; Garbe C. ; Testori A. ; Maio M. ; Hogg D. ; Lorigan P. ; Lebbe C. ; Jouary T. ; Schadendorf D. ; Ribas A. ; O'Day S. J. ; Sosman J. A. ; Kirkwood J. M. ; Eggermont A. M. M. ; Dreno B. ; Nolop K. ; Li J. ; Nelson B. ; Hou J. ; Lee R. J. ; Flaherty K. T. ; McArthur G. A. N. Engl. J. Med 2011, 364, 2507. |
| 12 | Bollag G. ; Tsai J. ; Zhang J. ; Zhang C. ; Ibrahim P. ; Nolop K. ; Hirth P. Nature. Rev. Drug. Discov 2012, 11, 873. |
| 13 | Rheault T. R. ; Stellwagen J. C. ; Adjabeng G. M. ; Hornberger K. R. ; Petro K. G. ; Waterson A. G. ; Dickerson S. H. ; Mook R. A. Jr. ; Laquerre S. G. ; King A. J. ; Rossanese O. W. ; Arnone M. R. ; Smitheman K. N. ; Kane-Carson L. S. ; Han C. ; Moorthy G. S. ; Moss K. G. ; Uehling D. E. ACS Med. Chem. Lett 2013, 4, 358. |
| 14 | Kim D. H. ; Sim T. Arch. Pharm. Res 2012, 35, 605. |
| 15 | Holderfield M. ; Deuker M. M. ; McCormick F. ; McMahon M. Nat. Rev. Cancer 2014, 14, 455. |
| 16 | Ackerman A. ; Klein O. ; McDermott D. F. ; Wang W. ; Ibrahim N. ; Lawrence D. P. ; Gunturi A. ; Flaherty K. T. ; Hodi F. S. ; Kefford R. ; Menzies A. M. ; Atkins M. B. ; Long G. V. ; Sullivan R. J. Cancer 2014, 120, 1695. |
| 17 | Hartsough E. ; Shao Y. ; Aplin A. E. J. Invest. Dermatol 2014, 134, 319. |
| 18 | Bucheit A. D. ; Davies M. A. Biochem. Pharmacol 2014, 87 (3), 381. |
| 19 | Zhang F. ; Lu T. ; Tang W. F. Prog. Pharm. Sci 2014, 38, 31. |
| 19 | 张帆; 陆涛; 唐伟方. 药学进展, 2014, 38, 31. |
| 20 | Enyedy I. J. ; Egan W. J. J. Comput. Aided Mol. Des 2008, 22, 161. |
| 21 | Kroemer R. T. Curr. Protein Pept. Sci 2007, 8, 312. |
| 22 | Lin J. ; Li Z. G. ; Zou J. W. ; Lu S. Y. Acta Chim. Sin 2012, 11, 1309. |
| 22 | 林军; 李祖光; 邹建卫; 陆绍永. 化学学报, 2012, 11, 1309. |
| 23 | Li X. D. ; Hou T. J. ; Xu X. J. Acta Phys. -Chim. Sin 2005, 21, 504. |
| 23 | 李旭东; 侯廷军; 徐筱杰. 物理化学学报, 2005, 21, 504. |
| 24 | Li M. Y. ; Xia L. Journal of China Pharmaceutical University 2003, 34 (6), 586. |
| 24 | 李敏勇; 夏霖. 中国药科大学学报, 2003, 34 (6), 586. |
| 25 | Patel H. M. ; Noolvi M. N. ; Sharma P. ; Jaiswal V. ; Bansal S. ; Lohan S. ; Kumar S. S. ; Abbot V. ; Dhiman S. ; Bhardwaj V. Med. Chem. Res 2014, 23, 4991. |
| 26 | Maestro, Version 9.0; Schrö dinger, L. L. C.: New York, 2011 |
| 27 | GOLD, Version 4.0; Astex Technology: Cambridge, 2001 |
| 28 | Discovery Studio Client, Version 2.5; Accelrys Inc.: San Diego, 2008 |
| 29 | Chen L. ; Chen X. J. Mol. Graph. Model 2012, 33, 35. |
| 30 | Frączek T. ; Siwek A. ; Paneth P. J. Chem. Inf. Model 2013, 53, 3326. |
| 31 | SYBYL, Version 7.1; Tripos Inc.: St. Louis, Missouri, 63144, U. S. A. |
| 32 | Hassan M. ; Bielawski J. ; Hempel J. ; Waldman M. Mol. Divers 1996, 2 (1-2), 64. |
| 33 | Matter H. ; Potter T. J. Chem. Inf. Comput. Sci 1999, 39 (6), 1211. |
| 34 | TSAR Software, Version 3. 3; Accelrys Inc.: Oxford, England |
| 35 | Roy K. Expert Opin. Drug Discov 2007, 2, 1567. |
| 36 | Qin L. T. ; Liu S. S. ; Xiao Q. F. ; Wu Q. S. Environ. Chem 2013, 32, 1205. |
| 36 | 覃礼堂; 刘树深; 肖乾芬; 吴庆生. 环境化学, 2013, 32, 1205. |
| 37 | Tropsha A. ; Gramatica P. ; Gombar V. K. QSAR Comb. Sci 2003, 22, 69. |