| | | |
| --- | --- | --- |
| CATALYSIS AND SURFACE SCIENCE | | |
Ag/Ag2WO4 Plasmonic Catalyst for Photocatalytic Reduction of CO2 under Visible Light
Zhi-Qiao. HE,Li-Li. TONG,Zhi-Peng. ZHANG,Jian-Meng. CHEN,Shuang. SONG*(

)
College of Biological and Environmental Engineering, Zhejiang University of Technology, Hangzhou 310032, P. R. China
Abstract
The conversion of CO2 into organic compounds is a promising method to mitigate global warming and assist in sustaining energy resources. A series of plasmonic photocatalysts, comprised of Ag supported on Ag2WO4 (Ag/Ag2WO4) with different crystalline phases, are fabricated by a facile ion-exchange method and subsequent reduction with hydrazine hydrate. The catalysts are characterized using X-ray diffraction (XRD) spectroscopy, X-ray photoelectron spectroscopy (XPS), scanning electron microscopy with energy-dispersive X-ray spectroscopy (SEM-EDS), UV-Vis absorption spectroscopy, and Brunauer-Emmett-Teller analyses. Compared with Ag2WO4, the Ag/Ag2WO4 exhibits a markedly improved quantum yield (QY), energy returned on energy invested (EROEI), and turnover number (TON) for CO2 reduction to CH4 under visible-light irradiation. Among Ag/α-Ag2WO4, Ag/β-Ag2WO4, and Ag/γ-Ag2WO4 catalysts, the highest activity for CO2 photoreduction to CH4 is obtained for Ag/β-Ag2WO4 with an actual molar composition of 4% Ag and 96% Ag2WO4. Correspondingly the QY, EROEI, TON, and pseudo first-order rate constant are 0.145%, 0.067%, 9.61, and 1.96×10-6 min-1, respectively. Moreover, the plasmonic Ag/Ag2WO4 photocatalysts are stable after repeated reaction cycles under visible-light irradiation. It is proposed that the localized surface plasma resonance effect of surfacedeposited Ag contributed to the enhanced activities and stabilities of the Ag/Ag2WO4 photocatalysts.
Received: 31 July 2015 Published: 15 October 2015
Fund: the National Natural Science Foundation of China(21477117, 21177115);Zhejiang Provincial Natural ScienceFoundation of China(LR13B070002, LR14E080001)
Corresponding Authors: Shuang. SONG E-mail: ss@zjut.edu.cn
Fig 1 XRD patterns of Ag2WO4 and 4%-Ag/Ag2WO4 (a) α-Ag2WO4; (b) 4%-Ag/α-Ag2WO4; (c) β-Ag2WO4; (d) 4%-Ag/β-Ag2WO4; (e) γ-Ag2WO4; (f) 4%-Ag/γ-Ag2WO4; (g) JCPDS 34-0061; (h) JCPDS 33-1195; (i) JCPDS 33-1197
Fig 2 SEM images of 4%-Ag/α-Ag2WO4, 4%-Ag/β-Ag2WO4, and 4%-Ag/γ-Ag2WO4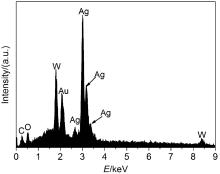 Fig 3 EDS result of 4%-Ag/β-Ag2WO4
Fig 4 UV-Vis absorption spectra of Ag2WO4 and 4%-Ag/Ag2WO4
Fig 5 XPS patterns of photocatalyst samples (a) wide-scan XPS; Ag 3d XPS spectra of (b) 4%-Ag/α-Ag2WO4, (c) 4%-Ag/β-Ag2WO4, (d) 4%-Ag/γ-Ag2WO4
Fig 6 Time dependence of CH4 yields over Ag/Ag2WO4 with different Ag loads (a) Ag/α-Ag2WO4; (b) Ag/β-Ag2WO4; (c) Ag/γ-Ag2WO4.
Ag2WO4;
0.5%-Ag2WO4;
2%-Ag/Ag2WO4;
4%-Ag/Ag2WO4;
6%-Ag/Ag2WO4
Fig 7 Time dependence of CH4 yields over Ag2WO4 and 4%-Ag/Ag2WO4 for reduction of CO2 under visible light
Table 1
Summary of physicochemical parameters of Ag2WO4 and 4%-Ag/Ag2WO4
Fig 8 Cyclic experiments for CO2 reduction to CH4 over the photocatalysts  
α-Ag2WO4;
β-Ag2WO4;
γ-Ag2WO4;
4%-Ag/α-Ag2WO4;
4%-Ag/β-Ag2WO4;
4%-Ag/γ-Ag2WO4
Fig 9 Comparison of the absorption spectra and plots of QY as a function of the wavelength of monochromatic light for the 4%-Ag/Ag2WO4 photocatalysts (a) 4%-Ag/α-Ag2WO4; (b) 4%-Ag/β-Ag2WO4; (c) 4%-Ag/γ-Ag2WO4
| | |
| --- | --- |
| 1 | Zhang Q. H. ; Han W. D. ; Hong Y. J. ; Yu J. G. Catal. Today 2009, 148, 335. |
| 2 | Cheng H. ; Huang B. ; Dai Y. Nanoscale 2014, 6, 2009. |
| 3 | Habisreutinger S. N. ; Schmidt-Mende L. ; Stolarczyk J. K. Angew. Chem. Int. Edit 2013, 52, 7372. |
| 4 | Zhang L. ; Zhu Y. Catal. Sci. Technol 2012, 2, 694. |
| 5 | Dong F. ; Huang Y. ; Zou S. ; Liu J. ; Lee S. J. Phys. Chem. C 2011, 115, 241. |
| 6 | Tong W. ; Li L. ; Hu W. ; Yan T. ; Li G. J. Phys. Chem. C 2010, 114, 1512. |
| 7 | Fu H. ; Lin J. ; Zhang L. ; Zhu Y. Appl. Catal. A: Gen 2006, 306, 58. |
| 8 | Montini T. ; Gombac V. ; Hameed A. ; Felisari L. ; Adami G. ; Fornasiero P. Chem. Phys. Lett 2010, 498, 113. |
| 9 | Shan Z. ; Wang Y. ; Ding H. ; Huang F. J. Mol. Catal. A 2009, 302, 54. |
| 10 | Li X. J. ; Sheng J. Y. ; Chen H. H. ; Xu Y. M. Acta Phys. -Chim. Sin 2015, 31, 540. |
| 10 | 李晓金; 盛珈怡; 陈海航; 许宜铭. 物理化学学报, 2015, 31, 540. |
| 11 | vanden Berg A. J. ; Juffermans C. A. H. J.Appl. Crystallogr 1982, 15, 114. |
| 12 | Awazu K. ; Fujimaki M. ; Rockstuhl C. ; Tominaga J. ; Murakami H. ; Ohki Y. ; Yoshida N. ; Watanabe T. J.Am. Chem. Soc 2008, 130, 1676. |
| 13 | Wang C. J. ; Ranasingha O. ; Natesakhawat S. ; Ohodnicki P. R. ; Jr. ; Andio M. ; Lewisac J. P. ; Matranga C. Nanoscale 2013, 5, 6968. |
| 14 | Li J. J. ; Li Y. ; Wang A. L. ; Qu Y. R. ; Yue B. ; Zhou D. ; Chu H. B. ; Zhao Y. L. Acta Phys. -Chim. Sin 2014, 30, 2328. |
| 14 | 李晶晶; 栗源; 王爱玲; 屈燕荣; 岳彬; 周丹; 褚海斌; 赵永亮. 物理化学学报, 2014, 30, 2328. |
| 15 | Yu C. L. ; Cao F. F. ; Shu Q. ; Bao Y. L. ; Xie Z. P. ; Jimmy Y. ; Yang K. Acta Phys. -Chim. Sin 2012, 28, 647. |
| 15 | 余长林; 操芳芳; 舒庆; 包玉龙; 谢志鹏; YUJimmy.; 杨凯. 物理化学学报, 2012, 28, 647. |
| 16 | Zhu M. S. ; Chen P. L. ; Liu M. H. Prog. Chem 2013, 25, 209. |
| 16 | 朱明山; 陈鹏磊; 刘鸣华. 化学进展, 2013, 25, 209. |
| 17 | Chen H. H. ; Xu Y. M. Appld. Surf. Sci 2014, 319, 319. |
| 18 | He Z. Q. ; Wang D. ; Fang H. Y. ; Chen J. M. ; Song S. Nanoscale 2014, 6, 1. |
| 19 | Sarkar D. ; Chattopadhyay K. K. ACS Appl. Mater. Inter 2014, 6, 1004. |
| 20 | Liu H. ; Shon H. K. ; Sun X. ; Vigneswaran S. ; Nan H. Appl. Surf. Sci 2011, 257, 5813. |
| 21 | Cushing S. K. ; Li J. ; Meng F. ; Senty T. R. ; Suri S. ; Zhi M. ; Li M. ; Bristow A. D. ; Wu N. J.Am. Chem. Soc 2012, 134, 15033. |
| 22 | Wang P. ; Huang B. ; Lou Z. ; Zhang X. ; Qin X. ; Dai Y. ; Zheng Z. ; Wang X. Chem. -Eur. J 2010, 16, 538. |
| 23 | Shah M. S. A. S. ; Nag M. ; Kalagara T. ; Singh S. ; Manorama S. V. Chem. Mater 2008, 20, 2455. |
| 24 | Cavalcante L. S. ; Almeida M. A. P. ; Avansi W. ; Jr. ; Tranquilin R. L. ; Longo E. ; Batista N. C. ; Mastelaro V. R. ; Li M. S. Inorg. Chem 2012, 51, 10675. |
| 25 | Longo V. M. ; De Foggi C. C. ; Ferrer M. M. ; Gouveia A. F. ; Andre R. S. ; Avansi W. ; Vergani C. E. ; Machado A. L. ; Andres J. ; Cavalcante L. S. ; Hernandes A. C. ; Longo E. J. Phys. Chem. A 2014, 118, 5769. |
| 26 | Hou W. B. ; Cronin S. B. Adv. Funct. Mater 2013, 23, 1612. |
| 27 | Li J. ; Cushing S. K. ; Bright J. ; Meng F. ; Senty T. R. ; Zheng P. ; Bristow A. D. ; Wu N. ACS Catal 2012, 3, 47. |
| 28 | Dimitrijevic N. M. ; Vijayan B. K. ; Poluektov O. G. ; Rajh T. ; Gray K. A. ; He H. ; Zapol P. J. Am. Chem. Soc 2011, 133, 3964. |