| | | |
| --- | --- | --- |
| CATALYSIS AND SURFACE SCIENCE | | |
Fabrication of Carbon Dots Modified Porous ZnO Nanorods with Enhanced Photocatalytic Activity
Chang. FENG1,Xiao-Yan. DENG1,*(

),Xiao-Xiao. NI2,Wei-Bing. LI1
1 School of Environment and Safety Engineering, Qingdao University of Science and Technology, Qingdao 266042, Shandong Province, P. R. China
2 Qingdao Municipal Drainage Monitoring Center, Qingdao 266002, Shandong Province, P. R. China
Abstract
Porous ZnO nanorods that displayed excellent photocatalytic degradation of organic pollutants (RhB and phenol) were prepared via a solvent thermal method followed by surface modification with carbon dots (C-dots) using a deposition method. The photocatalysts were characterized using X-ray diffraction (XRD), scanning electron microscopy (SEM), transmission electron microscopy (TEM), X-ray photoelectron spectroscopy (XPS), and ultraviolet-visible (UV-Vis) spectroscopy. The degradation of the organic pollutants using the nanorods was tested under Xe-light illumination and was enhanced following C-dot modification. Nanorods that were modified by the C-dots at a mass fraction of 1.2% (CZn1.2) exhibited the highest photocatalytic activity for the degradation of RhB, which was 2.5 times of the pure porous ZnO nanorods. Additionally, the modified nanorods with strangely oxidation ability could catalyze the degradation of phenol by open-rings reaction under Xe-light illumination. The improved photocatalytic activity was attributed to the effective separation of the photogenerated electrons and holes, in which the C-dots served as the receptor of the photogenerated electrons.
Received: 07 August 2015 Published: 28 October 2015
Fund: the National Natural Science Foundation of China(41376126);Foundation of Key Laboratory of MarineEnvironmental Corrosion and Bio-fouling, Institute of Oceanology, Chinese Academy of Sciences
Corresponding Authors: Xiao-Yan. DENG E-mail: deng_xiao_yan@126.com
Fig 1 XRD patterns of the series samples

The mass fractions of 0%, 0.2%, 0.4%, 0.8%, 1.2%, 1.6%, 2.0% C-dots modified ZnO nanorods are denoted as (a) pure ZnO NR, (b) CZn0.2, (c) CZn0.4, (d) CZn0.8, (e) CZn1.2, (f) CZn1.6; (g) CZn2.0, respectively.
Fig 2 SEM images of (A1, A2) pure ZnO NR and (B1, B2) CZn1.2 (A1, B1) under low magnification; (A2, B2) under high magnification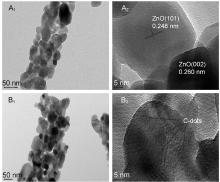 Fig 3 TEM images of (A1, A2) pure ZnO NR and (B1, B2) CZn1.2 (A1, B1, ) low resolution, (A2, B2) high resolution
Fig 4 (A) XPS survey spectra of pure ZnO NR and CZn1.2 (A) and high-resolution XPS spectra of C 1s (B), O 1s (C), and Zn 2p (D)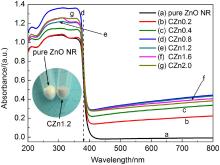 Fig 5 UV-Vis diffuse reflectance spectra of the series samples

Fig 6 (A) Photocatalysis degradation RhB curves of the series of samples under Xe-light irradiation; (B) photocatalysis degradation RhB curves of CZn1.2 under different Xe-light source conditions

Inset in figure A is UV-Vis absorption spectra of RhB irradiated by Xe-light irradiation for various durations in the presence of CZn1.2. Inset in figure B is the curve of CZn1.2 for photocatalysis degradation RhB under simulated visible light.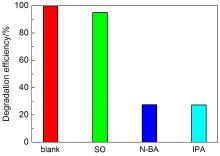 Fig 7 Effects of different free-radical scavengers on degradation of RhB in the presence of CZn1.2 under Xe-light irradiation for 8 min SO: soduim oxalate; N-BA: n-butyl alcohol; IPA: isopropyl alcohol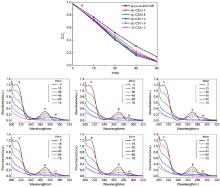 Fig 8 (A) Effect of different samples on phenol degradation; (a–f) UV absorption spectra of phenol irradiated by Xe-light irradiation for various durations in the presence of different samples

(a) pure ZnO NR; (b) CZn0.4; (c) CZn0.8; (d) CZn1.2; (e) CZn1.6; (f) CZn2.0. P and H indicate phenol and hydroquinone, respectively.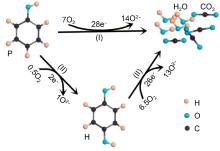 Fig 9 Proposed photodegradation pathways of phenol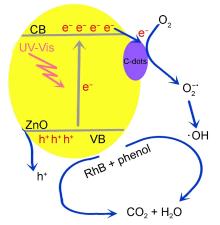 Fig 10 Photocatalytic mechanism of C-dots modified ZnO NR photocatalyst for RhB and phenol degradation

VB: valence band; CB: conduction band
| | |
| --- | --- |
| 1 | Maeda K. ; Teramura K. ; Lu D. ; Takata T. ; Saito N. ; Inoue Y. ; Domen K. Nature 2006, 440, 295. |
| 2 | Bu Y. Y. ; Chen Z. Y. RSC Adv 2014, 4, 45397. |
| 3 | Kudo A. ; Miseki Y. Chem. Soc. Rev 2009, 38, 253. |
| 4 | Xie J. ; Wang H. ; Duan M. Acta Phys. -Chim. Sin 2011, 27, 193. |
| 4 | 谢娟; 王虎; 段明. 物理化学学报, 2011, 27, 193. |
| 5 | Li D. H. ; Yang D. J. ; Quan F. Y. ; Wang B. B. ; Zhang L. J. ; Zhu S. S. ; Wang L. J. Nano Reports 2015, 1, 29. |
| 6 | Liu H. ; Wu X. F. ; Li X. Q. ; Wang J. ; Fan X. M. Chin. J. Catal 2014, 35, 1997. |
| 6 | 刘红; 邬小凤; 李湘奇; 王婕; 范希梅. 催化学报, 2014, 35, 1997. |
| 7 | Xu F. ; Sun L. Energy Environ. Sci 2011, 4, 818. |
| 8 | Huang J. ; Yin Z. G. ; Zheng Q. D. Energy Environ. Sci 2011, 4, 3861. |
| 9 | Shen G. ; Cho J. H. ; Yoo J. K. ; Yi G. ; Lee C. J. J. Phys. Chem. B 2005, 109, 5491. |
| 10 | Li X. Q. ; Fan Q. F. ; Li G. L. ; Huang Y. H. ; Gao Z. ; Fan X. M. ; Zhang C. L. ; Zhou Z. W. Acta Phys. -Chim. Sin 2015, 31, 783. |
| 10 | 李湘奇; 范庆飞; 李广立; 黄瑶翰; 高照; 范希梅; 张朝良; 周祚万. 物理化学学报, 2015, 31, 783. |
| 11 | Zhu C. Q. ; Lu B. G. ; Su Q. ; Xie E. Q. ; Lan W. Nanoscale 2012, 4, 3060. |
| 12 | Samadi M. ; Shivaee H. A. ; Zanetti M. ; Pourjavadi A. ; Moshfegh A. J. Mol. Catal. A: Chem 2012, 359, 42. |
| 13 | Bu Y. Y. ; Chen Z. Y. J. Power Sources 2014, 272, 647. |
| 14 | Sun X. ; Li Q. ; Jiang J. C. ; Mao Y. B. Nanoscale 2014, 6, 8769. |
| 15 | Sin J. C. ; Lam S. M. ; Satoshi I. ; Lee K. T. ; Mohamed A. R. Appl. Catal. B 2014, 148-149, 258. |
| 16 | Wang X. W. ; Yin L. C. ; Liu G. ; Wang L. Z. ; Saito R. ; Lu G. Q. ; Cheng H. M. Energy Environ. Sci 2011, 4, 3976. |
| 17 | Zhang Y. ; Lin S. ; Zhang Y. ; Song X. M. Acta Phys. -Chim. Sin 2013, 29, 2399. |
| 17 | 张宇; 林申; 张钰; 宋溪明. 物理化学学报, 2013, 29, 2399. |
| 18 | Wu L. L. ; Tian R. X. ; Zhao Q. ; Chang Q. ; Hu S. L. Chem. J. Chin. Univ 2014, 35, 717. |
| 18 | 武玲玲; 田瑞雪; 赵清; 常青; 胡胜亮. 高等学校化学学报, 2014, 35, 717. |
| 19 | Sun X. ; Tuo J. Q. ; Yang W. Y. ; Yang D. J. Nano Reports 2015, 2, 51. |
| 20 | Li H. ; He X. ; Kang Z. ; Huang H. ; Liu Y. ; Liu J. ; Lian S. ; Tsang C. H. ; Yang X. ; Lee S. T. Angew. Chem. Int. Edit 2010, 49, 4430. |
| 21 | Ming H. ; Ma Z. ; Liu Y. ; Pan K. M. ; Yu H. ; Wang F. ; Kang Z. H. Dalton Trans 2012, 41, 9526. |
| 22 | De B. ; Voit B. ; Karak N. RSC Adv 2014, 102, 58453. |
| 23 | Zhang H. C. ; Huang H. ; Ming H. ; Li H. T. ; Zhang L. L. ; Liu Y. ; Kang Z. H. J. Mater. Chem 2012, 22, 10501. |
| 24 | Li H. T. ; Kang Z. H. ; Liu Y. ; Lee S. T. J. Mater. Chem 2012, 22, 24230. |
| 25 | Wang J. ; Huang H. M. ; Xu Z. Z. ; Kou J. H. ; Lu C. H. Curr. Org. Chem 2014, 18, 1346. |
| 26 | Yu W. L. ; Zhang J. F. ; Peng T. Y. Appl. Catal. B 2016, 181, 220. |
| 27 | Jassby D. ; Farner B. J. ; Wiesner M. Environ. Sci. Technol 2012, 46, 6934. |
| 28 | Skompska M. ; Zarębska K. Electrochim. Acta 2014, 127, 467. |
| 29 | Liu J. ; Liu Y. ; Liu N. Y. ; Han Y. Z. ; Zhang X. ; Huang H. ; Lifshitz Y. ; Lee S. T. ; Zhong J. ; Kang Z. H. Science 2015, 347, 970. |
| 30 | Peng Y. ; Qin S. ; Wang W. S. ; Xu A. W. CrystEngComm 2013, 15, 6518. |
| 31 | Xu Y. G. ; Xu H. ; Li H. M. ; Xia J. X. ; Liu C. T. ; Liu L. J. Alloy. Compd 2011, 509, 3286. |
| 32 | Zhang H. ; Fan X. ; Quan X. ; Chen S. ; Yu H. Environ. Sci. Technol 2011, 45, 5731. |
| 33 | Wen Y. ; Ding H. ; Shan Y. Nanoscale 2011, 3, 4411. |
| 34 | Dong Y. Q. ; Wang R. X. ; Li H. ; Shao J. W. ; Chi Y. W. ; Lin X. M. ; Chen G. N. Carbon 2012, 50, 2810. |
| 35 | Peng W. Q. ; Qu S. C. ; Cong G. W. ; Wang Z. G. Cryst. Growth Des 2006, 6, 1518. |
| 36 | Li Y. ; Zhang B. P. ; Zhao J. X. J. Alloy. Compd 2014, 586, 663. |
| 37 | Rajbongshi B. M. ; Samdarshi S. K. Appl. Catal. B 2014, 144, 435. |
| 38 | Yu X. J. ; Liu J. J. ; Yu Y. C. ; Zuo S. L. ; Liu B. S. Carbon 2014, 68, 718. |
| 39 | Su R. ; Tiruvalam R. ; He Q. ; Dimitratos N. ; Kesavan L. ; Hammond C. ; Lopez-Sanchez J. A. ; Bechstein R. ; Kiely C. J. ; Hutchings G. J. ; Besenbacher F. ACS Nano 2012, 6, 6284. |
| 40 | Xue C. ; Wang T. ; Yang G. D. ; Yang B. L. ; Ding S. J. J. Mater. Chem. A 2014, 2, 7674. |