| | | |
| --- | --- | --- |
| REVIEW | | |
Recent Progress in Organic-Inorganic Hybrid Perovskite Materials for Luminescence Applications
Juan XIAO,Hao-Li ZHANG*(

)
State Key Laboratory of Applied Organic Chemistry, College of Chemistry & Chemical Engineering, Lanzhou University, Lanzhou 730000, P. R. China
Abstract
As one of the most promising materials in the field of photovoltaics, organic- inorganic hybrid perovskites have attracted widespread attention in recent years. In addition to their promising applications in the field of photovoltaics, perovskite materials also exhibit outstanding photoluminescence and electroluminescence properties. This paper reviews the latest developments in organic- inorganic hybrid perovskite materials, with particular attention paid to the luminescence. Firstly, a summary of the fundamental issues related to the unique light emitting characteristics and influencing factors of perovskite materials is provided, including the light-emitting mechanism and principles related to spectrum adjustability. The influence of the morphology of perovskite on the photoluminescence properties is discussed. The latest developments and applications of perovskite materials in various devices, including light-emitting diodes, lasers, and lightemitting field effect transistors, are then discussed. Finally, the key issues and challenges of perovskite light emitting materials are addressed and prospects for future perovskite-based applications are discussed.
Received: 18 March 2016 Published: 03 May 2016
Fund: The project was supported by the National Key Basic Research Program of China (973)(2012CB933102);National Natural Science Foundation of China(51525303);National Natural Science Foundation of China(21233001);National Natural Science Foundation of China(21190034);Fundamental Research Funds for the Central Universities and 111 Project, China
Corresponding Authors: Hao-Li ZHANG E-mail: haoli.zhang@lzu.edu.cn
Fig 1 Atomic structures and band structures of CH3NH3PbI335 (a, e) α phase, (b, f) β phase, (c, g) γ phase, and (d, h) δ phase. The unit cells of β and γ phases are (√2 × √2 × 2), based on α phase.
Fig 2 Schematic optical absorption for solar cell absorber36

(a) first-generation, (b) second-generation, and (c) halide perovskite solar cell absorber. GaAs has been chosen as a prototypical second-generation solar cell absorber.
Fig 3 Energy levels (vs vacuum) and E (vs NHE) for various perovskite absorbers, TiO2 and a conventional hole transporting material, 2,2′,7,7′-tetrakis-(N,N-dimethoxyphenyl-amine)-9,9′-spirobifluorene (spiro-MeOTAD)42 MA=CH3NH3+, EA=CH3CH2NH3+, FA=NH2―CH=NH3+. The values under the chemical formula are the corresponding band gaps, in eV. Only band gap values of CsPbI3 and MAPbCl3 were found, the valence and conduction band edges were not found in the literature.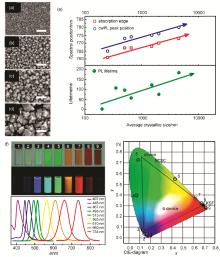 Fig 4 (a-e) SEM, UV-Vis, PL peak position and PL lifetime characterization of MAPbI3 thin film59, (f-h) color-tunable CH3NH3PbX3 quantum dots (QDs) and wide-color gamut phosphor-converted white-light-emitting diodes (pc-WLED) devices63 (a-d) top-view SEM images of MAPbI3 (a) [MAI] = 0.063 mol?L-1, T = 25 ℃; (b) [MAI] = 0.045 mol?L-1, T = 25 ℃; (c) [MAI] = 0.031 mol?L-1, T = 25 ℃; (d) [MAI] = 0.045 mol?L-1, T = 70 ℃. Scale bars are 2 μm. (e) (top) spectral positions of the UV-Vis absorption band edge and continuous wave-PL peak position and (bottom) PL lifetime as functions of the crystallite size. (f) optical images of CH3NH3PbX3 QDs (Nos. 1-9) under ambient light and a 365 nm UV lamp. (g) PL emission spectra of CH3NH3PbX3 QDs. (h) CIE color coordinates corresponding to the CH3NH3PbX3 QDs (Nos. 1-9, circle), pc-WLED devices (lines), and NTSC standard (bright area)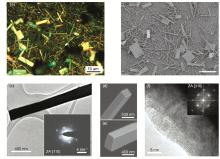 Fig 5 Structural characterization of single-crystal CH3NH3PbX3 NWs75 Optical (a) and SEM (b) images of CH3NH3PbI3 nanostructures grown from PbAc2 thin film in a 40 mg?mL-1 CH3NH3I/isopropanol solution with a reaction time of 24 h. Low-resolution TEM image (c) and its selected-area electron diffraction pattern along the [110] zone axis (ZA). Magnified SEM images of NWs (top view) (d, e), showing a square or rectangular cross-section and flat end facets perpendicular to the long NW axis. High-resolution TEM image and its corresponding fast Fourier transform (f).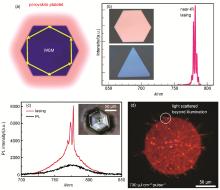 Fig 6 (a-b) Lasing characterizations of perovskites whispering-gallery-mode nanocavities86, (c-d) characterizations of perovskites single crystals and microcrystal networks33, 88 (a) Schematic of optical setup. A pulsed laser (400 nm, 150 fs, 1 kHz) excites the sample from the top globally. The spot size is large enough to cover the whole cavity to ensure high pumping injection efficiency and reduce the local heating effect. (b) The morphological and near-infrared (NIR) photoluminescence from perovskites waveguides inside the cavities confined by their planar polygonal structures and photoluminescence spectra taken from individual nanoplatelets. (c) Room temperature lasing from CH3NH3PbI3 single crystals from dropcasted films. Inset is the optical micrograph of the crystal. (d) Micro-photoluminescence (MicroPL) images of emission obtained from a fixed sample location with illumination spot diameters of 140 μm. Bright spots are interpreted as points with high random lasing (RL) out-coupling and are largely main-tained between the illumination spot diameters of 140 and 160 μm (middle circles), even when they are slightly beyond the pumped area (marginal circles).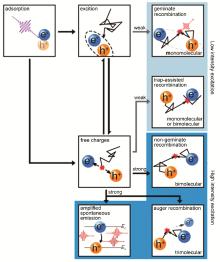 Fig 7 A depiction of the photophysical processes and relaxation pathways in 3D perovskites following photoexcitation90

Efficient paths (black lines) and suppressed paths (grey lines). Monomolecular recombination is charge carrier density independent, while bi-molecular and Auger recombination are charge carrier density-dependent processes that would typically be present under strong photoexcitation
Fig 8 Schematic and device diagram of perovskite LED32, 91 (a) normalized photoluminescence spectrum of the CH3NH3I3-xPbClx film (λexc = 405 nm). The filled area illustrates the wavelength range under the curve that the human eye has its major sensitivity. (b) Energy bands diagram of the materials employed for the preparation of the organic-inorganic hybrid perovskite based LEDs. (c) perovskite LED structure using CH3NH3PbBr3. (d) photograph of flexible green-emitting perovskite LEDs on PET substrate during bending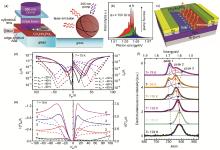 Fig 9 (a-b) Schematic diagram of laser device for ALD CH3NH3PbI374, (c-f) light-emitting field-effect transistors (LE-FET) device configuration and thin-film characterization of CH3NH3PbI334 (a) Variable stripe length measurement setup for gain determination (left) and schematic showing a perovskite-coated microsphere absorbing pump light and coupling luminescence into the cavity, resulting in laser emission (right). (b) Spectral dependence of perovskite-coated microsphere emission on pump power at T = 80 K for three different pump fluences (100 μJ?cm-2, blue; 175 μJ?cm-2, green; 300 μJ?cm-2, red). Distinct laser modes are observed with a free spectral range of 700 GHz. (c) Schematic of the bottom-gate,bottom contact light-emitting field-effect transistors (LE-FET) configuration used in this study. (d, e) Transfer (d) and output (e) characteristics obtained at 78 K. The n-type output characteristics (right panel) were measured at Vgs = 40-100 V (Vgs = 40 V, 1; Vgs = 60 V, 2; Vgs = 80 V, 3; Vgs = 100 V, 4), whereas the p-type output characteristics (left panel) are measured at Vgs = -40 V to -100 V (Vgs = -40 V, 1; Vgs = -60 V, 2; Vgs = -80 V, 3; Vgs = -100V, 4). Solid and dashed curves are measured with forward and backward sweeping, respectively. (f) Low-temperature electroluminescence (EL) spectra of CH3NH3PbI3 LE-FET. EL spectra collected at Vds = 100 V, Vgs = 100 V,normalized to their maximum peak. The spectra were fitted by three Gaussian curves (solid lines). The shift in peak position of the 750 nm peak (peak 1, triangles), the 780 nm peak (peak 2, circles) and the 800 nm peak (peak 3, squares) is indicated by the dashed lines.
| | |
| --- | --- |
| 1 | Kojima A. ; Teshima K. ; Shirai Y. ; Miyasaka T. J. Am. Chem. Soc. 2009, 131 (17), 6050. |
| 2 | Chung I. ; Lee B. ; He J. ; Chang R. P. H. ; Kanatzidis M. G. Nature 2012, 485 (7399), 486. |
| 3 | Kim H. S. ; Lee C. R. ; Im J. H. ; Lee K. B. ; Moehl T. ; Marchioro A. ; Moon S. J. ; Humphry Baker R. ; Yum J. H. ; Moser J. E. ; Graetzel M. ; Park N. G. Sci. Rep. 2012, 2 |
| 4 | Etgar L. ; Gao P. ; Xue Z. S. ; Peng Q. ; Chandiran A. K. ; Liu B. ; Nazeeruddin M. K. ; Graetzel M. J. Am. Chem. Soc. 2012, 134 (42), 17396. |
| 5 | Shi J. J. ; Dong J. ; Lv S. T. ; Xu Y. Z. ; Zhu L. F. ; Xiao J. Y. ; Xu X. ; Wu H. J. ; Li D. M. ; Luo Y. H. ; Meng Q. B. Appl. Phys. Lett. 2014, 104 (6) |
| 6 | Lee M. M. ; Teuscher J. ; Miyasaka T. ; Murakami T. N. ; Snaith H. J. Science 2012, 338 (6107), 643. |
| 7 | Burschka J. ; Pellet N. ; Moon S. J. ; Humphry Baker R. ; Gao P. ; Nazeeruddin M. K. ; Graetzel M. Nature 2013, 499 (7458), 316. |
| 8 | Liu M. ; Johnston M. B. ; Snaith H. J. Nature 2013, 501 (7467), 395. |
| 9 | Jeon N. J. ; Noh J. H. ; Kim Y. C. ; Yang W. S. ; Ryu S. ; Seol S. Nat., Il Mater. 2014, 13 (9), 897. |
| 10 | Jeon N. J. ; Lee H. G. ; Kim Y. C. ; Seo J. ; Noh J. H. ; Lee J. ; Seok S. I. J. Am. Chem. Soc. 2014, 136 (22), 7837. |
| 11 | Jeon N. J. ; Noh J. H. ; Yang W. S. ; Kim Y. C. ; Ryu S. ; Seo J. ; Seok S. I. Nature 2015, 517 (7535), 476. |
| 12 | Yang W. S. ; Noh J. H. ; Jeon N. J. ; Kim Y. C. ; Ryu S. ; Seo J. ; Seok S. I. Science 2015, 348 (6240), 1234. |
| 13 | National Renewable Energy Laboratory 2016 Solar CellEfficiencies (http://www.nrel.gov/ncpv/images/efficiency_chart.jpg) |
| 14 | Zuo C. ; Bolink H. J. ; Han H. ; Huang J. ; Cahen D. ; Ding L. Adv. Sci. 2016, (1500324) |
| 15 | Zhang L. J. ; Liu T. F. ; Liu L. F. ; Hu M. ; Yang Y. ; Mei A. Y. ; Han H. W. J. Mater. Chem. A 2015, 3 (17), 9165. |
| 16 | Jiang Q. L. ; Sheng X. ; Shi B. ; Feng X. J. ; Xu T. J. Phys. Chem. C 2014, 118 (45), 25878. |
| 17 | Abate A. ; Hollman D. J. ; Teuscher J. ; Pathak S. ; Avolio R. ; D'Errico G. ; Vitiello G. ; Fantacci S. ; Snaith H. J. J. Am Chem. Soc. 2013, 135 (36), 13538. |
| 18 | Dong X. ; Hu H.W. ; Lin B. C. ; Ding J. N. ; Yuan N. Y. Chem. Commun. 2014, 50 (92), 14405. |
| 19 | Mahmood K. ; Swain B. S. ; Kirmani A. R. ; Amassian A. J. Mater. Chem. A 2015, 3 (17), 9051. |
| 20 | Kumar M. H. ; Dharani S. ; Leong W. L. ; Boix P. P. ; Prabhakar R. R. ; Baikie T. ; Shi C. ; Ding H. ; Ramesh R. ; Asta M. ; Graetzel M. ; Mhaisalkar S. G. ; Mathews N. Adv. Mater. 2014, 26 (41), 7122. |
| 21 | Ogomi Y. ; Morita A. ; Tsukamoto S. ; Saitho T. ; Fujikawa N. ; Shen Q. ; Toyoda T. ; Yoshino K. ; Pandey S. S. ; Ma T. ; Hayase S. J. Phys. Chem. Lett. 2014, 5 (6), 1004. |
| 22 | Nagane S. ; Bansode U. ; Game O. ; Chhatre S. ; Ogale S. Chem. Commun. 2014, 50 (68), 9741. |
| 23 | Kazim S. ; Nazeeruddin M. K. ; Graetzel M. ; Ahmad S. Angew. Chem. Int. Ed. 2014, 53 (11), 2812. |
| 24 | Ono L. K. ; Wang S. H. ; Kato Y. ; Raga S. R. ; Qi Y. B. Energ. Environ. Sci. 2014, 7 (12), 3989. |
| 25 | Stranks S. D. ; Snaith H. J. Nat. Nanotechnol. 2015, 10 (5), 391. |
| 26 | Sum T. C. ; Chen S. ; Xing G. C. ; Liu X. F. ; Wu B. Nanotechnology 2015, 26 (34) |
| 27 | Luo J. ; Im J. H. ; Mayer M. T. ; Schreier M. ; Nazeeruddin M.K. ; Park N. G. ; Tilley S. D. ; Fan H. J. ; Gr?tzel M. Science 2014, 345 (6204), 1593. |
| 28 | Guo Y. L. ; Liu C. ; Tanaka H. ; Nakamura E. J. Phys. Chem. Lett. 2015, 6 (3), 535. |
| 29 | Dong Q. F. ; Fang Y. J. ; Shao Y. C. ; Mulligan P. ; Qiu J. ; Cao L. ; Huang J. S. Science 2015, 347 (6225), 967. |
| 30 | Nie W. Y. ; Tsai H. H. ; Asadpour R. ; Blancon J. C. ; Neukirch A. J. ; Gupta G. ; Crochet J. J. ; Chhowalla M. ; Tretiak S. ; Alam M. A. ; Wang H. L. ; Mohite A. D. Science 2015, 347 (6221), 522. |
| 31 | Shi D. ; Adinolfi V. ; Comin R. ; Yuan M. ; Alarousu E. ; Buin A. ; Chen Y. ; Hoogland S. ; Rothenberger A. ; Katsiev K. ; Losovyj Y. ; Zhang X. ; Dowben P. A. ; Mohammed O. F. ; Sargent E. H. ; Bakr O. M. Science 2015, 347 (6221), 519. |
| 32 | Kim Y. H. ; Cho H. ; Heo J. H. ; Kim T. S. ; Myoung N. ; Lee C. L. ; Im S. H. ; Lee T. W. Adv. Mater. 2015, 27 (7), 1248. |
| 33 | Xing G. C. ; Mathews N. ; Lim S. S. ; Yantara N. ; Liu X. F. ; Sabba D. ; Gr?tzel M. ; Mhaisalkar S. ; Sum T. C. Nat. Mater. 2014, 13 (5), 476. |
| 34 | Chin X. Y. ; Cortecchia D. ; Yin J. ; Bruno A. ; Soci C. Nat. Commun. 2015, 6, 7383. |
| 35 | Yin W. J. ; Shi T. T. ; Yan Y. F. Adv. Mater. 2014, 26 (27), 4653. |
| 36 | Yin W. J. ; Yang J. H. ; Kang J. ; Yan Y. F. ; Wei S. H. J. Mater. Chem. A 2015, 3 (17), 8926. |
| 37 | Li C. H. ; Lu X. G. ; Ding W. Z. ; Feng L. M. ; Gao Y. H. ; Guo Z. M. Acta Crystallogr. B 2008, 64, 702. |
| 38 | Baikie T. ; Fang Y. ; Kadro J. M. ; Schreyer M. ; Wei F. ; Mhaisalkar S. G. ; Graetzel M. ; White T. J. J. Mater. Chem. A. 2013, 1 (18), 5628. |
| 39 | Stoumpos C. C. ; Malliakas C. D. ; Kanatzidis M. G. Inorg. Chem. 2013, 52 (15), 9019. |
| 40 | Ball J. M. ; Lee M. M. ; Hey A. ; Snaith H. J. Energ. Environ. Sci. 2013, 6 (6), 1739. |
| 41 | Chung I. ; Song J. H. ; Im J. ; Androulakis J. ; Malliakas C.D. ; Li H. ; Freeman A. J. ; Kenney J. T. ; Kanatzidis M. G. J. Am. Chem. Soc. 2012, 134 (20), 8579. |
| 42 | Wang B. H. ; Xiao X. D. ; Chen T. Nanoscale 2014, 6 (21), 12287. |
| 43 | Umebayashi T. ; Asai K. ; Kondo T. ; Nakao A. Phys. Rev. B. 2003, 67 (155405) |
| 44 | Mosconi E. ; Amat A. ; Nazeeruddin M. K. ; Graetzel M. ; DeAngelis F. J. Phys. Chem. C. 2013, 117 (27), 13902. |
| 45 | Pang S. P. ; Hu H. ; Zhang J. L. ; Lv S. L. ; Yu Y. M. ; Wei F. ; Qin T. S. ; Xu H. X. ; Liu Z. H. ; Cui G. L. Chem. Mater. 2014, 26 (3), 1485. |
| 46 | Hao F. ; Stoumpos C. C. ; Chang R. P. H. ; Kanatzidis M. G. J. Am. Chem. Soc. 2014, 136 (22), 8094. |
| 47 | Kitazawa N. ; Watanabe Y. ; Nakamura Y. J. Mater. Sci. 2002, 37 (17), 3585. |
| 48 | Noh J. H. ; Im S. H. ; Heo J. H. ; Mandal T. N. ; Seok S. I. Nano Lett. 2013, 13 (4), 1764. |
| 49 | Hao F. ; Stoumpos C. C. ; Duyen Hanh C. ; Chang R. P. H. ; Kanatzidis M. G. Nat. Photonics 2014, 8 (6), 489. |
| 50 | Gil Escrig L. ; Miquel Sempere A. ; Sessolo M. ; Bolink H. J. J. Phys. Chem. Lett. 2015, 6 (18), 3743. |
| 51 | Wetzelaer G. A. H. ; Kuik M. ; Nicolai H. T. ; Blom P.W. M. Phys. Rev. B 2011, 83 (165204) |
| 52 | Wetzelaer G. J. A. H. ; Scheepers M. ; Miquel Sempere A. ; Momblona C. ; Avila J. ; Bolink H. J. Adv. Mater. 2015, 27 (11), 1837. |
| 53 | Schulz P. ; Edri E. ; Kirmayer S. ; Hodes G. ; Cahen D. ; Kahn A. Energ. Environ. Sci. 2014, 7 (4), 1377. |
| 54 | Wong A. B. ; Lai M. ; Eaton S.W. ; Yu Y. ; Lin E. ; Dou L. ; Fu A. ; Yang P. Nano Lett. 2015, 15 (8), 5519. |
| 55 | Wang N. N. ; Si J. J. ; Jin Y. Z. ; Wang J. P. ; Huang W. Acta Chim. Sin. 2015, 73 (3), 171. |
| 55 | 王娜娜; 司俊杰; 金一政; 王建浦; 黄维. 化学学报, 2015, 73 (3), 171. |
| 56 | Wei M. Y. ; Chung Y. H. ; Xiao Y. ; Chen Z. J. Org. Electron. 2015, 26, 260. |
| 57 | Zhang M. ; Yu H. ; Lyu M. Q. ; Wang Q. ; Yun J. H. ; Wang L. Z. Chem. Commun. 2014, 50 (79), 11727. |
| 58 | Zhang T. Y. ; Yang M. J. ; Benson E. E. ; Li Z. ; van deLagemaat J. ; Luther J. M. ; Yan Y. F. ; Zhu K. ; Zhao Y. X. Chem. Commun. 2015, 51 (37), 7820. |
| 59 | D′Innocenzo V. ; Kandada A. R. S. ; De Bastiani M. ; Gandini M. ; Petrozza A. J. Am. Chem. Soc. 2014, 136 (51), 17730. |
| 60 | D′Innocenzo V. ; Grancini G. ; Alcocer M. J. P. ; Kandada A.R. S. ; Stranks S. D. ; Lee M. M. ; Lanzani G. ; Snaith H. J. ; Petrozza A. Nat. Commun. 2014, 5, 3586. |
| 61 | Yamada Y. ; Nakamura T. ; Endo M. ; Wakamiya A. ; Kanemitsu Y. Appl. Phys. Express 2014, 7 (3) |
| 62 | Varshni Y. P. Elsevier B.V. 1967, 34 (1), 149. |
| 63 | Zhang F. ; Zhong H. Z. ; Chen C. ; Wu X. G. ; Hu X. M. ; Huang H. L. ; Han J. B. ; Zou B. S. ; Dong Y. P. ACS Nano 2015, 9 (4), 4533. |
| 64 | Im J. H. ; Jang I. H. ; Pellet N. ; Graetzel M. ; Park N. G. Nat. Nanotechnol. 2014, 9 (11), 927. |
| 65 | Ren Z.W. ; Ng A. ; Shen Q. ; Gokkaya H. C. ; Wang J. C. ; Yang L. J. ; Yiu W. K. ; Bai G. X. ; Djurisic A. B. ; Leung W.W. F. ; Hao J. H. ; Chan W. K. ; Surya C. Sci. Rep. 2014, 4 |
| 66 | Saba M. ; Cadelano M. ; Marongiu D. ; Chen F. ; Sarritzu V. ; Sestu N. ; Figus C. ; Aresti M. ; Piras R. ; Lehmann A. G. ; Cannas C. ; Musinu A. ; Quochi F. ; Mura A. ; Bongiovanni G. Nat. Commun. 2014, 5, 5049. |
| 67 | Cohn A.W. ; Schimpf A. M. ; Gunthardt C. E. ; Gamelin D. R. Nano Lett. 2013, 13 (4), 1810. |
| 68 | Eperon G. E. ; Stranks S. D. ; Menelaou C. ; Johnston M. B. ; Herz L. M. ; Snaith H. J. Energ. Environ. Sci. 2014, 7 (3), 982. |
| 69 | Huang H. ; Andrei S. S. ; Stephen V. K. ; Tak F. H. ; Rogach A. L. Adv. Sci. 2015, 2, 1500194. |
| 70 | Deschler F. ; Price M. ; Pathak S. ; Klintberg L. E. ; Jarausch D. D. ; Higler R. ; Huettner S. ; Leijtens T. ; Stranks S. D. ; Snaith H. J. ; Atatuere M. ; Phillips R. T. ; Friend R. H. J. Phys. Chem. Lett. 2014, 5 (8), 1421. |
| 71 | Tan Z. K. ; Moghaddam R. S. ; Lai M. L. ; Docampo P. ; Higler R. ; Deschler F. ; Price M. ; Sadhanala A. ; Pazos L. M. ; Credgington D. ; Hanusch F. ; Bein T. ; Snaith H. J. ; Friend R. H. Nat. Nanotechnol. 2014, 9 (9), 687. |
| 72 | Li G. R. ; Tan Z. K. ; Di D.W. ; Lai M. L. ; Jiang L. ; Lim J.H.W. ; Friend R. H. ; Greenham N. C. Nano Lett. 2015, 15 (4), 2640. |
| 73 | Kumawat N. K. ; Dey A. ; Kumar A. ; Gopinathan S. P. ; Narasimhan K. L. ; Kabra D. ACS Appl. Mater. Inter. 2015, 7 (24), 13119. |
| 74 | Sutherland B. R. ; Hoogland S. ; Adachi M. M. ; Wong C. T.O. ; Sargent E. H. ACS Nano 2014, 8 (10), 10947. |
| 75 | Zhu H. M. ; Fu Y. P. ; Meng F. ; Wu X. X. ; Gong Z. Z. ; Ding Q. ; Gustafsson M. V. ; Trinh M. T. ; Jin S. ; Zhu X. Y. Nat. Mater. 2015, 14 (6), 636. |
| 76 | Ramanathan S. ; Patibandla S. ; Bandyopadhyay S. ; Edwards J. D. ; Anderson J. J. Mater. Sci.-Mater. El. 2006, 17 (9), 651. |
| 77 | Yan R. X. ; Gargas D. ; Yang P. D. Nat. Photonics 2009, 3 (10), 569. |
| 78 | Dasgupta N. P. ; Sun J.W. ; Liu C. ; Brittman S. ; Andrews S.C. ; Lim J. ; Gao H.W. ; Yan R. X. ; Yang P. D. Adv. Mater. 2014, 26 (14), 2137. |
| 79 | Meng F. ; Morin S. A. ; Forticaux A. ; Jin S. Accounts Chem. Res. 2013, 46 (7), 1616. |
| 80 | Morin S. A. ; Bierman M. J. ; Tong J. ; Jin S. Science 2010, 328 (5977), 476. |
| 81 | Bierman M. J. ; Lau Y. K. A. ; Kvit A. V. ; Schmitt A. L. ; Jin S. Science 2008, 320 (5879), 1060. |
| 82 | Mayer B. ; Rudolph D. ; Schnell J. ; Morkoetter S. ; Winnerl J. ; Treu J. ; Mueller K. ; Bracher G. ; Abstreiter G. ; Koblmueller G. ; Finley J. J. Nat. Commun. 2013, 4, 2931. |
| 83 | Saxena D. ; Mokkapati S. ; Parkinson P. ; Jiang N. ; Gao Q. ; Tan H. H. ; Jagadish C. Nat. Photonics 2013, 7 (12), 963. |
| 84 | Ning C. Z. Phys. Status Solidi B 2010, 247 (4), 774. |
| 85 | Jiang N. ; Parkinson P. ; Gao Q. ; Breuer S. ; Tan H. H. ; WongLeung J. ; Jagadish C. Appl. Phys. Lett. 2012, 101 (2) |
| 86 | Zhang Q. ; Ha S. T. ; Liu X. F. ; Sum T. C. ; Xiong Q. H. Nano Lett. 2014, 14 (10), 5995. |
| 87 | Tian W. M. ; Zhao C. Y. ; Leng J. ; Gui R. R. ; Jin S. G. J. Am. Chem. Soc. 2015, 137 (39), 12458. |
| 88 | Dhanker R. ; Brigeman A. N. ; Larsen A. V. ; Stewart R. J. ; Asbury J. B. ; Giebink N. C. Appl. Phys. Lett. 2014, 105 (15) |
| 89 | Apalkov V. M. ; Raikh M. E. Phys. Rev. B. 2005, 72 (18) |
| 90 | Sum T. C. ; Mathews N. Energ. Environ. Sci. 2014, 7 (8), 2518. |
| 91 | Jaramillo Quintero O. A. ; Sanchez R. S. ; Rincon M. ; Mora-Sero I. J. Phys. Chem. Lett. 2015, 6 (10), 1883. |
| 92 | Miller O. D. ; Yablonovitch E. ; Kurtz S. R. IEEE J. Photovolt. 2012, 2 (3), 303. |
| 93 | Kwak J. ; Bae W. K. ; Lee D. ; Park I. ; Lim J. ; Park M. ; Cho H. ; Woo H. ; Yoon D. Y. ; Char K. ; Lee S. ; Lee C. Nano Lett. 2012, 12 (5), 2362. |
| 94 | Niu Y. H. ; Munro A. M. ; Cheng Y. J. ; Tian Y. Q. ; Liu M. S. ; Zhao J. L. ; Bardecker J. A. ; Jen La Plante I. ; Ginger D. S. ; Jen A. K. Y. Adv. Mater. 2007, 19 (20), 3371. |
| 95 | Era M. ; Morimoto S. ; Tsutsui T. ; Saito S. Appl. Phys. Lett. 1994, 65 (6), 676. |
| 96 | Deren P. J. ; Bednarkiewicz A. ; Goldner P. ; Guillot Noel O. J. Appl. Phys. 2008, 103 (4) |
| 97 | Xia R. D. ; Heliotis G. ; Bradley D. D. C. Appl. Phys. Lett. 2003, 82 (21), 3599. |
| 98 | Namdas E. B. ; Tong M. ; Ledochowitsch P. ; Mednick S. R. ; Yuen J. D. ; Moses D. ; Heeger A. J. Adv. Mater. 2009, 21 (7), 799. |
| 99 | Dang C. ; Lee J. ; Breen C. ; Steckel J. S. ; Coe Sullivan S. ; Nurmikko A. Nat. Nanotechnol. 2012, 7 (5), 335. |
| 100 | Stagira S. ; Nisoli M. ; Cerullo G. ; Zavelani Rossi M. ; DeSilvestri S. ; Lanzani G. ; Graupner W. ; Leising G. Chem. Phys. Lett. 1998, 289 (1-2), 205. |
| 101 | Kagan C. R. ; Mitzi D. B. ; Dimitrakopoulos C. D. Science 1999, 286 (5441), 945. |
| 102 | Liu X. L. ; Wang C. G. ; Lyu L. ; Wang C. C. ; Xiao Z. G. ; Bi C. ; Huang J. S. ; Gao Y. L. Phys. Chem. Chem. Phys. 2015, 17 (2), 896. |
| 103 | Wehrenfennig C. ; Eperon G. E. ; Johnston M. B. ; Snaith H.J. ; Herz L. M. Adv. Mater. 2014, 26 (10), 1584. |
| 104 | Mitzi D. B. ; Dimitrakopoulos C. D. ; Kosbar L. L. Chem. Mater. 2001, 13 (10), 3728. |
| 105 | Bisri S. Z. ; Piliego C. ; Gao J. ; Loi M. A. Adv. Mater. 2014, 26 (8), 1176. |
| 106 | Swensen J. S. ; Soci C. ; Heeger A. J. Appl. Phys. Lett. 2005, 87 (25) |
| 107 | Zaumseil J. ; Sirringhaus H. Chem. Rev. 2007, 107 (4), 1296. |
| 108 | Mei A. Y. ; Li X. ; Liu L. F. ; Ku Z. L. ; Liu T. F. ; Rong Y. G. ; Xu M. ; Hu M. ; Chen J. Z. ; Yang Y. ; Graetzel M. ; Han H. W. Science 2014, 345 (6194), 295. |
| 109 | Li X. ; Dar M. I. ; Yi C. Y. ; Luo J. S. ; Tschumi M. ; Zakeeruddin S. M. ; Nazeeruddin M. K. ; Han H.W. ; Graetzel M. Nat. Chem. 2015, 7 (9), 703. |
| 110 | Bansode U. ; Naphade R. ; Game O. ; Agarkar S. ; Ogale S. J. Phys. Chem. C. 2015, 119 (17), 9177. |
| 111 | Yang M. J. ; Zhou Y. Y. ; Zeng Y. N. ; Jiang C. S. ; Padture N.P. ; Zhu K. Adv. Mater. 2015, 27 (41), 6363. |
| 112 | Chen W. ; Wu Y. Z. ; Yue Y. F. ; Liu J. ; Zhang W. J. ; Yang X.D. ; Chen H. ; Bi E. ; Ashraful I. ; Graetzel M. ; Han L. Y. Science 2015, 350 (6263), 944. |
| 113 | Hailegnaw B. ; Kirmayer S. ; Edri E. ; Hodes G. ; Cahen D. J. Phys. Chem. Lett. 2015, 6 (9), 1543. |
| 114 | Zhao Y. X. ; Zhu K. Chem. Soc. Rev. 2016, 45 (3), 655. |