| | | |
| --- | --- | --- |
| REVIEW | | |
Advances in the Synthesis of Mesoporous Carbon Nitride Materials
Yue WANG,Quan JIANG,Jie-Kun SHANG,Jie XU*(

),Yong-Xin LI
Jiangsu Key Laboratory of Advanced Catalytic Materials and Technology, School of Petrochemical Engineering, Changzhou University, Changzhou 213164, Jiangsu Province, P. R. China
Abstract
Graphitic carbon nitride (g-C3N4) is a new metal-free material. Owing to its multiple unique physicochemical properties, g-C3N4 has promising applications in various research fields, including heterogeneous catalysis, photocatalysis, fuel cells, and gas storage. Compared with bulk g-C3N4 prepared via direct thermal condensation, mesoporous g-C3N4 possesses a higher surface area and abundant accessible mesoporous pores. These features expose many more surface active sites, thereby improving the performance of this material in catalysis as well as in other applications. Thermal condensation is the most convenient strategy to prepare g-C3N4 and, when fabricating mesoporous g-C3N4, one may employ hard-, soft-, or non-templating method. This paper reviews recent advances in the synthesis of mesoporous g-C3N4 using all three routes. Specifically, several crucial issues regarding the hard-templating method are discussed with regard to the synthetic mechanism associated with various precursors and the physicochemical properties of the g-C3N4 products. Novel soft- and non-templating approaches for the preparation of mesoporous g-C3N4 are also addressed and a detailed comparison to the hard-templating method is provided. Finally, future prospects for the development of mesoporous g-C3N4 materials are also assessed.
Received: 01 March 2016 Published: 05 May 2016
Fund: The project was supported by the National Natural Science Foundation of China(21203014);Postgraduate Innovation Project of Jiangsu Province, China(KYLX14_1097);Postgraduate Innovation Project of Jiangsu Province, China(KYLX15_1119);Project Funded by Priority Academic Program Development of Jiangsu Higher Education Institutions, China, and Advanced Catalysis and Green Manufacturing Collaborative Innovation Center, China(ACGM2016-06-28)
Corresponding Authors: Jie XU E-mail: shine6832@163.com
Fig 1 Five allotropes of C3N4
Fig 2 Synthetic pathways of mesoporous g-C3N4 through hard-templating methods
Fig 3 Synthetic mechanism of g-C3N4 from cyanamide via thermal condensation15, 33
Fig 4 TEM image of mpg-C3N4/1 sample (A) and XRD patterns of mpg-C3N4 materials synthesized upon adjusting the mass ratios of the templates to cyanamide (B)10

TEM: transmission electron microscopy, XRD: X-ray diffraction. The inset is the selected area electron diffraction (SAED) pattern.
Fig 5 SAXS pattern (a) and TEM images (b, c) of ompg-C3N4 material35

SAXS: small angle X-ray diffraction. The insets are all selected area electron diffraction patterns.
Table 1
Prices, toxicity, melting points, and aqueous solubility of various reagents
Fig 6 N2 adsorption-desorption isotherms and their corresponding pore size distributions of mesoporous g-C3N4 prepared using dicyandiamide as a precursor, ethylenediamine as a solvent, and SBA-15 (A, C) and FDU-12 (B, D) as templates41
Fig 7 Synthetic mechanism of g-C3N4 from urea via thermal condensation44, 46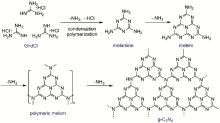 Fig 8 A possible mechanism of transformation from guanidinium chloride to g-C3N428
Table 2
Mass yields of g-C3N4 materials synthesized using various precursors
Table 3
Textual parameters and C/N molar ratios of various mesoporous CN materials prepared using carbon tetrachloride and ethylenediamine as precursors, and different mesoporous silicas as hard templates
Fig 9 TEM images of FDU-12 (A, B) and its negative replica CN-FDU12 (C)58
Fig 10 Synthetic mechanism of CN starting from carbon tetrachloride and ethylenediamine53
Fig 11 g-C3N4 and CN materials constituted by tri-s-triazine (A) and pyridine-like heterocycles (B) units60
Fig 12 FT-IR spectra of C3N4-G and CN-MCF materials
Fig 13 Complete and partial pore filling of precursor during the hard-detemplating synthesis of mesoporous g-C3N467
Fig 14 Heating sequences from dicyandiamide to g-C3N474 A: a typical sequence, and the synthesized sample is bulk nonporous g-C3N4; B: a sequence for the synthesis of nanoporous g-C3N4 materials adopting P123 as soft template; C: a sequence for the synthesis of nanoporous g-C3N4 materials adopting Trixon X-100 as soft template; RT: room temperature
Fig 15 Low-(a) and high-magnification (b) TEM images and corresponding SAED image (inset) of mpg-C3N478
| | |
| --- | --- |
| 1 | Schreiner P. R. Chem. Soc. Rev. 2003, 32, 289. |
| 2 | Su D. S. ; Zhang J. ; Frank B. ; Thomas A. ; Wang X. ; Paraknowitsch J. ; Schl?gl R. ChemSusChem 2010, 3, 169. |
| 3 | Lotsch B. V. ; Schnick W. Chem.-Eur. J. 2007, 13, 4956. |
| 4 | Zhang Y. ; Mori T. ; Ye J. Sci. Adv. Mater. 2012, 4, 282. |
| 5 | Thomas A. ; Fischer A. ; Goettmann F. ; Antonietti M. ; Müller J. O. ; Schl?gl R. ; Carlsson J. M. J. Mater. Chem. 2008, 18, 4893. |
| 6 | Liu A. ; Cohen M. Phys. Rev. B 1985, 41, 10727. |
| 7 | Teter D. M. ; Hemley R. J. Science 1996, 271, 53. |
| 8 | Kroke E. ; Schwarz M. Coord. Chem. Rev. 2004, 248, 493. |
| 9 | Zhang J. S. ; Wang B. ; Wang X. C. Acta Phys.-Chim. Sin. 2013, 29, 1865. |
| 9 | 张金水; 王博; 王心晨. 物理化学学报, 2013, 29, 1865. |
| 10 | Goettmann F. ; Fischer A. ; Antonietti M. ; Thomas A. Angew. Chem. Int. Edit. 2006, 45, 4467. |
| 11 | Ansari M. B. ; Min B. H. ; Mo Y. H. ; Park S. E. Green Chem. 2011, 13, 1416. |
| 12 | Zhu J. ; Wei Y. ; Chen W. ; Zhao Z. ; Thomas A. Chem. Commun. 2010, 46, 6965. |
| 13 | Xu J. ; Long K. Z. ; Wang Y. ; Xue B. ; Li Y. X. Appl. Catal. A 2015, 496, 1. |
| 14 | Gong Y. ; Li M. ; Li H. ; Wang Y. Green Chem. 2015, 17, 715. |
| 15 | Wang X. ; Maeda K. ; Thomas A. ; Takanabe K. Nat. Mater. 2009, 8, 76. |
| 16 | Su F. ; Mathew S. C. ; Lipner G. ; Fu X. ; Antonietti M. ; Blechert S. ; Wang X. J. Am. Chem. Soc. 2010, 132, 16299. |
| 17 | Cao S. ; Low J. ; Yu J. ; Jaroniec M. Adv. Mater. 2015, 27, 2150. |
| 18 | Cao S. ; Yu J. J. Phys. Chem. Lett. 2014, 5, 2101. |
| 19 | Bai X. ; Yan S. ; Wang J. ; Wang L. ; Jiang W. ; Wu S. ; Sun C. ; Zhu Y. J. Mater. Chem. A 2014, 2, 17521. |
| 20 | Yin S. ; Han J. ; Zhou T. ; Xu R. Catal. Sci. Technol. 2015, 5, 5048. |
| 21 | Zheng Y. ; Liu J. ; Liang J. ; Jaroniec M. ; Qiao S. Z. Energy Environ. Sci. 2012, 5, 6717. |
| 22 | Kim M. ; Hwang S. ; Yu J. S. J. Mater. Chem. 2007, 17, 1656. |
| 23 | Park S. S. ; Chu S.W. ; Xue C. ; Zhao D. ; Ha C. S. J. Mater. Chem. 2011, 21, 108017. |
| 24 | Koh G. ; Zhang Y.W. ; Pan H. Int. J. Hydrog. Energy 2012, 37, 4170. |
| 25 | Wang Y. ; Wang X. ; Antonietti M. Angew. Chem. Int. Edit. 2012, 51, 68. |
| 26 | Chu Z. Y. ; Yuan B. ; Yan T. N. J. Inorg. Mater. 2014, 29, 785. |
| 27 | Li Q. ; Yang J. ; Feng D. ; Wu Z. ; Wu Q. ; Park S. S. ; Ha C. S. ; Zhao D. Nano Res. 2010, 3, 632. |
| 28 | Xu J. ; Wu H. T. ; Wang X. ; Xue B. ; Li Y. X. ; Cao Y. Phys. Chem. Chem. Phys. 2013, 15, 4510. |
| 29 | Lu A. H. ; Schüth F. Adv. Mater. 2006, 18, 1793. |
| 30 | Tiemann M. Chem. Mater. 2007, 20, 961. |
| 31 | Yang H. ; Zhao D. J. Mater. Chem. 2005, 15, 1217. |
| 32 | Schüth F. Angew. Chem. Int. Edit. 2003, 42, 3604. |
| 33 | Groenewolt M. ; Antonietti M. Adv. Mater. 2005, 17, 1789. |
| 34 | Fischer, A."Reactive Hard Templating": from Carbon Nitridesto Metal Nitrides. Ph. D. Dissertation, Max Planck Institute ofColloids and Interfaces: Potsdam, 2008. |
| 35 | Chen X. ; Jun Y. S. ; Takanabe K. ; Maeda K. ; Domen K. ; Fu X. ; Antonietti M. ; Wang X. Chem. Mater. 2009, 21, 4093. |
| 36 | Lee E. Z. ; Jun Y. S. ; Hong W. H. ; Thomas A. ; Jin M. M. Angew. Chem. Int. Edit. 2010, 49, 9706. |
| 37 | Wehrstedt K. D. ; Wildner W. ; Güthner T. ; Holzrichter K. ; Mertschenk B. ; Ulrich A. J. Hazard. Mater. 2009, 170, 829. |
| 38 | Jürgens B. ; Irran E. ; Senker J. ; Kroll P. ; Müller H. ; Schnick W. J. Am. Chem. Soc. 2003, 125, 10288. |
| 39 | Ansari M. B. ; Jin H. ; Parvin M. N. ; Park S. E. Catal. Today 2012, 185, 211. |
| 40 | Wang Y. ; Wang F. ; Zuo Y. ; Zhang X. ; Cui L. F. Mater. Lett. 2014, 136, 271. |
| 41 | Xu J. ; Chen T. ; Jiang Q. ; Li Y. X. Chem.-Asian J. 2014, 9, 3269. |
| 42 | Tian C. ; Lu C. ; Wang B. ; Xie X. ; Miao Y. ; Li X. RSC Adv. 2015, 5, 103829. |
| 43 | Schaber P. M. ; Colson J. ; Higgins S. ; Thielen D. ; Anspach B. ; Brauer J. Thermochim. Acta 2004, 424, 131. |
| 44 | Liu J. ; Zhang T. ; Wang Z. ; Dawson G. ; Chen W. J. Mater. Chem. 2011, 21, 14398. |
| 45 | Zhang G. ; Zhang J. ; Zhang M. ; Wang X. J. Mater. Chem. 2012, 22, 8083. |
| 46 | Su Q. ; Sun J. ; Wang J. ; Yang Z. ; Cheng W. ; Zhang S. Catal. Sci. Technol. 2014, 4, 1556. |
| 47 | Lee S. C. ; Lintang H. O. ; Yuliati L. Chem.-Asian J. 2012, 7, 2139. |
| 48 | Lotsch B. V. ; Schnick W. New J. Chem. 2004, 28, 1129. |
| 49 | Long B. ; Lin J. ; Wang X. J. Mater. Chem. A 2014, 2, 2942. |
| 50 | Zhu J. ; Xiao P. ; Li H. ; Carabineiro S. A. C. ACS Appl. Mater. Inter. 2014, 6, 16449. |
| 51 | Qiu Y. ; Gao L. Chem. Commun. 2003, 2378 |
| 52 | Vinu A. ; Ariga K. ; Mori T. ; Nakanishi T. ; Hishita S. ; Golberg D. ; Bando Y. Adv. Mater. 2005, 17, 1648. |
| 53 | Vinu A. Adv. Funct. Mater. 2008, 18, 816. |
| 54 | Vinu A. ; Srinivasu P. ; Sawant D. P. ; Mori T. ; Ariga K. ; Chang J. S. ; Jhung S. H. ; Balasubramanian V. V. ; Hwang Y. K. Chem. Mater. 2007, 19, 4367. |
| 55 | Jin X. ; Balasubramanian V. V. ; Selvan S. T. ; Sawant D. P. ; Chari M. A. ; Lu G. Q. ; Vinu A. Angew. Chem. Int. Edit. 2009, 48, 7884. |
| 56 | Talapaneni S. N. ; Anandan S. ; Mane G. P. ; Anand C. ; Dhawale D. S. ; Varghese S. ; Mano A. ; Mori T. ; Vinu A. J. Mater. Chem. 2012, 22, 9831. |
| 57 | Xu J. ; Long K. Z. ; Chen T. ; Xue B. ; Li Y. X. ; Cao Y. Catal. Sci. Technol. 2013, 3, 3192. |
| 58 | Xu J. ; Wu F. ; Wu H. T. ; Xue B. ; Li Y. X. ; Cao Y. Microporous Mesoporous Mat. 2014, 198, 223. |
| 59 | Xu J. ; Shen K. ; Xue B. ; Li Y. X. ; Cao Y. Catal. Lett. 2013, 143, 600. |
| 60 | Xu J. ; Shen K. ; Xue B. ; Li Y. X. J. Mol. Catal. A 2013, 372, 105. |
| 61 | Thrower P. A. Carbon 2004, 42, 2367. |
| 62 | Xu J. ; Chen T. ; Wang X. ; Xue B. ; Li Y. X. Catal. Sci. Technol. 2014, 4, 2126. |
| 63 | Ryoo R. ; Joo S. H. ; Jun S. J. Phys. Chem. B 1999, 103, 7743. |
| 64 | Shen W. ; Dong X. ; Zhu Y. ; Chen H. ; Shi J. Microporous Mesoporous Mat. 2005, 85, 157. |
| 65 | Shi Y. ; Wan Y. ; Zhang R. ; Zhao D. Adv. Funct. Mater. 2008, 18, 2436. |
| 66 | Zhang J. ; Guo F. ; Wang X. Adv. Funct. Mater. 2013, 23, 3008. |
| 67 | Borchardt L. ; Kockrick E. ; Wollmann P. ; Kaskel S. ; Guron M. M. ; Sneddon L. G. ; Geiger D. Chem. Mater. 2010, 22, 4660. |
| 68 | Bojdys M. J. ; Müller J. O. ; Antonietti M. ; Thomas A. Chem.-Eur. J. 2008, 14, 8177. |
| 69 | Su F. ; Antonietti M. ; Wang X. Catal. Sci. Technol. 2012, 2, 1005. |
| 70 | Xu J. ; Wu F. ; Jiang Q. ; Li Y. X. Catal. Sci. Technol. 2015, 5, 447. |
| 71 | Zhang Y. ; Thomas A. ; Antonietti M. J. Am. Chem. Soc. 2008, 131, 50. |
| 72 | Xu J. ; Wang Y. ; Shang J. K. ; Jiang Q. ; Li Y. X. Catal. Sci. Technol. 2016, 6, 4192. |
| 73 | Yan H. Chem. Commun. 2012, 48, 3430. |
| 74 | Wang Y. ; Wang X. ; Antonietti M. ; Zhang Y. ChemSusChem 2010, 3, 435. |
| 75 | Zhao D. ; Feng J. ; Huo Q. ; Melosh N. ; Fredrickson G. H. ; Chmelka B. F. ; Stucky G. D. Science 1998, 279, 548. |
| 76 | Wei J. ; Zhou D. ; Sun Z. ; Deng Y. ; Xia Y. ; Zhao D. Adv. Funct. Mater. 2013, 23, 2322. |
| 77 | Li H. ; Wang L. ; Liu Y. ; Lei J. ; Zhang J. Res. Chem. Intermed. 2016, 42, 3979. |
| 78 | Min S. ; Lu G. J. Phys. Chem. C 2012, 116, 19644. |
| 79 | Han K. K. ; Wang C. C. ; Li Y. Y. ; Wan M. M. ; Wang Y. ; Zhu J. H. RSC Adv. 2013, 3, 9465. |
| 80 | Ding J. ; Liu Q. ; Zhang Z. ; Liu X. ; Zhao J. ; Cheng S. ; Zong B. ; Dai W. L. Appl. Catal. B 2015, 165, 511. |
| 81 | Zhang X. ; Xie X. ; Wang H. ; Zhang J. ; Pan B. ; Xie Y. J. Am. Chem. Soc. 2012, 135, 18. |
| 82 | Xu J. ; Zhang L. ; Shi R. ; Zhu Y. J. Mater. Chem. A 2013, 1, 14766. |
| 83 | Lu X. ; Xu K. ; Chen P. ; Jia K. ; Liu S. ; Wu C. J. Mater. Chem. A 2014, 2, 18924. |
| 84 | Dong F. ; Li Y. ; Wang Z. ; Ho W. K. Appl. Sur. Sci. 2015, 358, 393. |
| 85 | Niu P. ; Zhang L. ; Liu G. ; Cheng H. M. Adv. Funct. Mater. 2012, 22, 4763. |
| 86 | Dong X. ; Cheng F. J. Mater. Chem. A 2015, 3, 23642. |
| 87 | Kumar S. ; Surendar T. ; Kumar B. ; Baruah A. ; Shanker V. RSC Adv. 2014, 4, 8132. |