| | | |
| --- | --- | --- |
| ARTICLE | | |
Surface Analysis of the Lithium-Rich Cathode Material Li1.2Mn0.54Co0.13Ni0.13NaxO2 by Advanced Electron Microscopy
Wei HUANG,Chun-Yang WU,Yue-Wu ZENG,Chuan-Hong JIN*(

),Ze ZHANG
State Key Laboratory of Silicon Materials, Key Laboratory of Advanced Materials and Applications for Batteries of Zhejiang Province, School of Materials Science and Engineering, Zhejiang University, Hangzhou 310027, P. R. China
Abstract
In this work, Li1.2Mn0.54Co0.13Ni0.13NaxO2 was prepared via an ion-exchange process combined with a solid-state reaction. Aberration-corrected scanning transmission electron microscopy (STEM), energydispersive X-ray spectroscopy (EDS), and electron energy loss spectroscopy (EELS) were all used to study the surface structure and chemical distribution of the resulting material. Nickel (Ni) was found to be enriched at the surface in regions perpendicular to the lithium diffusion channels (that is, the (200) surfaces) and also exhibited a tendency to diffuse into the lithium (Li) layers, generating a Fm3m rocksalt phase. In contrast, cobalt (Co) segregated along the transition metal (TM) layers of the (001) and (200) surfaces. The results of aging trials demonstrated that Co-enriched layers lead to surface structure instability, as evidenced by the formation of a large number of antisite defects (Li-TM) and rocksalt phase structures at the (001) surface during aging.
Received: 05 April 2016 Published: 16 May 2016
Fund: the National Natural Science Foundation of China(51222202)
Corresponding Authors: Chuan-Hong JIN E-mail: chhjin@zju.edu.cn
Fig 1 XRD pattern of Li1.2Mn0.54Co0.13Ni0.13NaxO2 and corresponding SEM image
Fig 2 High angle annular dark field scanning transmission electron microscopy (HAADF-STEM) images of the bulk structure for the pristine materials and corresponding atomic models
Fig 3 Surface segregation of transition metals (a-d) EDS maps of the pristine material; (e, f) HAADF-STEM images of the surface structures; (g) corresponding EDS quantification results of the areas labeled by the rectangular frames in Fig. 3(a).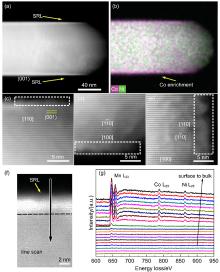 Fig 4 Surface reconstruction of the sample after aging process

(a) HAADF-STEM image of the particle at low magnification, (001) surface shows an enhanced contrast due to the formation of surface reconstructed layer (SRL); (b) mixed EDS map of Co and Ni; (c, d) HAADF-HRSTEM image of the (001) surface; (e) HAADF-HRSTEM image of the surface which is perpendicular to the lithium diffusion channel; (f, g) ADF-STEM image and corresponding EELS line scan spectra with plural scatterings and backgrounds removed
| | |
| --- | --- |
| 1 | Sun Y. K. ; Myung S. T. ; Park B. C. ; Prakash J. ; Belharouak I. ; Amine K. Nat. Mater 2009, 8, 320. |
| 2 | Armstrong A. R. ; Bruce P. G. Nature 1996, 381, 499. |
| 3 | Ohzuku T. ; Makimura Y. Chem. Lett 2001, (No. 7), 642. |
| 4 | Kim J. S. ; Johnson C. S. ; Vaughey J. T. ; Thackeray M. M. ; Hackney S. A. Chem. Mater 2004, 16, 1996. |
| 5 | Thackeray M. M. ; Kang S. H. ; Johnson C. S. ; Vaughey J. T. ; Benedek R. ; Hackney S. A. J. Mater. Chem 2007, 17, 3112. |
| 6 | Shi S. J. ; Tu J. P. ; Tang Y. Y. ; Yu Y. X. ; Zhang Y. Q. ; Wang X. L. ; Gu C. D. J. Power Sources 2013, 228, 14. |
| 7 | Li Q. ; Li G. S. ; Fu C. C. ; Luo D. ; Fan J. M. ; Li L. P. ACS Appl. Mater. Inter 2014, 6, 10330. |
| 8 | Chen L. ; Chen S. ; Hu D. Z. ; Su Y. F. ; Li W. K. ; Wang Z. ; Bao L. Y. ; Wu F. Acta Phys. -Chim. Sin 2014, 30, 467. |
| 8 | 陈来; 陈实; 胡道中; 苏岳锋; 李维康; 王昭; 包丽颖; 吴锋. 物理化学学报, 2014, 30, 467. |
| 9 | Ren X. Z. ; Liu T. ; Sun L. N. ; Zhang P. X. Acta Phys. -Chim. Sin 2014, 30, 1641. |
| 9 | 任祥忠; 刘涛; 孙灵娜; 张培新. 物理化学学报, 2014, 30, 1641. |
| 10 | Croy J. R. ; Kim D. ; Balasubramanian M. ; Gallagher K. ; Kang S. H. ; Thackeray M. M. J. Electrochem. Soc 2012, 159, A781. |
| 11 | Gu M. ; Belharouak I. ; Zheng J. M. ; Wu H. M. ; Xiao J. ; Genc A. ; Amine K. ; Thevuthasan S. ; Baer D. R. ; Zhang J. G. ; Browning N. D. ; Liu J. ; Wang C. M. ACS Nano 2013, 7, 760. |
| 12 | Boulineau A. ; Simonin L. ; Colin J. F. ; Bourbon C. ; Patoux S. Nano Lett 2013, 13, 3857. |
| 13 | Boulineau A. ; Simonin L. ; Colin J. F. ; Canevet E. ; Daniel L. ; Patoux S. Chem. Mater 2012, 24, 3558. |
| 14 | Lin F. ; Markus I. M. ; Nordlund D. ; Weng T. C. ; Asta M. D. ; Xin H. L. L. ; Doeff M. M. Nat. Commun 2014, 5, 3529. |
| 15 | Zheng J. M. ; Gu M. ; Genc A. ; Xiao J. ; Xu P. H. ; Chen X. L. ; Zhu Z. H. ; Zhao W. B. ; Pullan L. ; Wang C. M. ; Zhang J. G. Nano Lett 2014, 14, 2628. |
| 16 | Gu M. ; Belharouak I. ; Genc A. ; Wang Z. G. ; Wang D. P. ; Amine K. ; Gao F. ; Zhou G.W. ; Thevuthasan S. ; Baer D. R. ; Zhang J. G. ; Browning N. D. ; Liu J. ; Wang C. M. Nano Lett 2012, 12, 5186. |
| 17 | Gu M. ; Genc A. ; Belharouak I. ; Wang D. P. ; Amine K. ; Thevuthasan S. ; Baer D. R. ; Zhang J. G. ; Browning N. D. ; Liu J. ; Wang C. M. Chem. Mater 2013, 25, 2319. |
| 18 | Kim D. ; Kang S. H. ; Balasubramanian M. ; Johnson C. S. Electrochem. Commun 2010, 12, 1618. |
| 19 | Yan P. F. ; Zheng J. M. ; Lv D. P. ; Wei Y. ; Zheng J. X. ; Wang Z. G. ; Kuppan S. ; Yu J. G. ; Luo L. L. ; Edwards D. ; Olszta M. ; Amine K. ; Liu J. ; Xiao J. ; Pan F. ; Chen G. Y. ; Zhang J.G. ; Wang C. M. Chem. Mater 2015, 27, 5393. |
| 20 | Jarvis K. A. ; Deng Z. Q. ; Allard L. F. ; Manthiram A. ; Ferreira P. J. Chem. Mater 2011, 23, 3614. |
| 21 | Yu H. J. ; Ishikawa R. ; So Y. G. ; Shibata N. ; Kudo T. ; Zhou H. S. ; Ikuhara Y. Angew. Chem. Int. Edit 2013, 52, 5969. |
| 22 | Jarvis K. A. ; Deng Z. ; Allard L. F. ; Manthiram A. ; Ferreira P.J. J. Mater. Chem 2012, 22, 11550. |
| 23 | Yan P. F. ; Zheng J. M. ; Zheng J. X. ; Wang Z. G. ; Teng G. F. ; Kuppan S. ; Xiao J. ; Chen G. Y. ; Pan F. ; Zhang J. G. ; Wang C. M. Adv. Energy Mater 2016, 6, 1502455. |
| 24 | Graetz J. ; Ahn C. C. ; Ouyang H. ; Rez P. ; Fultz B. Phys. Rev. B 2004, 69, 235103. |
| 25 | Pearson D. H. ; Ahn C. C. ; Fultz B. Phys. Rev. B 1993, 47, 8471. |
| 26 | Varela M. ; Oxley M. P. ; Luo W. ; Tao J. ; Watanabe M. ; Lupini A. R. ; Pantelides S. T. ; Pennycook S. J. Phys. Rev. B 2009, 79, 085117. |
| 27 | Huang Z. F. ; Du F. ; Wang C. Z. ; Wang D. P. ; Chen G. Phys. Rev. B 2007, 75, 054411. |
| 28 | Yamada A. ; Tanaka M. ; Tanaka K. ; Sekai K. J. Power Sources 1999, 81, 73. |