| | | |
| --- | --- | --- |
| ARTICLE | | |
High-Performance Thermogalvanic Cell Based on Organic Nanofluids
Hao-Yu SUN,Jin-Huan PU,Gui-Hua TANG*(

)
Key Laboratory of Thermal-fluid Science and Engineering of Ministry of Education, School of Energy and Power Engineering, Xi'an Jiaotong University, Xi'an 710049, P. R. China
Abstract
The thermoelectric performance of traditional thermogalvanic cells is relatively low and a more efficient conversion mechanism is required. In this paper, the distribution of glycerol/glycerin in an aqueous sodium chloride solution in a carbon nanotube (CNT) is investigated by molecular dynamics (MD) simulation. The distributions of ions, molecule net charge, and electrical potential of the system are markedly affected by temperature. We propose a novel nanofluid thermoelectric conversion method based on the CNT and glycerol/glycerin aqueous sodium chloride solution. The thermoelectric performance of the proposed system is much higher than that of most of current liquid thermogalvanic cells, and the application temperature range is also widened considerably. A preliminary thermal-to-electrical energy conversion experiment based on nanoporous carbon withmixtures of sodiumchloride and glycerol is also conducted to qualitatively verify the numerical results.
Received: 13 May 2016 Published: 28 June 2016
Fund: the National Natural Science Foundation of China(51576156)
Corresponding Authors: Gui-Hua TANG E-mail: ghtang@mail.xjtu.edu.cn
Fig 1 Physical model of simulation
Table 1
Content of each component in glycerine/glycerolaqueous electrolyte solution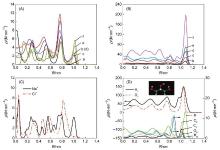 Fig 2 Number density distribution of the ions and molecules in electrolyte solution of the CNT at 300 K CDATA[(A) Na+, (B) H in glycerol, (C) and (D) are ions and solvent molecules for the electrolyte solution. (a) no glycerol in solvent and 5% NaCl; (b) 10.45% glycerol in solvent and 19.68% NaCl; (c) 20.30% in solvent and 18.37% NaCl; (d) 40.15% glycerol in solvent and 15.54% NaCl; (e) 60.10% glycerol in solvent and 12.51% NaCl; (f) 100% glycerol and 5% NaCl; H1 and O1: H and O in the water molecule; C1, C2, H, HO, OH: C1 is the carbon atom at both end of the glycerol molecule, C2 is the carbon atom at the middle, H, HO: are the hydrogen atoms directly bonded with the carbon and oxygen atoms, respectively, and OH is the oxygen in glycerol molecule.
Fig 3 Distribution of net charge and electric potential in the CNT (A) net charge for electrolyte solution e, (B) electric potential for electrolyte solution e, (C) distribution of net charge at T = 300 K, (D) net output electric potential at different thermal differences (ΔT), (E) schematic of the potential difference generated between two liquid-CNT interfaces at a heat grade. The systems a-f are same as Fig. 2. ρne: density of net charge, Chen: data from Chen′s article21,22
Table 2
Dielectric constants (ε2) of glycerol-water solutions under different temperatures
Fig 4 Schematic of distribution of ions in the mesopore in electrolyte solution
Fig 5 Changes of α, η, and ηr with ΔT in different electrolyte solutions (A) Seebeck coefficient,(B) thermoelectric conversion efficiency,(C) thermoelectric conversion efficiency of Carnot efficiency. The systems a-f are same as Fig. 2.
Fig 6 Output electric potential between two electrodes
Fig 7 Output electric potential between two electrodes
| | |
| --- | --- |
| 1 | Heremans J. P. ; Dresselhaus M. S. ; Bell L. E. ; Morelli D. T Nat. Nanotech 2013, 8, 471. |
| 2 | Tritt T. M Annu. Rev. Mater. Res. 2011, 41, 433. |
| 3 | Snyder J. G. ; Toberer E. S Nat. Mater. 2008, 7, 105. |
| 4 | Bell L. E Science 2008, 321, 1457. |
| 5 | Poudel B. ; Hao Q. ; Ma Y. ; Lan Y. C. ; Minnich A. ; Yu B. ; Yan X. ; Wang D. Z. ; Muto A. ; Vashaee D. ; Chen X. Y. ; Liu J. M. ; Dresselhaus M. S. ; Chen G. ; Ren Z. F Science 2008, 320, 634. |
| 6 | Kongtragool B. ; Wongwises S Renew. Sust. Energy Rev 2003, 7, 131. |
| 7 | Kong X. O. ; Wang R. Z. ; Huang X. H Energ. Convers. Manage. 2004, 45, 433. |
| 8 | Kongtragool B. ; Wongwises S Renew. Energy 2007, 32, 547. |
| 9 | Thombare D. G. ; Verma S. K Renew. Sust. Energy Rev 2008, 12, 1. |
| 10 | Vining C. B Nat. Mater 2009, 8, 83. |
| 11 | Mancini T. ; Heller P. ; Butler B. ; Osborn B. ; Schiel W. ; Goldberg V. ; Buck R. ; Diver R. ; Andraka C. ; Moreno J ASME J. Sol. Energy 2003, 125, 135. |
| 12 | Kuzminskii Y. V. ; Zasukha V. A. ; Kuzminskaya G. Y J. Power Sources 1994, 52, 231. |
| 13 | Quickenden T. I. ; Mua Y J. Electrochem. Soc 1995, 142, 3985. |
| 14 | Bouty E J. Phys. 1880, 9, 229. |
| 15 | Debethune A ; J . ; Licht. T. S% Swendeman N J. Electrochem. Soc. 1959, 106, 616. |
| 16 | Gunawa A. ; Lin C. H. ; Buttry D. A. ; Mujica V. ; Taylor R. A. ; Prasher R. S. ; Phelan P. E Nano. Micro. Therm 2013, 17 (4), 304. |
| 17 | Quickenden T. I. ; Vernon C. F Sol. Energy 1986, 36, 63. |
| 18 | Kang T. J. ; Fang S. ; Kozlov M. E. ; Haines C. S. ; Li N. ; Kim Y. H. ; Chen Y. S. ; Baughman R. H Adv. Funct. Mater. 2012, 22, 477. |
| 19 | Yu Q. ; Punyamurtual V. K. ; Han A. ; Lim H J. Power Sources 2008, 183, 403. |
| 20 | Hu R. C. ; Cola B. A. ; Haram N. ; Barisci J. N. ; Lee S. ; Stoughton S. ; Wallace G. ; Too C. ; Thomas M. ; Gestos A. ; Cruz M. E. D. ; Ferraris J. P. ; Zakhidow A. A. ; Baughman R H. Nano Lett. 2010, 10, 838. |
| 21 | Chen X. ; Xu B. X. ; Liu L Appl. Mech. Rev. 2014, 66, 050803. |
| 22 | Xu B. X. ; Liu L. ; Lim H. ; Qiao Y. ; Chen X Nano Energy 2012, 1, 805. |
| 23 | Xu B. X. ; Yu Q. ; Park T. ; Tak M. ; Zhou Q. L. ; Chen X Energy Environ. Sci. 2011, 4, 3632. |
| 24 | Li Q. ; Yang D. F. ; Wang J. H. ; Wu Q. ; Liu Q. Z Acta Phys. -Chim. Sin 2016, 32 (3), 691. |
| 24 | 李清; 杨登峰; 王建花; 武琪刘清芝. 物理化学学报, 2016, 32 (3), 691. |
| 25 | Shen Z. L. ; He G. H. ; Zhang N. ; Hao C Acta Phys. -Chim. Sin. 2015, 31 (6), 1025. |
| 25 | 谌庄琳; 贺高红; 张宁郝策. 物理化学学报, 2015, 31 (6), 1025. |
| 26 | Plimpton S J. Comput. Phys 1995, 117, 1. |
| 27 | Xue Q. Z. ; Li W. Y J. University Petroleum 1999, 23 (4), 102. |
| 27 | 薛庆忠李文瀛. 石油大学学报, 1999, 23 (4), 102. |
| 28 | Association G. P. Physical Properties of Glycerine and Its Solutions; Glycerine Producers' Association: New York 1963;p 17. |
| 29 | Zhang L. L. ; Zhao X. S Chem. Soc. Rev. 2009, 38, 2520. |
| 30 | Mua Y. ; Quickenden T. I J. Electrochem. Soc 1996, 143 (8), 2558. |
| 31 | Mann D. J. ; Halls M. D Phys. Rev. Lett. 2003, 90, 195503. |
| 32 | Zhu F. ; Schulten K Biophys. J 2003, 85, 236. |