| | | |
| --- | --- | --- |
| ARTICLE | | |
Surface Defect Passivation of Graphene Quantum Dots by Amino Functionalization and Photoluminescence Emission Enhancement
Yun-Jing WANG,Ying-Qiu LIU,Xiu-Xiu GAO,Yan-Shan ZHAN,Li-Yang PAN,Wen-Kai ZHANG*(

),Xiao-Min FANG*(

)
Henan Engineering Laboratory of Flame-Retardant and Functional Materials, College of Chemistry and Chemical Engineering, Henan University, Kaifeng 475004, Henan Province, P. R. China
Abstract
In this work, graphene oxide sheets are cut into graphene quantum dots (GQDs) by acidic oxidation, then GQDs are hydrothermally treated with ammonia (NH3) at 100℃ to form amino-functionalized graphene quantum dots (N-GQDs). Atomic force microscopy (AFM) shows smaller dots in ammonia treated GQDs, and holey graphene structure is directly observed. Fourier transform infrared (FTIR) spectra confirm that NH3 can effectively react with epoxy and carboxyl groups to form hydroxylamine and amide groups, respectively. The absorption and photoluminescence (PL) properties of the samples are determined by ultraviolet-visible-near infrared (UV-Vis-NIR) spectra and steady-state fluorescence spectra. Three PL excitation peaks occurring at around 250, 290, and 350 nm are attributed to C=C related π-π* transition, C-O-C and C=O related n-π* transitions, respectively. After amino functionalization, the C-O-C related n-π* transition is suppressed, and the PL emission spectrum of N-GQDs is less excitation wavelength. The fluorescence quantum yield of the N-GQDs is 9.6%, which is enhanced by 32 times compared with that of the unmodified GQDs (~0.3%). Timeresolved PL spectra are also used to investigate the N-GQDs. The PL lifetimes depend on the emission wavelength and coincide with the PL spectrum, and are different from most fluorescent species. This result reveals the synergy and competition between defect derived photoluminescence and amino passivation of the N-GQDs. Compared with oxygen-related defects, nitrogen-related localized electronic states are expected to have a longer lifetime and enhanced radiative decay rates.
Received: 24 May 2016 Published: 28 June 2016
Fund: the National Natural Science Foundation of China(51403051,21502042);Key Project of the Education Department of Henan Province, China(16A150003)
Corresponding Authors: Wen-Kai ZHANG,Xiao-Min FANG E-mail: zhangwenkai@henu.edu.cn;xmfang@henu.edu.cn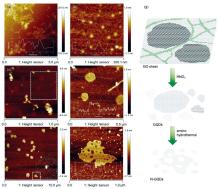 Fig 1 Cutting and perforation effect in ammonia treated graphene nanosheets

(d) and (f) represent the magnified images of the white dash region in (c) and (e), respectively.(g) schematic for the two-step GO sheets cutting and perforation mechanism. color online
Fig 2 FTIR of GQDs and N-GQDs

The magnified spectra of the rectangular region are shown in (b).
Fig 3 Absorption and PL properties of GQDs and N-GQDs

(a) absorption spectra; (b) fluorescence excitation spectra; (c, d) fluorescence emission spectra; GQDs and N-GQDs are illuminated with 365 nm UV lamp, and fluorescence images are shown in the inset of (c) and (d), respectively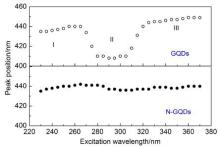 Fig 4 Relationship between the position of emission peak and the excitation wavelength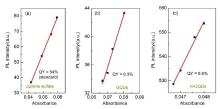 Fig 5 Calculated fluorescence quantum yields (QY)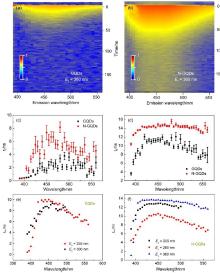 Fig 6 Time resolved emission spectra (TRES) analyses of GQDs and N-GQDs (a, b) contour plot of TRES; (c) the fitted lifetime (τ1); (d) τ2; (e, f) average lifetime (τave).All the lifetimes were obtained fitting by two exponential decay rates. τave = τ1?A1 + τ2?A2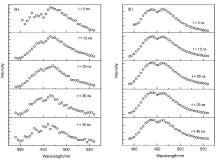 Fig 7 Fluorescence spectra obtained at different time delays
Fig 8 (a) Schematic representation of amino functionalization of GQDs; photoluminescence excitation contour map of GQDs (b) and N-GQDs (c); energy level diagram and excited state deactivation pathways for GQDs (d) and N-GQDs (e)
| | |
| --- | --- |
| 1 | Li X. ; Rui M. ; Song J. ; Shen Z. ; Zeng H Adv. Funct. Mater. 2015, 25, 4929. |
| 2 | Zhao A. ; Chen Z. ; Zhao C. ; Gao N. ; Ren J. ; Qu X Carbon 2015, 85, 309. |
| 3 | Miao P. ; Han K. ; Tang Y. ; Wang B. ; Lin T. ; Cheng W Nanoscale 2015, 7, 1586. |
| 4 | Ding C. ; Zhu A. ; Tian Y Accounts Chem. Res. 2014, 47, 20. |
| 5 | Lin X. ; Yang Y. ; Nian L. ; Su H. ; Ou J. ; Yuan Z. ; Xie F. ; Hong W. ; Yu D. ; Zhang M. ; Ma Y. ; Chen X Nano Energy 2016, 26, 216. |
| 6 | Li L. ; Wu G. ; Yang G. ; Peng J. ; Zhao J. ; Zhu J Nanoscale 2013, 5, 4015. |
| 7 | Wang Y. ; Hu A J. Mater. Chem. C 2014, 2, 6921. |
| 8 | Strauss V. ; Clark T. ; Guldi D. M. ; Margraf J. T. ; Dolle C. ; Butz B. ; Nacken T. J. ; Walter J. ; Bauer W. ; Peukert W. ; Spiecker E J. Am. Chem. Soc. 2014, 136, 17308. |
| 9 | Huang J. ; Rong M. Z. ; Zhang M. Q Phys. Chem. Chem. Phys. 2016, 18, 4800. |
| 10 | Liu F. ; Jang M. ; Ha H. D. ; Kim J. ; Cho Y. ; Seo T. S Adv. Mater. 2013, 25, 3657. |
| 11 | Wang X. ; Cao L. ; Yang S. ; Lu F. ; Meziani M. J. ; Tian L. ; Sun K W. Angew. Chem. 2010, 122, 5438. |
| 12 | Cao L. ; Meziani M. J. ; Sahu S. ; Sun Y Accounts Chem. Res. 2012, 46, 171. |
| 13 | Galande C. ; Mohite A. D. ; Naumov A. V. ; Gao W. ; Ci L. ; Ajayan A. ; Gao H. ; Srivastava A. ; Weisman R. B. ; Ajayan P M. Sci. Rep. 2011, 1, 85. |
| 14 | Singamaneni S. R. ; van Tol J. ; Ye R. ; Tour J. M Appl. Phys. Lett. 2015, 107, 212402. |
| 15 | Gan Z. X. ; Xiong S. J. ; Wu X. L. ; Xu T. ; Zhu X. B. ; Gan X. ; Guo J. H. ; Shen J. C. ; Sun L. T. ; Chu P. K Adv. Opt. Mater. 2013, 1, 926. |
| 16 | Eda G. ; Lin Y. Y. ; Mattevi C. ; Yamaguchi H. ; Chen H. A. ; Chen I. S. ; Chen C.W. ; Chhowalla M Adv. Mater. 2010, 22, 505. |
| 17 | Chien C. ; Li S. ; Lai W. ; Yeh Y. ; Chen H. ; Chen I. ; Chen L. ; Chen K. ; Nemoto T. ; Isoda S. ; Chen M. ; Fujita T. ; Eda G. ; Yamaguchi H. ; Chhowalla M. ; Chen C Angew. Chem. Int. Ed. 2012, 51, 6662. |
| 18 | Zhang W. ; Liu Y. ; Meng X. ; Ding T. ; Xu Y. ; Xu H. ; Ren Y. ; Liu B. ; Huang J. ; Yang J. ; Fang X Phys. Chem. Chem. Phys. 2015, 17, 22361. |
| 19 | Tang L. B. ; Ji R. ; Cao X. ; Lin J. ; Jiang H. ; Li X. ; Teng K.S. ; Luk C. M. ; Zeng S. ; Hao J. ; Lau S. P ACS Nano 2012, 6, 5102. |
| 20 | Kumar G. S. ; Roy R. ; Sen D. ; Ghorai U. K. ; Thapa R. ; Mazumder N. ; Saha S. ; Chattopadhyay K. K Nanoscale 2014, 6, 3384. |
| 21 | Zhu S. J. ; Zhang J. H. ; Tang S. J. ; Qiao C. Y. ; Wang L. ; Wang H. Y. ; Liu X. ; Li B. ; Li Y. F. ; Yu W. L. ; Wang X. F. ; Sun H. C. ; Yang B Adv. Funct. Mater. 2012, 22, 4732. |
| 22 | Tetsuka H. ; Asahi R. ; Nagoya A. ; Okamoto K. ; Tajima I. ; Ohta R. ; Okamoto A Adv. Mater. 2012, 24, 5333. |
| 23 | Jin S. H. ; Kim D. H. ; Jun G. H. ; Hong S. H. ; Jeon S ACS Nano 2013, 7, 1239. |
| 24 | Hernandez Y. ; Nicolosi V. ; Lotya M. ; Blighe F. M. ; Sun Z. ; De S. ; McGovern I. T. ; Holland B. ; Byrne M. ; GuńKo Y. K. ; Boland J. J. ; Niraj P. ; Duesberg G. ; Krishnamurthy S. ; Goodhue R. ; Hutchison J. ; Scardaci V. ; Ferrari A. C. ; Coleman J. N Nat. Nanotechnol. 2008, 3, 563. |
| 25 | Zhou Y. ; Bao Q. ; Tang L. A. L. ; Zhong Y. ; Loh K. P Chem. Mater 2009, 21, 2950. |
| 26 | Patel M. ; Feng W. ; Savaram K. ; Khoshi M. R. ; Huang R. ; Sun J. ; Rabie E. ; Flach C. ; Mendelsohn R. ; Garfunkel E. ; He H Small 2015, 11, 3358. |
| 27 | Zhou D. ; Cui Y. ; Xiao P. ; Jiang M. ; Han B Nat. Commun. 2014, 5, 4716. |
| 28 | Lin L. ; Zhang S Chem. Commun. 2012, 48, 10177. |
| 29 | (a) Cushing S. K., Li M., Huang F., Wu N. ACS Nano,2014, 8:1002 doi: 10.1021/nn405843d (b) Gao X. X., Wang M.W., Yu J. H., Liu L., Lu Z., Wang Y.J., Zhan Y. S., Liu Y. Q., Zhang W. K., Fang X. M. Chem. Res.,2016, 27:280 |
| 30 | Hu S. ; Trinchi A. ; Atkin P. ; Cole I Angew. Chem. Int. Ed. 2015, 54, 2970. |
| 31 | Zhang W. ; Chen Y. ; Gan L. ; Qing J. ; Zhou X. ; Huang Y. ; Yang Y. ; Zhang Y. ; Ou J. ; Chen X. ; Zhang M. Q J. Phys. Chem. Solids 2014, 75, 1340. |
| 32 | Deng X. ; Sun J. ; Yang S. ; Shen H. ; Zhou W. ; Lu J. ; Ding G. ; Wang Z Appl. Phys. Lett. 2015, 107, 241905. |
| 33 | Munechika K. ; Chen Y. ; Tillack A. F. ; Kulkarni A. P. ; Plante I. J. L. ; Munro A. M. ; Ginger D. S Nano Lett. 2010, 10, 2598. |