| | | |
| --- | --- | --- |
| REVIEW | | |
Smart Aqueous Foams: State of the Art
Mei-Qing LIANG1,2,Hong-Yao YIN3,Yu-Jun FENG1,3,*(

)
1 Chengdu Institute of Organic Chemistry, Chinese Academy of Sciences, Chengdu 610041, P. R. China
2 University of Chinese Academy of Sciences, Beijing 100049
3 State Key Laboratory of Polymer Materials Engineering, Polymer Research Institute, Sichuan University, Chengdu 610065, P. R. China
Abstract
Aqueous foams are a typical type of soft matter that are widely used in detergents, cosmetics, food engineering, and oil and gas production because of their relatively small particle size, large superficial area and good fluidity. The stability of a foam plays a crucial role in determining its performance in practical applications. Smart foams, with controllable stability, have been developed recently and their stability can be regulated by external stimuli. This review article mainly focuses on the recent progress in intelligent aqueous foams. To date, smart aqueous foams with temperature, light, magnetic field, pH and CO2-responsive behaviors have been obtained by introducing sensitive groups into foaming agent molecules or adding stimuli-responsive particles to foaming systems. The formation mechanism and properties of different types of smart aqueous foams are summarized and discussed. The potential applications and future prospects of smart foams are also considered.
Received: 05 July 2016 Published: 26 August 2016
Fund: The project was supported by the National Natural Science Foundation of China(21173207)
Corresponding Authors: Yu-Jun FENG E-mail: yjfeng@scu.edu.cn
Fig 1 (a) Chemical structure of 12-hydroxy stearic acid and ethanolamine, hexanolamine; (b) the ultra-stable foam generated from 12-hydroxy stearic acid and hexanolamine salt, and the appearance after six months; (c) the evolution of the foam volume as a function of time and temperature On the top of graph is shown the schematic representation of the supramolecular assemblies (not at scale) present in solution and in the foam as a function of the temperature23.
Fig 2 (a) Photograph of foams prepared using PDEA-PS particles at different temperatures taking at different time; (b) photographs of PDEA-PS particle-stabilized foams prepared at temperatures of 25 and 50 °C; (c) schematic illustration of PDEA-PS particles as a temperature-sensitive particulate foam stabilizer25

PDEA: poly[2-(diethylamino)ethyl methacrylate]; PS: polystyrene
Fig 3 (a) Light-responsive mechanism of azobenzene-modified polyacrylate foam; (b) light-responsive foam bubble states under UV irradiation26
Fig 4 Foam prepared from cationic AzoTAB photoresponsive surfactant and its states under UV light27
Fig 5 (a) Snapshots of microscopic collapse process for wet foam (top row) and dry foam (bottom row) exposure to a magnetic field; (b) mechanism of collapse for wet foam (top row) and dry foam (bottom row) under magnetic field29 Fmag: magnetic force that the field exerts on one iron particle; Fdrag: drag force; ΔP: Laplace pressure inside an air bubble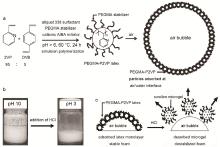 Fig 6 (a) Schematic synthesis of PEGMA-P2VP latex and air bubbles formed; (b) digital photographs of latex foam with pH from 10 down to 3; (c) schematic illustration of PEGMA-P2VP latex desorption with addition of HCl33

PEGMA: poly(ethylene glycol) monomethacrylate; P2VP: poly(2-vinylpyridine)
Fig 7 Schematic illustration of stable particulate foam with PDEA-PS latex particles34

Fig 8 Effect of the polymerization degree of PDEAn-PS particles on foamability and foam stability under different pH values35

color online
Fig 9 (a) Schematic illustration of stable foam formed with UC22AMPM after bubbling into CO2; (b) different foaming performance of UC22AMPM when bubbling into CO2 and N2 respectively47
Fig 10 (a) Mechanism of HEAIBs responsed to CO2; (b) different foaming performance of 0.2 g?L-1 HEAIBs when bubbling into CO2 and N2 respectively49
Fig 11 (A) Photograph of 12-HSA foams with CBP particles; (B) photographs of 12-HSA foams with CI particles: (a) original foam, (b) an increase in temperature, (c) UV irradiation, (d) exposure to magnetic field; (C) schematic illustrating the mechanism of foam destabilization upon UV irradiation50
Fig 12 Schematic illustrating the mechanism of PS-PDMA foam responsed to pH and temperature; digital camera images showing aqueous solutions of the PDMA homopolymer51

PS: polystyrene; PDMA: poly[2-(dimethylamino)ethyl methacrylate]
| | |
| --- | --- |
| 1 | Jiang Q. Z. ; Song Z. Z. ; Zhao M. F. ; Ke M. Surfactant Science and Application Beijing: China Petrochemical Press, 2006, 285- 316. |
| 1 | 蒋庆哲; 宋昭峥; 赵密福; 柯明. 表面活性剂科学与应用, 北京: 中国石化出版社, 2006, 285- 316. |
| 2 | Yan Y. L. Stabilization and Applications of Foams and Emulsions Beijing: Chemical Industry Press, 2013, 2- 5. |
| 2 | 燕永利. 泡沫、乳状液的稳定化及其应用, 北京: 化学工业出版社, 2013, 2- 5. |
| 3 | Brun N. ; Ungureanu S. ; Deleuze H. ; Backov R. Chem. Soc. Rev 2011, 40, 771. |
| 4 | Schramm L. L. Foams: Fundamental and Applications in the Petroleum Industry Washington DC: American Chemical Society, 1992, 1- 49. |
| 5 | Cantat I. ; Cohen-Addad S. ; Elias F. ; Graner F. ; H?hler R. ; Pitois O. Foams: Structure and Dynamics Oxford: Oxford University Press, 2013. |
| 6 | Pugh R. J. Adv. Colloid Interface Sci 1996, 64, 67. |
| 7 | Kristen-Hochrein N. ; Schelero N. ; von Klitzing R. Colloid Surf. A: Physicochem. Eng. Asp 2011, 382, 165. |
| 8 | Arriaga L. R. ; Drenckhan W. ; Salonen A. ; Rodrigues J. A. ; íňiguez-Palomares R. ; Rio E. ; Langevin D. Soft Matter 2012, 8, 11085. |
| 9 | Alargova R. G. ; Warhadpande D. S. ; Paunov V. N. ; Velev O. D. Langmuir 2004, 20, 10371. |
| 10 | Fukuoka K. ; Tomikawa A. ; Nakamura Y. ; Fujii S. Chem. Lett. 2016, 45, 667. |
| 11 | Martin A. ; Grolle K. ; Bos M. ; Stuart M. ; Vanvliet T. J. Colloid Interface Sci 2002, 254, 175. |
| 12 | Cox A. R. ; Aldred D. L. ; Russell A. B. Food Hydrocolloids 2009, 23, 366. |
| 13 | Fujii S. ; Ryan A. ; Armes S. P. J. Am. Chem. Soc 2006, 128, 7882. |
| 14 | Gonzenbach U. T. ; Studart A. R. ; Tervoort E. ; Gauckler L. J. Angew. Chem. Int. Ed. 2006, 45, 3526. |
| 15 | Stocco A. ; Rio E. ; Binks B. P. ; Langevin D. Soft Matter 2011, 7, 1260. |
| 16 | Zhu Y. ; Jiang J. ; Cui Z. ; Binks B. P. Soft Matter 2014, 10, 9739. |
| 17 | Nguyen P. ; Fadaei H. ; Sinton D. Energy & Fuels 2014, 28, 6221. |
| 18 | Sun Q. ; Li Z. M. ; Wang J. Q. ; Li S. Y. ; Li B. F. ; Jiang L. ; Wang H. Y. ; Lü Q. C. ; Zhang C. ; Liu W. Colloid Surf. A: Physicochem. Eng. Asp 2015, 471, 54. |
| 19 | Carl A. ; von Klitzing R. Angew. Chem. Int. Ed 2011, 50, 11290. |
| 20 | Fameau A. L. ; Carl A. ; Saint-Jalmes A. ; von Klitzing R. ChemPhysChem 2015, 16, 66. |
| 21 | Fameau A. L. ; Lam S. ; Arnould A. ; Gaillard C. ; Velev O. D. ; Saint-Jalmes A. Langmuir 2015, 31, 13501. |
| 22 | Brown P. ; Butts C. P. ; Eastoe J. Soft Matter 2013, 9, 2365. |
| 23 | Fameau A. L. ; Saint-Jalmes A. ; Cousin F. ; Houinsou H. B. ; Novales B. ; Navailles L. ; Emile J. ; Nallet F. ; Gaillard C. ; Boue F. ; Douliez J. P. Angew. Chem. Int. Ed 2011, 50, 8264. |
| 24 | Douliez J. P. ; Navailles L. ; Nallet F. ; Gaillard C. ChemPhysChem 2008, 9, 74. |
| 25 | Nakayama S. ; Yusa S. ; Nakamura Y. ; Fujii S. Soft Matter 2015, 11, 9099. |
| 26 | Salonen A. ; Langevin D. ; Perrin P. Soft Matter 2010, 6, 5308. |
| 27 | Chevallier E. ; Monteux C. ; Lequeux F. ; Tribet C. Langmuir 2012, 28, 2308. |
| 28 | Rodrigues J. A. ; Rio E. ; Bobroff J. ; Langevin D. ; Drenckhan W. Colloids Surf. A: Physicochem. Eng. Aspects 2011, 384, 408. |
| 29 | Blanco E. ; Lam S. ; Smoukov S. K. ; Velikov K. P. ; Khan S. A. ; Velev O. D. Langmuir 2013, 29, 10019. |
| 30 | Lam S. ; Blanco E. ; Smoukov S. K. ; Velikov K. P. ; Velev O. D. J. Am. Chem. Soc 2011, 133, 13856. |
| 31 | Binks B. P. ; Murakami R. ; Armes S. P. ; Fujii S. ; Schmid A. Langmuir 2007, 23, 8691. |
| 32 | Kettlewell S. L. ; Schmid A. ; Fujii S. ; Dupin D. ; Armes S. P. Langmuir 2007, 23, 11381. |
| 33 | Dupin D. ; Howse J. R. ; Armes S. P. ; Randall D. P. J. Mater. Chem 2008, 18, 545. |
| 34 | Fujii S. ; Mochizuki M. ; Aono K. ; Hamasaki S. ; Murakami R. ; Nakamura Y. Langmuir 2011, 27, 12902. |
| 35 | Nakayama S. ; Hamasaki S. ; Ueno K. ; Mochizuki M. ; Yusa S. ; Nakamura Y. ; Fujii S. Soft Matter 2016, 12, 4794. |
| 36 | Malcolm A. S. ; Dexter A. F. ; Middelberg A. P. J. Soft Matter 2006, 2, 1057. |
| 37 | Malcolm A. S. ; Dexter A. F. ; Middelberg A. P. J. Asia-Pac. J. Chem. Eng 2007, 2, 362. |
| 38 | Middelberg A. P. J. ; Dimitrijev-Dwyer M. ChemPhysChem 2011, 12, 1426. |
| 39 | Micheau C. ; Bauduin P. ; Diat O. ; Faure S. Langmuir 2013, 29, 8472. |
| 40 | Jessop P. G. ; Mercer S. M. ; Heldebrant D. J. Energ. Environ. Sci 2012, 5, 7240. |
| 41 | Liang C. ; Harjani J. R. ; Robert T. ; Rogel E. ; Kuehne D. ; Ovalles C. ; Sampath V. ; Jessop P. G. Energy & Fuels 2012, 26, 488. |
| 42 | Yan Q. ; Zhao Y. Chem. Commun 2014, 50, 11631. |
| 43 | Yan Q. ; Zhang H. ; Zhao Y. ACS Macro. Lett 2014, 3, 472. |
| 44 | Yin H. ; Feng Y. ; Liu H. ; Mu M. ; Fei C. Langmuir 2014, 30, 9911. |
| 45 | Wang W. ; Liu H. ; Mu M. ; Yin H. ; Feng Y. Polym. Chem. 2015, 6, 2900. |
| 46 | Yin H. ; Liu H. ; Wang W. ; Feng Y. Langmuir 2015, 31, 12260. |
| 47 | Li D. ; Ren B. ; Zhang L. ; Ezekiel J. ; Ren S. ; Feng Y. Chem. Eng. Res. Des. 2015, 102, 234. |
| 48 | 周素林.基于开关型表面活性剂的泡沫性能研究[D].成都:西南石油大学, 2015. |
| 48 | Zhou, S. L. Study on Foam Performance Based on Switchable Surfactant. M. S. Dissertation, Southwest Petroleum University, Chengdu, 2015. |
| 49 | Lu H. ; He Y. ; Huang Z. J. Disp. Sci. Technol 2014, 35, 832. |
| 50 | Fameau A. L. ; Lam S. ; Velev O. D. Chem. Sci. 2013, 4, 3874. |
| 51 | Fujii S. ; Akiyama K. ; Nakayama S. ; Hamasaki S. ; Yusa S. ; Nakamura Y. Soft Matter 2015, 11, 572. |