| | | |
| --- | --- | --- |
| ARTICLE | | |
Structure and Kinetics of Thermal Decomposition Mechanism of Novel Silk Fibroin Films
Hai-Yang YU1,2,Fang WANG1,*(

),Qi-Chun LIU1,2,Qing-Yu MA3,Zheng-Gui GU2,*(

)
1 Center of Analysis and Testing, Nanjing Normal University, Nanjing 210023, P. R. China
2 School of Chemistry and Materials Science, Nanjing Normal University Jiangsu, Nanjing 210023, P. R. China
3 School of Physics and Technology, Nanjing Normal University, Nanjing 210023, P. R. China
Abstract
A new CaCl2-formic acid dissolution method was used to prepare silk fibroin (SF) films. Films SF-1.5 and SF-3.0 were prepared using 1.50% (w, mass fraction) and 3.00% (w) CaCl2-formic acid solutions, respectively. The molecular conformations and crystal structures of the films were characterized by Fourier transform infrared spectroscopy and X-ray diffraction. The thermal stability, thermal decomposition properties, and effect of CaCl2 concentration on the thermodynamic parameters, kinetic parameters, and formation mechanism of the SF films were investigated using thermogravimetry techniques and the models of Kissinger, Ozawa, and Vyazovkin. The results showed that the SF-1.5 film mainly contained β-sheet structure, while the main molecular conformation in the SF-3.0 film was random coils. The decomposition temperature, activation energy, and activation enthalpy of SF-3.0 were lower than those of SF-1.5, while the thermal stability of SF-1.5 was higher than that of SF-3.0. In addition, the thermal decomposition of the SF films was studied by the Achar and Coats-Redfern methods. The mechanism of decomposition of these SF films followed the two-dimensional diffusion (cylindrical symmetry) law in the temperature range of 190.00-330.00℃.
Received: 10 October 2016 Published: 02 November 2016
Fund: The project was supported by the National Natural Science Foundation of China(11474166);College of Natural Science Foundation of Jiangsu Province, China(15kJB150018)
Corresponding Authors: Fang WANG,Zheng-Gui GU E-mail: wangfang@njnu.edu.cn;07160@njnu.edu.cn
Fig 1 Fourier transform infrared (FTIR) spectra of two silk fibroin films a: SF-1.5; b: SF-3.0. SF-1.5 and SF-3.0 were prepared respectively from the 1.50% and 3.00% concentration of CaCl2-formic acid solution.
Fig 2 X-ray diffraction (XRD) patterns of two silk fibroin films

a: SF-1.5; b: SF-3.0
Fig 3 X-ray diffraction fitting results of two kinds of silk fibroin films

A: SF-1.5; B: SF-3.0
Table 1
Fitting results of two kinds of silk fibroin films by FTIR and XRD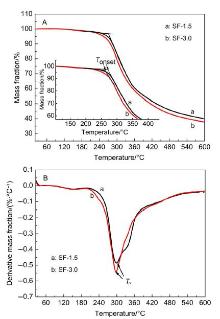 Fig 4 TG and DTG curves of two silk fibroin films at a heating rate (β) of 10 ℃min-1 TG: thermogravimetry; DTG: differential thermogravimetry.
A: TG curve of SF; B: DTG curve of SF. a: SF-1.5; b: SF-3.0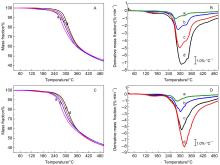 Fig 5 TG and DTG curves of two silk fibroin films at different heating rates (A, B) SF-1.5; (C, D) SF-3.0. β/(℃?min-1): (a) 2; (b) 5; (c) 10; (d) 15
Table 2
Thermal decomposition temperatures of two kinds of silk fibroin films at different heating rates
Table 3
Kinetic parameters of two kinds of silk fibroin films at different conversionsa
Table 4
Kinetic parameters of two kinds of silk fibroin films at different conversionsa
Table 5
Thermodynamic data of two kinds of silk fibroin filmsa
Table 6
Kinetics of thermal decomposition based data of two kinds of silk fibroin filmsa
Table 7
Results of SF-1.5 thermal decomposition in differential method and integral methoda
Table 8
Results of SF-3.0 decomposition in differential method and integral methoda
| | |
| --- | --- |
| 1 | Nuanchai K. ; Prasong S. ; Wilaiwan S. Biotechnology 2009, 8 (4), 468. |
| 2 | Yu S. ; Yang W. ; Chen S. ; Chen M. ; Liu Y. ; Shao Z. ; Chen X. RSC Adv 2014, 4 (35), 18171. |
| 3 | Chen M. ; Shao Z. ; Chen X. J. Biomed. Mater. Res. Part A 2012, 100 (1), 203. |
| 4 | Koh L. D. ; Cheng Y. ; Teng C. P. ; Khina Y. W. ; Loha X. J. ; Teea S. Y. ; Lowa M. ; Ye E. ; Yua H. D. ; Zhang Y. W. ; Han M. Y.Prog. Polym. Sci 2015, 46, 86. |
| 5 | Capelli R. ; Amsden J. J. ; Generali G. ; Toffanin S. ; Benfenati V. ; Muccini M. ; Kaplan D. L. ; Omenetto F. G. ; Zamboni R. Org. Electron 2011, 12, 1146. |
| 6 | Pereira R. F. P. ; Silva M. M. ; Bermudez V. D. Z. Macromol.Mater. En 2014, 300 (12), 1171. |
| 7 | Wang C. H. ; . ; C. Y. ; Hwang J. C. Adv. Mater 2011, 23, 1630. |
| 8 | Okamoto M. ; John B. Prog. Polym. Sc 2013, 38 (10-11), 1487. |
| 9 | Muller C. ; Hamedi M. ; Karlsson R. ; Jansson R. ; Marcilla R. ; Hedhammar M. ; Inganas O. Adv. Mater 2011, 23, 898. |
| 10 | Byette F. ; Bouchard F. ; Pellerin C. ; Paquin J. ; Marcotte I. ; Mateescu M. A. Polym. Bull 2011, 67 (1), 159. |
| 11 | Zhou J. ; Zhang B. ; Shi L. J. ; Zhong J. ; Zhu J. ; Yan J. ; Wang P. ; Cao C. B. ; He D. ACS Appl. Mater. Interfaces 2014, 6 (24), 21813. |
| 12 | Zhao H. ; Ren X. ; Zhang Y. ; Huang L. Bio-Med. Mater. Eng 2015, 26 (Suppl.1), 89. |
| 13 | Zhang F. ; Lu Q. ; Yue X. X. ; Zuo B. Q. ; Qin M. D. ; Li F. ; Kaplan D. L. ; Zhang X. G. Acta Biomaterialia 2014, 12, 139. |
| 14 | Matsumoto K. ; Uejima H. ; Iwasaki T. ; Sano Y. ; Sumino H. J.Appl. Polym. Sci 1996, 60, 503. |
| 15 | Zhang C. ; Song D. ; Lu Q. ; Hu X. ; Kaplan D. L. ; Zhu H. Biomacromolecues 2012, 13, 2148. |
| 16 | Qiang L. ; Xiao H. ; Wang X. ; Kluge J. A. ; Lu S. ; Cebe P. ; Kaplan D. L. Acta Biomaterialia 2010, 6 (4), 1380. |
| 17 | Rockwood D. N. ; Preda R. C. ; Yücel T. ; Wang X. ; Lovett M.L. ; Kaplan D. L. Nat. Protoc 2011, 6, 1612. |
| 18 | Wang F. ; Wolf N. ; Rocks E. M. ; Vuong T. ; Hu X. J. Therm.Anal. Calorim 2015, 122 (3), 1069. |
| 19 | Zhang F. ; You X. ; Dou H. ; Liu Z. ; Zuo B. Q. ; Zhang X. G. ACS Appl. Mater. Inter 2015, 7 (5), 3352. |
| 20 | Okhawilai M. ; Rangkupan R. ; Kanokpanont S. ; Damrongsakkul S. Int. J. Biol. Macromol 2010, 46 (5), 544. |
| 21 | Wu M. H. ; Zhu L. ; Zhou Z. Z. ; Zhang Y. Q. J. Nanopart 2013, 2013, 1. |
| 22 | Chen F. S. ; Ye C. J. ; Yao Z. J. Natural Product Research andDevelopment 2013, 25, 388. |
| 22 | 陈复生; 叶崇军; 魏兆军. 天然产物的研究与开发, 2013, (25), 388. |
| 23 | Oshkovr S. A. ; Eshkoor R. A. ; Taher S. T. ; Ariffin A. K. ; Azhari C. H. Compos. Struct 2012, 94 (8), 2337. |
| 24 | He T. ; Yue K. F. ; Chen S. P. ; Zhou C. S. ; Yan N. ActaPhys. -Chim. Sin 2016, 32 (6), 1397. |
| 24 | 何甜; 岳可芬; 陈三平; 周春生; 晏妮. 物理化学学报, 2016, 32 (6), 1397d. |
| 25 | Zheng L. ; Fan B. H. ; Pu X. X. ; Pan Y. ; Dong J. X. ; Guan W. Acta Phys. -Chim. Sin 2015, 31 (11), 2036. |
| 25 | 郑玲; 樊本汉; 卜晓雪; 潘懿; 董家新; 关伟. 物理化学学报, 2015, 31 (11), 2036. |
| 26 | Li J. ; Chen L. Z. ; Wang J. L. ; Lan G. C. ; Hou H. ; Li M. ActaPhys. -Chim. Sin 2015, 31 (11), 2049. |
| 26 | 李静; 陈丽珍; 王建龙; 兰贯超; 侯欢; 李满. 物理化学学报, 2015, 31 (11), 2049. |
| 27 | Huo J. X. ; Song S. W. ; Jin C. W. ; Ren N. ; Geng L. N. ; Zhang J. J. Acta Phys. -Chim. Sin 2016, 32 (4), 901. |
| 27 | 霍建霞; 宋素伟; 靳成伟; 任宁; 耿丽娜; 张建军. 物理化学学报, 2016, 32 (4), 901. |
| 28 | Jin C. W. ; Wang Y. ; Su S. L. ; Zhang J. J. Acta Phys. -Chim.Sin 2016, 32 (9), 2232. |
| 28 | 靳成伟; 王叶; 宿素玲; 张建军. 物理化学学报, 2016, 32 (9), 2232. |
| 29 | Sreeram A. ; Patel N. G. ; Venkatanarayanan R. I. ; DeLuca S.J. ; Yuyab P. A. ; Krishnan S. Polym. Test 2014, 37 (8), 170. |
| 30 | Yang Z. ; He Y. H. Acta Phys. -Chim. Sin 2016, 32 (4), 921. |
| 30 | 杨镇; 何远航. 物理化学学报, 2016, 32 (4), 921d. |
| 31 | Xiong W. H. ; Zhang W. C. ; Yu C. P. ; Shen R. Q. ; Cheng J. ; Ye J. H. ; Qin Z. C. Acta Phys. -Chim. Sin 2016, 32 (8), 2093. |
| 31 | 熊文慧; 张文超; 俞春培; 沈瑞琪; 程佳; 叶家海; 秦志春. 物理化学学报, 2016, 32 (8), 2093. |
| 32 | Zhou W. ; Chen X. ; Shao Z. Z. Prog. Chem 2006, 18 (11), 1514. |
| 32 | 周文; 陈新; 邵正中. 化学进展, 2006, 18 (11), 1514. |
| 33 | Tao Y. Z. ; Yan Y. ; Xu W. L. ; Zhou W. H. Acta Polym. Sin 2010, 1, 27. |
| 33 | 陶咏真; 鄢芸; 徐卫林; 周文慧. 高分子学报, 2010. |
| 34 | Xie M. X. ; Liu Y. Chem. J. Chin. Univ 2003, 24 (2), 226. |
| 34 | 谢孟峡; 刘媛. 高等学校化学学报, 2003, 24 (2), 226d. |
| 35 | Paquet-Mercier F. ; Lefèvre T. ; Auger M. ; Pézolet M. SoftMatter 2012, 9 (9), 208. |
| 36 | Liu T. Preparation and Characterization of Silk Fibroin-based Scaffolds with Nanofibrous Structure. Ph. D.Dissertation, Soochow University: Suzhou, 2012. |
| 36 | 刘 涛 具备纳米结构特征SF基支架的构建及其结构性能研究[D.苏州:苏州大学 2012 刘涛.具备纳米结构特征SF基支架的构建及其结构性能研究[D.苏州:苏州大学, 2012.] |
| 37 | Minoura N. ; Aiba S. I. ; Higuchi M. ; Gotoh Y. ; Tsukada M. ; Imai Y. Biochem. Biophys. Res. Commun 1995, 208 (2), 511. |
| 38 | Cheng X. ; He Q. J. ; Zhang A. M. Spectrosc. Spect. Anal 2004, 24 (3), 295. |
| 38 | 成煦; 何其佳; 张爱民. 光谱学与光谱分析, 2004, 24 (3), 295. |
| 39 | Wang J. ; Yu F. ; Qu L. ; Meng X. ; Wen G. Biomed. Mater 2010, 5 (4), 041002. |
| 40 | Feng X. X. ; Chen J. Y. ; Zhang J. C. ; Guo Y. H. Acta Chim.Sin 2006, 64 (22), 2281. |
| 40 | 冯新星; 陈建勇; 张建春; 郭玉海. 化学学报, 2006, 64 (22), 2281. |
| 41 | Huang B. ; Dai Y. ; Ban X. X. ; Jiang W. ; Zhang Z. H. ; Sun K.Y. ; Lin B. P. ; Sun Y. M. Acta Phys. -Chim. Sin 2015, 31 (8), 1621. |
| 41 | 黄斌; 代钰; 班鑫鑫; 蒋伟; 张兆杭; 孙开涌; 林保平; 孙岳明. 物理化学学报, 2015, 31 (8), 1621. |
| 42 | Wang Y. M. ; Liu L. ; Luo Y. F. ; Jia D. M. Acta Phys. -Chim.Sin 2008, 24 (6), 1100. |
| 42 | 王亚明; 刘岚; 罗远芳; 贾德民. 物理化学学报, 2008, 24 (6), 1100. |
| 43 | Cao X. X. ; Gao J. G. ; Du Y. G. Polym. Mater. Sci. Eng 2011, 6, 106. |
| 43 | 曹新鑫; 高俊刚; 杜永刚. 高分子材料科学与工程, 2011, (6), 106. |
| 44 | Wang F. ; Sheng S. J. ; Huang D. ; Ma Q. Y. Chin. J. Pharm.Anal 2014, 4, 673. |
| 44 | 王昉; 盛沈俊; 黄东; 马青玉. 药物分析杂志, 2014, (4), 673. |
| 45 | Kandelbauer A.,Wuzella G.,Mahendran A.,Taudes I.,Widsten, P. Chem. Eng. J.,2013, 152(2-3):556 doi: 10.1016/j.cej.2009.05.027 |
| 46 | Zhuo L. ; Kou K. ; Yao P. ; Wu G. ; Wang Y. J. Therm. Anal.Calorim 2015, 119 (3), 2039. |
| 47 | Xiong Y. H. ; Su J. H. ; Liu X. P. J. Mol. Catal 2010, 24 (5), 435. |
| 47 | 熊亚红; 苏健鸿; 刘小平. 分子催化, 2010, 24 (5), 435. |
| 48 | Guo H. ; Wang Y. B. ; Ni X. M. ; Wang J. ; Han W. L. Journalof China University of Mining & Technology 2016, 45 (3), 591. |
| 48 | 郭慧; 王延斌; 倪小明; 王晋; 韩文龙. 中国矿业大学学报, 2016, 45 (3), 591. |
| 49 | Liu W. F. ; Lin M. L. Guangzhou Chemical Industry 2004, 31 (1), 6. |
| 49 | 刘文峰; 林木良. 广东化工, 2004, 31 (1), 6d. |
| 50 | Liu S. ; Chen M. ; Hu Q. ; Wang J. ; Kong L. Bioresour.Technol 2013, 129 (2), 381. |
| 51 | Hu R. Z. ; Yang Z. Q. ; Liang Y. J. Thermochim. Acta 1988, 123 (15), 135. |
| 52 | Zhang J. J. ; Wang R. F. ; Li J. B. ; Liu H. M. ; Yang H. F. J.Therm. Anal. Calorim 2000, 62 (3), 747. |
| 53 | Chen D. Y. ; Liu R. H. ; Cai J. M. Trans. Chin. Soc. Agric. Eng 2007, 23 (2), 188. |
| 53 | 陈东雨; 刘荣厚; 蔡均猛. 农业工程学报, 2007, 23 (2), 188. |