| | | |
| --- | --- | --- |
| ARTICLE | | |
Electrochemical Reduction of Graphene Oxide on ZnO Substrate and Its Photoelectric Properties
Yi-Ming LI1,Xiao CHEN1,Xiao-Jun LIU1,Wen-You LI1,Yun-Qiu HE1,2,*(

)
1 School of Materials Science and Engineering, Tongji University, Shanghai 201804, P. R. China
2 Key Laboratory of Advanced Civil Engineering Materials, Ministry of Education, Shanghai 201804, P. R. China
Abstract
In the present work, graphene oxide (GO)-ZnO bilayer composites were fabricated by depositing GO on ZnO by an anodic electrophoretic method. The composite films were then subjected to a cathodic electrochemical treatment with different GO reduction times. The as-prepared films were characterized by Xray photoelectron spectroscopy (XPS), Fourier transform infrared (FTIR) spectroscopy and field emission scanning electron microscopy (FESEM) to study changes in the GO structure. The evolution of the material's energy levels over time was also determined by ultraviolet-visible (UV-Vis) spectroscopy and electrochemical measurements. A series of structural transformations of GO occurred even after it had reached the maximum degree of reduction. Prolonged treatment saw the GO flakes fracture into smaller GO particles with a sharp increase in the proportion of carboxyl groups. The energy gap of GO varied and extended into the visible range with longer reduction time. The energy levels and charge carrier type also varied. Photoelectrochemical tests on the samples revealed that the 60 to 600-s reduced GO-ZnO composite films showed photoelectric conversion behavior as photoanodes. However, the sample reduced for 1800 s was not effective at light-harvesting owing to lowering of the GO conduction band below that of ZnO. The differences in performance indicated that the transformation of the laminated GO geometry to a more disordered distribution enhanced conversion efficiency.
Received: 29 August 2016 Published: 17 November 2016
Fund: The project was supported by the National Natural Science Foundation of China(51172162)
Corresponding Authors: Yun-Qiu HE E-mail: heyunqiu@tongji.edu.cn
Fig 1 (a) The first circle of the cyclic voltammogram (CV)curve for the as-prepared GO-ZnO film with a scan rate of10 mV?s-1; (b) the current density-time curve during theelectrochemical reduction of GO at -2.1 V (vs Ag/Ag+)
Fig 2 (a) C 1s XPS spectra of the surfaces of the composite films with different reduction time (0, 60, 180, 300, 600, 1800 s); (b) C 1s XPS spectra of the 60 and 300 s composites after etching; (c) the variation curve of the molar ratio ofZnO to GO (atomic ratio of Zn to C) of the film surfaces with reduction time The fit components are C sp2, C sp3 & hydroxyl C-OH, epoxy C-O-C, carbonyl C=O, andcarboxyl COOH with increasing order of the binding energy.
Table 1
Summary of the binding energies (EB) and percentages of the components fitted inthe C 1s XPS spectra of the surfaces of the GO-ZnO composite films
Fig 3 FESEM images of the GO-ZnO composite film surfaces with different reduction time
Fig 4 (a) UV-Vis transmittance spectra ofdifferent composite films; (b) Tauc plots ofdifferent composite films
Fig 5 Energy level structures of ZnO and GO withdifferent reduction time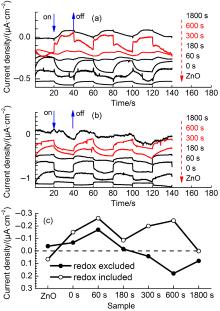 Fig 6 Transient photocurrent density-time curves ofthe films measured in the electrolyte without (a) and with(b) redox couples; (c) comparison of the current densityvariation curves of samples measured in the electrolytewithout and with redox couples
Table 2
Average photocurrent density of different films measured in electrolytes without and with redox couples
| | |
| --- | --- |
| 1 | Dreyer D. R. ; Park S. ; Bielawski C. W. ; Ruoff R. S. Chem.Soc. Rev. 2010, 39, 228. |
| 2 | Huang H. ; Li Z. ; She J. ; Wang W. J. Appl. Phys. 2012, 111, 054317. |
| 3 | Lahaye R. J. W. E. ; Jeong H. K. ; Park C. Y. ; Lee Y. H. Phys.Rev. B 2009, 79, 125435. |
| 4 | Bagri A. ; Mattevi C. ; Acik M. ; Chabal Y. J. ; Chhowalla M. ; Shenoy V. B. Nat. Chem. 2010, 2, 581. |
| 5 | Loh K. P. ; Bao Q. ; Eda G. ; Chhowalla M. Nat. Chem. 2010, 2, 1015. |
| 6 | Shen Y. ; Yang S. ; Zhou P. ; Sun Q. ; Wang P. ; Wan L. ; Li J. ; Chen L. ; Wang X. ; Ding S. ; Zhang D. W. Carbon 2013, 62, 157. |
| 7 | Chang H. ; Sun Z. ; Saito M. ; Yuan Q. ; Zhang H. ; Li J. ; Wang Z. ; Fujita T. ; Ding F. ; Zheng Z. ; Yan F. ; Wu H. ; Chen M. ; Ikuhara Y. ACS Nano 2013, 7 (7), 6310. |
| 8 | Yeh T. F. ; Syu J. M. ; Cheng C. ; Chang T. H. ; Teng H. Adv.Funct. Mater. 2010, 20, 2255. |
| 9 | Hsu H. C. ; Shown I. ; Wei H. Y. ; Chang Y. C. ; Du H. Y. ; Lin Y. G. ; Tseng C. A. ; Wang C. H. ; Chen L. C. ; Lin Y. C. ; Chen K. H. Nanoscale 2013, 5, 262. |
| 10 | Pei S. ; Cheng H. M. Carbon 2012, 50, 3210. |
| 11 | Dreyer D. R. ; Murali S. ; Zhu Y. ; Ruoff R. S. ; Bielawski C.W. J. Mater. Chem. 2011, 21, 3443. |
| 12 | Kauppila J. ; Kunnas P. ; Damlin P. ; Viinikanoja A. ; Kvarnstr?m C. Electrochim. Acta 2013, 89, 84. |
| 13 | Li W. Y. ; He Y. Q. ; Li Y. M. Acta Phys. -Chim. Sin. 2015, 31 (3), 457. |
| 13 | 李文有; 贺蕴秋; 李一鸣. 物理化学学报, 2015, 31 (3), 457. |
| 14 | Chen C. ; Cai W. ; Long M. ; Zhou B. ; Wu Y. ; Wu D. ; Feng Y. ACS Nano 2010, 4 (11), 6425. |
| 15 | Li Y. ; Wang D. ; Li W. ; He Y. J. Alloy. Compd. 2015, 648, 942. |
| 16 | Wang X. ; Kholmanov I. ; Chou H. ; Ruoff R. S. ACS Nano 2015, 9 (9), 8737. |
| 17 | Harima Y. ; Setodoi S. ; Imae I. ; Komaguchi K. ; Ooyama Y. ; Ohshita J. ; Mizota H. ; Yano J. Electrochim. Acta 2011, 56, 5363. |
| 18 | Zhou M. ; Wang Y. ; Zhai Y. ; Zhai J. ; Ren W. ; Wang F. ; Dong S. Chem. Euro. J. 2009, 15 (25), 6116. |
| 19 | Pradhan D. ; Leung K. T. Langmuir 2008, 24, 9707. |
| 20 | Pavlishchuk V. V. ; Addison A. W. Inorg. Chim. Acta 2000, 298, 97. |
| 21 | Yu D. ; Yang Y. ; Durstock M. ; Baek J. B. ; Dai L. ACS Nano 2010, 4 (10), 5633. |
| 22 | Kumar N. A. ; Choi H. J. ; Shin Y. R. ; Chang D. W. ; Dai L. ; Baek J. B. ACS Nano 2012, 6 (2), 1715. |
| 23 | Hayashi H. ; Lightcap I. V. ; Tsujimoto M. ; Takano M. ; Umeyama T. ; Kamat P. V. ; Imahori H. J. Am. Chem. Soc. 2011, 133, 7684. |
| 24 | Yeh T. F. ; Chan F. F. ; Hsieh C. T. ; Teng H. J. Phys. Chem. C 2011, 115, 22587. |
| 25 | Neto A. H. C. ; Guinea F. ; Peres N. M. R. ; Novoselov K. S. ; Geim A. K. Rev. Mod. Phys. 2009, 81, 109. |
| 26 | Tu N. D. K. ; Choi J. ; Park C. R. ; Kim H. Chem. Mater. 2015, 27, 7362. |
| 27 | Liu H. ; Sun Q. ; Xing J. ; Zheng Z. ; Zhang Z. ; Lü Z. ; Zhao Z. ACS Appl. Mater. Interfaces 2015, 7, 6645. |
| 28 | Yan X. ; Cui X. ; Li B. ; Li L. Nano Lett. 2010, 10, 1869. |