| | | |
| --- | --- | --- |
| ARTICLE | | |
Preparation of p-CoFe2O4/n-CdS by Hydrothermal Method and Its Photocatalytic Hydrogen Production Activity
Hai-Long HU1,Sheng WANG1,*(

),Mei-Shun HOU1,Fu-Sheng LIU2,*(

),Tian-Zhen WANG1,Tian-Long LI1,Qian-Qian DONG1,Xin ZHANG1
1 College of Chemical Engineering, Nanjing Tech University, Nanjing 210009, P. R. China
2 Department of Chemistry and Materials Science, College of Science, Nanjing Forestry University, Nanjing 210037, P. R. China
Abstract
A series of p-n coupled p-CoFe2O4/n-CdS photocatalysts were prepared by a hydrothermal method. The structure and properties of p-CoFe2O4/n-CdS were characterized by X-ray diffraction (XRD), scanning electron microscopy (SEM), ultraviolet-visible diffuse reflectance spectroscopy (UV-Vis DRS), transmission electron microscopy (TEM) and the electrochemical workstation. The photocatalytic activities of p-CoFe2O4/nCdS were evaluated by photocatalytic hydrogen production under visible light irradiation. The effects of photocorrosion of CdS in p-CoFe2O4/n-CdS were investigated by analyzing the cadmium concentration of the supernatant collected after the photocatalytic reactions. The mechanism of the catalytic activity enhancement, effects of reaction conditions on the photocatalytic hydrogen evolution rate, and cadmium leakage resistance are discussed. The results show that p-CoFe2O4/n-CdS exhibits higher photocatalytic activity attributed to stronger light absorption by the two types of narrow band gap semiconductor CoFe2O4 and CdS, the formation of a "forest-like" structure of CdS and rapid electron transfer from CoFe2O4 to CdS, resulting from band overlap and an inner electric field in p-CoFe2O4/n-CdS, to reduce the probability of electron/hole pair recombination. Both the separation efficiency of photo-generated electron-hole pairs and the adsorption performance of photocatalysts had an important influence on the hydrogen production rate. The pH of the CH3OH aqueous solution influenced the separation efficiency of photogenerated electron-hole pairs and the adsorption properties of the photocatalyst. p-CoFe2O4/n-CdS also exhibited resistance against cadmium leakage under light irradiation owing to the presence of methanol in the reaction solution, the band overlap of the semiconductors and the inner electric field in p-CoFe2O4/n-CdS. The band overlap and inner electric field had the most influence on the cadmium leakage resistance.
Received: 01 August 2016 Published: 24 November 2016
Fund: the National Natural Science Foundation of China(50876047);Top-notch Academic Programs Project of Jiangsu Higher Education Institutions, China(TAPP,PPZY2015A044);Scientific Research Innovation Program of Graduate in Colleges and Universities of Jiangsu Province, China(SJLX15-0346)
Corresponding Authors: Sheng WANG,Fu-Sheng LIU E-mail: w_angsheng@njtech.edu.cn;w_angshengnj@163.com;lfs039270@163.com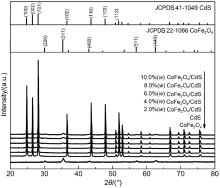 Fig 1 X-ray diffraction (XRD) patterns of CdS, CoFe2O4 and p-CoFe2O4/n-CdS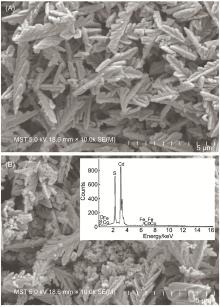 Fig 2 Scanning electron microscope (SEM) images of (A) CdS and (B) 6.0% (w) CoFe2O4/CdS

Inset in (B) shows the corresponding energy dispersive X-ray spectroscopy (EDS).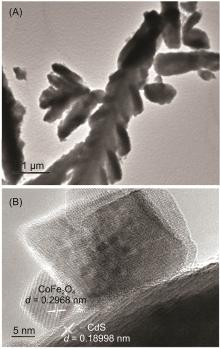 Fig 3 (A) TEM image and (B) high resolution TEM (HRTEM) image of 6.0% (w) CoFe2O4/CdS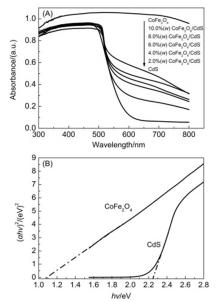 Fig 4 (A) Ultraviolet-visible diffuse reflectance spectra (UV-Vis DRS) of CdS, CoFe2O4 and p-CoFe2O4/n-CdS; (B) (αhυ)2 versus hυ plots of CdS and CoFe2O4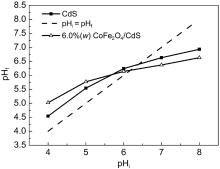 Fig 5 pHpzc obtained by pH drift method for CdS and 6.0% (w) CoFe2O4/CdS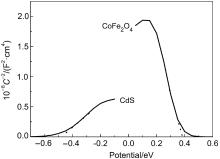 Fig 6 Mott-Schottky curves for CoFe2O4 and CdS in 0.1 mol?L-1 Na2SO4 aqueous solution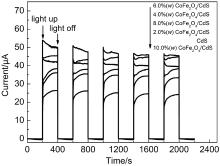 Fig 7 Transient photocurrent response of CdS and p-CoFe2O4/n-CdS in 0.1 mol?L-1 Na2SO4 aqueous solution
Fig 8 Hydrogen evolution rate over CdS and p-CoFe2O4/n-CdS (0.10 g?L-1) under visible light irradiation in CH3OH solution CH3OH initial volume fraction: 10%, pH: 6.0, reaction temperature: 35 ℃
Fig 9 Transfer of charge carriers in the p-CoFe2O4/n-CdS photocatalyst

NHE: normal hydrogen electrode; CB: conduction band; VB: valence band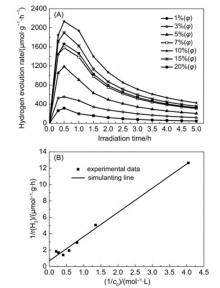 Fig 10 (A) Effect of the amount of CH3OH (pH=6.0) on photocatalytic hydrogen evolution rates (0.10 g?L-1 of 6.0% (w) CoFe2O4/CdS, reaction temperature 35 ℃); (B) plot of 1/r(H2) versus 1/c0 r(H2): hydrogen evolution rate, c0: initial concentration of CH3OH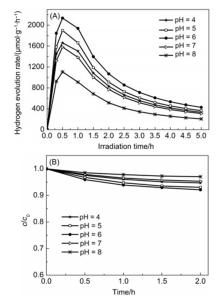 Fig 11 (A) Effects of pH value on photocatalytic hydrogen evolution rate (0.10 g?L-1 of 6.0% (w) CoFe2O4/CdS, 10% (φ) of CH3OH); (B) effects of pH value on the adsorption of 10% (φ) CH3OH over 6.0% (w) CoFe2O4/CdS (0.1 g?L-1)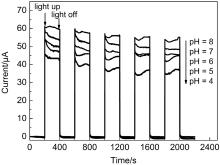 Fig 12 Transient photocurrent of 6.0% (w) CoFe2O4/CdS at different pH values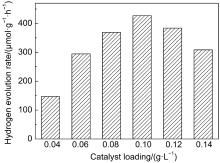 Fig 13 Effect of photocatalyst loading on photocatalytic hydrogen evolution rate 10% (φ) CH3OH, reaction temperature: 35 ℃, reaction time: 5 h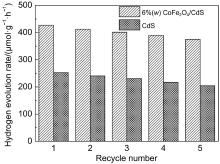 Fig 14 Recycling performance of 6.0% (w) CoFe2O4/CdS and CdS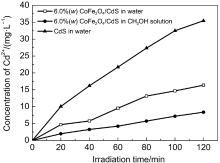 Fig 15 Relation between concentration of Cd2+ and irradiation time
| | |
| --- | --- |
| 1 | Guo X. Y. ; Chen C. F. ; Song W. Y. ; Wang X. ; Di W. H. ; Qin W. P. J. Mol. Catal. A-Chem. 2014, 387, 1. |
| 2 | Yan J. J. ; Wang K. ; Xu H. ; Qian J. ; Liu W. ; Yang X.W. ; Li H. M. Chin. J. Catal. 2013, 34 (10), 1876. |
| 3 | Wang C. ; Wang L. ; Jin J. ; Liu J. ; Li Y. ; Wu M. ; Chen L. H. ; Wang B. J. ; Yang X. Y. ; Su B. L. Appl. Catal. B 2016, 188, 351. |
| 4 | Wang Y. J. ; Sun J. Y. ; Feng R. J. ; Zhang J. Acta Phys.-Chim.Sin. 2016, 32 (3), 128. |
| 4 | 王彦娟; 孙佳瑶; 封瑞江; 张健. 物理化学学报, 2016, 32 (3), 128. |
| 5 | Xing W. N. ; Ni L. ; Liu X. L. ; Luo Y. Y. ; Lu Z. Y. ; Yan Y. S. ; Huo P. W. Desalin. Water Treat. 2015, 53 (3), 794. |
| 6 | Yang J. H. ; Yan H. J. ; Wang X. L. ; Wen F. Y. ; Wang Z. J. ; Fan D. Y. ; Shi J. Y. ; Li C. J. Catal. 2012, 290, 151. |
| 7 | Sasikala R. ; Shirole A. R. ; Sudarsan V. ; Girija K. G. ; Rao R. ; Sudakar C. ; Bharadwaj S. R. J. Mater. Chem. 2011, 21 (41), 16566. |
| 8 | Xing W. N. ; Ni L; Yan ; X. S. ; Liu X. L. ; Luo Y. Y. ; Lu Z. Y. ; Yan Y. S. ; Huo P. W. Acta Phys.-Chim. Sin. 2014, 30 (1), 141. |
| 8 | 邢伟男; 倪良; 颜学升; 刘馨琳; 罗莹莹; 逯子扬; 闫永胜; 霍鹏伟. 物理化学学报, 2014, 30 (1), 141. |
| 9 | Du H. ; Wang S. ; Liu L. L. ; Liu Z. X. ; Li Z. ; Lu N. ; Liu F. S. Acta Phys.-Chim. Sin. 2010, 26 (10), 2726. |
| 9 | 杜欢; 王晟; 刘恋恋; 刘忠祥; 李振; 卢南; 刘福生. 物理化学学报, 2010, 26 (10), 2726. |
| 10 | Liu F. S. ; Wang S. ; Liu L. L. ; Du H. Adv. Mater. Res. 2012, 512, 1677. |
| 11 | An L. ; Wang G. H. ; Cheng Y. ; Zhao L. ; Gao F. ; Cheng Y. Russ. J. Phys. Chem. A 2015, 89 (10), 1878. |
| 12 | Shen J. F. ; Huang W. S. ; Li N. ; Ye M. X. Ceram. Int. 2014, 41 (1), 761. |
| 13 | Zhang D. ; Liu F. S. ; Wang S. ; Li Z. ; Qian Q. Q. ; Wang X.Q. ; Si G. L. Mater. Sci. Semicond. Process. 2015, 40, 602. |
| 14 | Ye L. J. ; Jiang Y. J. ; Yan C. ; An X. Y. ; Li N. Appl. Chem.Industry. 2015, 44 (11), 1992. |
| 14 | 叶林静; 姜韵婕; 闫超; 安小英; 李娜. 应用化工, 2015, 44 (11), 1992. |
| 15 | Singh S. ; Khare N. RSC Adv. 2015, 5 (117), 96562. |
| 16 | Shi Y. Q. ; Zhou K. Q. ; Wang B. B. ; Jiang S. H. ; Qian X. D. ; Gui Z. ; Yuen R. K. K. ; Hu Y. J. Mater. Chem. A 2014, 2 (2), 535. |
| 17 | Singh S. ; Khare N. Mater. Lett. 2015, 161, 64. |
| 18 | Ao Y. H. ; Wang K. D. ; Wang P. F. ; Wang C. ; Hou J. Appl.Catal. B 2016, 194, 157. |
| 19 | Ao Y. H. ; Bao J. Q. ; Wang P. F. ; Wang C. ; Hou J. J. Colloid Interface Sci. 2016, 476, 71. |
| 20 | Zhao W. ; Liu Y. ; Wei Z. B. ; Yang S. G. ; He H. ; Sun C. Appl.Catal. B 2016, 185, 242. |
| 21 | Peng T. Y. ; Ke D. N. ; Zeng P. ; Zhang X. H. ; Fan K. Acta Phys.-Chim. Sin. 2011, 27 (9), 2160. |
| 21 | 彭天右; 柯丁宁; 曾鹏; 张晓虎; 范科. 物理化学学报, 2011, 27 (9), 2160. |
| 22 | Min S. X. ; Lü G. X. Acta Phys.-Chim. Sin. 2011, 27 (9), 2178. |
| 22 | 敏世雄; 吕功煊. 物理化学学报, 2011, 27 (9), 2178. |
| 23 | Guo X. Y. ; Chen C. F. ; Song W. Y. ; Wang X. ; Di W. H. ; Qin W. P. J. Mol. Catal. A:Chem. 2014, 387, 1. |
| 24 | Sathishkumar P. ; Mangalaraja R.V. ; Anandan S. ; Ashokkumar M. Chem. Eng. J. 2013, 220, 302. |
| 25 | Li W. J. ; Li D. Z. ; Zhang W. J. ; Hu Y. ; He Y. H. ; Fu X. Z. J. Phys. Chem. C 2010, 14 (5), 2154. |
| 26 | Jia Y. S. ; Yang J. X. ; Zhao D. ; Han H. X. ; Li C. J. Energy Chem. 2014, 23 (4), 420. |
| 27 | Panda R. ; Rathore V. ; Rathore M. ; Shelke V. ; Badera N. ; Chandra L. S. S. ; Jain D. ; Gangrade M. ; Shripati T. ; Ganesan V. Appl. Surf. Sci. 2012, 258 (12), 5086. |
| 28 | Dong X. ; Tao J. ; Li Y. Y. ; Wang T. ; Zhu H. Acta Phys.-Chim.Sin. 2009, 25 (9), 1874. |
| 28 | 董祥; 陶杰; 李莹滢; 汪涛; 朱宏. 物理化学学报, 2009, 25 (9), 1874. |
| 29 | Qi Q. ; Wang Y. Q. ; Wang S. S. ; Qi H. N. ; Wei T. ; Sun Y. M. Acta Phys.-Chim. Sin. 2015, 31 (12), 2332. |
| 29 | 齐齐; 王育乔; 王莎莎; 祁昊楠; 卫涛; 孙岳明. 物理化学学报, 2015, 31 (12), 2332. |
| 30 | Zhang J. ; Nosaka Y. Appl. Catal. B 2015, 166, 32. |
| 31 | Chai B. ; Zhou H. ; Zhang F. ; Liao X. ; Ren M. X. Mater. Sci.Semicond. Process. 2014, 23, 151. |
| 32 | Lam S. M. ; Sin J. C. ; Abdullah A. Z. ; Mohamed A. R. Sep.Purif. Technol. 2014, 132, 378. |
| 33 | Jia H. M. ; He W.W. ; Wamer W. G. ; Han X. N. ; Zhang B. B. ; Zhang S. ; Zheng Z. ; Xiang Y. ; Yin J. J. J. Phys. Chem. C 2014, 118, 21447. |
| 34 | Li R. G. ; Wang X. L. ; Jin S. Q. ; Zhou X. ; Feng Z. C. ; Li Z. ; Shi J. Y. ; Zhang Q. ; Li C. Sci. Rep. 2015, 5, 13475. |
| 35 | Zheng X. J. ; Wei Y. J. ; Wei L. F. ; Xie B. ; Wei M. B. Int. J.Hydrog. Energy 2010, 35 (21), 11709. |
| 36 | Catano F. A. ; Valencia S. H. ; Hincapie E. A. ; Restrepo G. M. ; Marin J. M. Lat. Am. Appl. Res. 2012, 42 (1), 33. |