| | | |
| --- | --- | --- |
| ARTICLE | | |
Synthesis and Lithium Storage Performance of Three-Dimensional Mesostructured ZnCo2O4 Cubes
Xu ZHEN2,Xue-Jing GUO1,*(

)
1 College of Environmental Science and Engineering, Nankai University, Tianjin 300071, P. R. China
2 61413 Troops, Xiangyang 441003, Hubei Provnce, P. R. China
Abstract
Novel three-dimensional (3D) mesostructured ZnCo2O4 cubes are prepared through a convenient and practical hydrothermal route combined with an annealing treatment. The as-prepared ZnCo2O4 cubes range from 3-4 μm in size, and are composed of a large number of nanoparticles and pores. According to N2 adsorption-desorption measurements, the as-synthesized ZnCo2O4 cubes have a high BET surface area (41.4 m2·g-1) and mesoporous (6.32 nm) nature. Lithium ion batteries (LIBs) are assembled using the as-prepared ZnCo2O4 nanomaterial and metallic lithium as the anode and the cathode, respectively, and their lithium storage performance is investigated. The electrode material exhibits highly reversible lithium storage capacity and strong cycling stability at high current density for 100 cycles. More importantly, the ZnCo2O4 cube electrode still presents a relatively high specific capacity at high rate. The excellent lithium storage performance is attributed to the novel structure of the 3D mesostructured cubes, which can facilitate Li+ diffusion, increase electrode/electrolyte contact area, and endure volume changes the during Li+ insertion/extraction process.
Received: 10 October 2017 Published: 22 December 2016
Fund: the National Natural Science Foundation of China(12HZGJHZ01100)
Corresponding Authors: Xue-Jing GUO E-mail: 1120130162@mail.nankai.edu.cn
Fig 1 XRD patterns (A) and crystal structure (B) of as-prepared ZnCo2O4 nanomaterials
Fig 2 Low magnification (A) and high magnification (B) scanning electron microscopy images (SEM) of as-prepared ZnCo2O4 nanomaterials

Fig 3 Low-resolution transmission electron microscopy (TEM) (A-C) and high-resolution TEM (D) images of the as-prepared ZnCo2O4 materials

Fig 4 N2 absorption-desorption isotherm (A) of the as-prepared ZnCo2O4 microspheres and the pore distribution (B)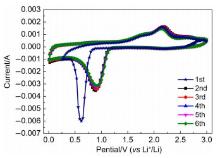 Fig 5 Cyclic voltammetry (CV) curves at a scan rate of 0.5 mV?s-1 in the voltage window of 0.001-3.0 V
Fig 6 Specific discharge/charge capacities of as-prepared ZnCo2O4 nanomaterials at the current density of 500 mA?g-1

Fig 7 Cyclic performance (A) of as-prepared ZnCo2O4 nanomaterials at the current density of 500 mA?g-1; rate performances (B) at different current densities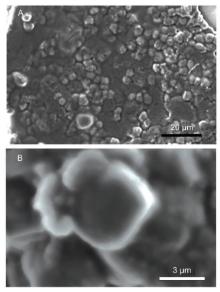 Fig 8 SEM images of as-prepared ZnCo2O4 electrode materials after 100 cycles
Fig 9 Nqyuist plots for the EIS of as-prepared ZnCo2O4 nanomaterials and the corresponding equivalent circuit mode ZCO represents ZnCo2O4; Rs is the total resistance of the electrolyte; Rct is the charge-transfer resistance; Cdl represents the double-layer resistance; and Zw is the Warburg impedance.
Table 1
Compared electrochemical performance of reported ZnCo2O4 nanostructures with different morphologies
Table 2
Physicochemical properties measured and calculated from EIS spectra (in Fig.9)
| | |
| --- | --- |
| 1 | Tang Y. P. ; Yuan S. ; Guo Y. Z. ; Huang R. A. ; Wang J. H. ; Yang B. ; Dai Y. N. Acta Phys.-Chim. Sin 2016, 32, 2280. |
| 1 | 唐艳平; 元莎; 郭玉忠; 黄瑞安; 王剑华; 杨斌; 戴永年. 物理化学学报, 2016, 32, 2280. |
| 2 | Tang Z. Y. ; Feng J. J. Acta Phys.-Chim. Sin. 2003, 19, 1025. |
| 2 | 唐致远; 冯季军. 物理化学学报, 2003, 19, 1025. |
| 3 | Gao G. X. ; Wu H. B. ; Ding S. J. ; Lou X. W. Small 2015, 11, 432. |
| 4 | Bai J. ; Li X. ; Liu G. ; Qian Y. ; Xiong S. Adv. Funct. Mater. 2014, 24, 3012. |
| 5 | Wang M. ; Cheng L. M. ; Li Q. B. ; Chen Z.W. ; Wang S. L. Phys. Chem. Chem. Phys. 2014, 16, 21742. |
| 6 | Woo M. A. ; Kim T.W. ; Kim I. Y. ; Hwang S. J. Solid State Ionics 2011, 182, 91. |
| 7 | Bresser D. ; Paillard E. ; Kloepsch R. ; Krueger S. ; Fiedler M. ; Schmitz R. ; Baither D. ; Winter M. ; Passerini S. Adv. Energy Mater. 2013, 3, 513. |
| 8 | Gao G. X. ; Wu H. B. ; Dong B. T. ; Ding S. J. ; Lou X. W. Adv. Sci. 2015, 2, 1400014. |
| 9 | Zhou L. ; Wu H. B. ; Zhu T. ; Lou X. W. J. Mater. Chem. 2012, 22, 827. |
| 10 | Luo W. ; Hu X. L. ; Sun Y. M. ; Huang Y. H. J. Mater. Chem. 2012, 22, 8916. |
| 11 | Giri A. K. ; Pal P. ; Ananthakumar R. ; Jayachandran M. ; Mahanty S. ; Panda A. B. Cryst. Growth Des. 2014, 14, 3352. |
| 12 | Hao S. J. ; Zhang B.W. ; Ball S. ; Copley M. ; Xu Z. C. ; Srinivasan M. ; Zhou K. ; Mhaisalkar S. ; Huang Y. Z. J. Power Sources 2015, 294, 112. |
| 13 | Guo L. Y. ; Ru Q. ; Song X. ; Hu S. J. ; Mo Y. D. RSC Adv. 2015, 5, 19241. |
| 14 | Hung T. F. ; Mohamed S. G. ; Shen C. C. ; Tsai Y. Q. ; Chang W. S. ; Liu R. S. Nanoscale 2013, 5, 12115. |
| 15 | Liu X. H. ; Zhang J. ; Wang L.W. ; Yang T. L. ; Guo X. Z. ; Wu S. H. ; Wang S. R. J. Mater. Chem. 2011, 21, 349. |
| 16 | Hou L. ; Lian L. ; Zhang L. ; Pang G. ; Yuan C. ; Zhang X. Adv. Funct. Mater. 2015, 25, 238. |
| 17 | Li J. ; Xiong S. ; Li X. ; Qian Y. Nanoscale 2013, 5, 2045. |
| 18 | Zhang C. ; Huang B. ; Qian L. H. ; Yuan S. L. ; Wang S. ; A. Chen R. ChemPhysChem 2016, 17, 98. |
| 19 | Sun L. ; Zhao Z. ; Zhou Y. ; Liu L. Nanoscale 2012, 4, 613. |
| 20 | Qu Q. T. ; Fu L. J. ; Zhan X. Y. ; Samuelis D. ; Maier J. ; Li L. ; Tian S. ; L i ; Z. H. ; Wu Y. P. Energy Environ. Sci. 2011, 4, 3985. |
| 21 | Yang X. H. ; Li Z. ; Sun C. H. ; Yang H. G. ; Li C. Z. Chem. Mater. 2011, 23, 3486. |
| 22 | Huang Y. H. Acta Phys.-Chim. Sin. 2016, 32, 816. |
| 22 | 黄云辉. 物理化学学报, 2016, 32, 816. |
| 23 | Zhao R. Z. ; Li Q. ; Wang C. X. ; Yin L. W. Electrochim. Acta 2016, 197, 58. |
| 24 | Mo Y. D. ; Ru Q. ; Chen J. F. ; Song X. ; Guo L. Y. ; Hu S.J. ; Peng S. M. J. Mater. Chem. A 2015, 3, 19765. |
| 25 | Wang Y. J. ; Zhang Y. Z. ; Ou J. K. ; Zhao Q. ; Liao M. ; Xiao D. RSC Adv. 2016, 6, 547. |
| 26 | Song X. ; Ru Q. ; Zhang B. ; Hu S. ; An B. J. Alloy. Compd. 2014, 585, 518. |
| 27 | Xu J. M. ; He L. ; Wang Y. J. ; Zhang C. J. ; Zhang Y. H. Electrochim. Acta 2016, 191, 417. |
| 28 | Huang L. ; Waller G. H. ; Ding Y. ; Chen D. ; Ding D. ; Xi P. ; Wang Z. L. ; Liu M. Nano Energy 2015, 11, 64. |
| 29 | Rai A. K. ; Thi T. V. ; Paul B. J. ; Kim J. Electrochim. Acta 2014, 146, 577. |
| 30 | Zhong X. B. ; Wang H. Y. ; Yang Z. Z. ; Jin B. ; Jiang Q. C. J. Power Sources 2015, 296, 298. |
| 31 | Zhang Z. C. ; Chen Y. F. ; He S. ; Zhang J. C. ; Xu X. B. ; Yang Y. ; Nosheen F. ; Saleem F. ; He W. ; Wang X. Angew. Chem. Int. Edit. 2014, 53, 12517. |
| 32 | Luo W. ; Huang L. ; Guan D. D. ; He R. H. ; Li F. ; Mai L. Q. Acta Phys.-Chim. Sin 2016, 32, 1999. |
| 32 | 罗雯; 黄磊; 关豆豆; 贺汝涵; 李枫; 麦立强. 物理化学学报, 2016, 32, 1999. |
| 33 | Liu H.W. ; Wang J. Electrochim. Acta 2013, 92, 371. |
| 34 | Ru Q. ; Song X. ; Mo Y. D. ; Guo L. Y. ; Hu S. J. J. Alloy. Compd. 2016, 654, 586. |
| 35 | Varzi A. ; Bresser D. ; Zamory J. ; Müller F. ; Passerini S. Adv. Energy Mater. 2014, 4, 1400054. |
| 36 | Zou F. ; Hu X. ; Li Z. ; Qie L. ; Hu C. ; Zeng R. ; Jiang Y. ; Huang Y. Adv. Mater. 2014, 26, 6622. |