| | | |
| --- | --- | --- |
| ARTICLE | | |
Redox-Responsive Interfacial Properties of Se-Containing Sulfobetaine Surfactant
Wei-Wei KONG,Shuang GUO,Yong-Min ZHANG*(

),Xue-Feng LIU*(

)
School of Chemical & Materials Engineering, Key Laboratory of Food Colloids and Biotechnology Ministry of Education, Jiangnan University, Wuxi 214122, Jiangsu Province, P. R. China
Abstract
Because of good biocompatibility using Se atom as the redox-responsive group has aroused considerable attention. However, only a few efforts have been devoted to Se-containing surfactant, especially for smart control of interfacial properties. This paper focuses on the redox-responsive behaviors of molecular structure, Krafft temperature, Surface/interfacial tension, foaming and emulsification of Se-containing zwitterionic surfactant, benzylselanyl-undecyl-dimethyl ammonium propane sulfonate (BSeUSB). The results show that after oxidization with a trace of H2O2 (≤0.056% of total mass), reduced form BSeUSB with one hydrophilic head and one hydrophobic tail transformed to Bola-type oxidized form BSeUSB-Ox due to the presence of a new hydrophilic group (selenoxide). And thus Krafft temperature decreased from (23.5±0.5)℃ to less than 0℃. The surface/interfacial tension at 5.00 mmol·L-1 increased from 45.15, 5.52 mN·m-1 to 61.63, 18.38 mN·m-1, respectively. Macroscopically, reduced form BSeUSB has good foaming and emulsification properties, while the foaming and emulsification abilities of oxidized form BSeUSB-Ox almost disappeared. Interestingly the molecular structure and the solution properties re-turned the initial states after reduction with a trace of Na2SO3 (≤0.060% of total mass). In a word, by the addition trace amounts of H2O2 and Na2SO3 alternately, we have achieved the smart control of the interfacial properties of the surfactant.
Received: 27 December 2016 Published: 22 February 2017
Corresponding Authors: Yong-Min ZHANG,Xue-Feng LIU E-mail: zhangym@jiangnan.edu.cn;xfliu@jiangnan.edu.cn
Fig 1 Evidences of 1H NMR spectra using D2O as the solvent for the redox response of BSeUSB
Fig 2 ESI-MS spectra of the oxidized products of BSeUSB under different conditions including time and the dosage of H2O2 (A) initial reduced form, (B) oxidization for 6 h with equimolar H2O2, (C) oxidization for 12 h with equimolar H2O2, (D) oxidization for 48 h with equimolar H2O2, (E) oxidization for 12 h with double H2O2, (F) oxidization for 12 h with threefold H2O2
Table 1
Values of physicochemical properties parameters of Se-containing surfactant solution at 25 ℃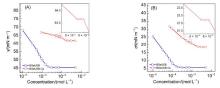 Fig 3 Surface/interfacial tension of BSeUSB and BSeUSB-Ox solution plotted versus the surfactant concentrations of (A) surface tension and (B) interfacial tension between n-heptane and solution

Fig 4 Variation of surface tension (A) and interfacial tension (B) with alternately addition of H2O2 (filled) and Na2SO3 (open) The concentration of surfactant is fixed at 5.00 mmol?L?1.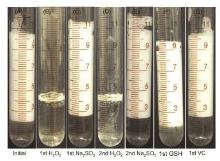 Fig 5 Photographs of foams based on 5.00 mmol·L-1 BSeUSB solution that were taken right now after shaken by hand for 30 s at 25 ℃ (A) initial solution, (B) oxidization with H2O2 for 12 h, (C) reduction with Na2SO3 for 3 min, (D) oxidization with H2O2 for 12 h again, (E) reduction with Na2SO3 for 3 min again, (F) reduction with GSH for 3 min, and (G) reduction with VC for 3 min.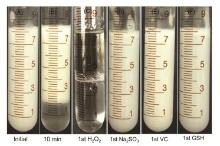 Fig 6 Photographs of n-heptane-in-water emulsions stabilized by 5.00 mmol·L-1 BSeUSB alone (A) initial emulsion, (B) initial emulsion taken 10 min after preparation, (C) after oxidization with H2O2 for 48 h, (D) after addition of Na2SO3 for 3 min, (E) reduction with VC for 3 min and (F) reduction with GSH for 3 min taken immediately after preparation
| | |
| --- | --- |
| 1 | Liu Y. X. ; Jessop P. G. ; Cunningham M. ; Eckert C. A. ; Liotta C. L. Science 2006, 313, 958. |
| 2 | Zhang Y. ; Zhang Y. ; Wang C. ; Liu X. ; Fang Y. ; Feng Y. Green Chem. 2016, 18 (2), 392. |
| 3 | Zhang Y. ; Kong W. ; An P. ; He S. ; Liu X. Langmuir 2016, 32 (10), 2311. |
| 4 | Wu J. ; Xu Y. ; Dabros. T. ; Hamza H. Energy Fuels 2003, 17 (6), 1554. |
| 5 | Feng X. ; Mussone P. ; Gao S. ; Wang S. ; Wu S.Y. ; Masliyah J. H. ; Xu Z. Langmuir 2010, 26 (5), 3050. |
| 6 | Lin C. ; He G. ; Dong C. ; Liu H. ; Xiao G. ; Liu Y. Langmuir 2008, 24 (10), 5291. |
| 7 | Krebs T. ; Schro?n C. G. P. H. ; Boom R. M. Chem. Eng. Sci. 2012, 71, 118. |
| 8 | Zhang Y. ; Han Y. ; Chu Z. ; He S. ; Zhang J. ; Feng Y. J.Colloid Interface Sci. 2013, 394, 319. |
| 9 | Takahashi Y. ; Koizumi N. ; Kondo Y. Langmuir 2016, 32 (3), 683. |
| 10 | Brown P. ; Butts C. P. ; Cheng J. ; Eastoe J. ; Russell C. A. ; Smith G. N. Soft Matter 2012, 8 (29), 7545. |
| 11 | Zhang Y. ; Feng Y. ; Wang J. ; He S. ; Guo Z. ; Chu Z. ; Dreiss C. A. Chem. Commun. 2013, 49 (43), 4902. |
| 12 | Tsuchiya K. ; Orihara Y. ; Kondo Y. ; Yoshino N. ; Ohkubo T. ; Sakai H. ; Abe M. J.Am. Chem. Soc. 2004, 126 (39), 12282. |
| 13 | Fan H. ; Han F. ; Liu Z. ; Qin L. ; Li Z. ; Liang D. ; Ke F. ; Huang J. ; Fu H. J.Colloid Interface Sci. 2008, 321 (1), 227. |
| 14 | Xu H. B. Biological trace elements-selenium Wuhan: Huazhong institute of technology press, 1984, 104. |
| 14 | 徐辉碧. 生物微量元素-硒, 武汉: 华中工学院出版社, 1984, 104. |
| 15 | Combs Jr G. F. West.J. Med. 1990, 153 (2), 192. |
| 16 | Ip C. ; Hayes C. ; Budnick R. M. ; Ganther H. E. Cancer Res. 1991, 51 (2), 595. |
| 17 | Zhang Y. ; Yang C. ; Guo S. ; Chen H. ; Liu X. Chem. Commun. 2016, 52 (86), 12717. |
| 18 | Tan X. ; Yu Y. ; Liu K. ; Xu H. ; Liu D. ; Wang Z. ; Zhang X. Langmuir 2012, 28 (25), 9601. |
| 19 | Wang L. ; Cao W. ; Yi Y. ; Xu H. Langmuir 2014, 30 (19), 5628. |
| 20 | Xu H. ; Cao W. ; Zhang X. Acc. Chem. Res. 2013, 46 (7), 1647. |
| 21 | Wang Y. ; Xu H. ; Ma N. ; Wang Z. ; Zhang X. ; Liu J. ; Shen J. Langmuir 2006, 22 (13), 5552. |
| 22 | Zhang Y. ; Kong W. ; Wang C. ; An P. ; Fang Y. ; Feng Y. ; Qin Z. ; Liu X. Soft Matter 2015, 11 (38), 7469. |
| 23 | Vermather M. ; Stiles P. ; Bachofer S. J. ; Simonis U. Langmuir 2002, 18 (4), 1030. |
| 24 | Lin Y. ; Qiao Y. ; Yan Y. ; Huang J. Soft Matter 2009, 5 (16), 3047. |
| 25 | Sk?ld R. O. ; Tunius M. A. R. J.Colloid Interface Sci. 1992, 152 (1), 183. |
| 26 | Gallardo B. S. ; Hwa M. J. ; Abbott N. L. Langmuir 1995, 11 (11), 4209. |
| 27 | Szymanowski J. ; Szewczyk H. ; Hetper J. Tenside Deterg. 1981, 18, 333. |
| 28 | Kong W. ; Guo S. ; Wu S. ; Liu X. ; Zhang Y. Langmuir 2016, 32 (38), 9846. |
| 29 | Brown P. ; Butts C. P. ; Eastoe J. Soft Matter 2013, 9 (8), 2365. |
| 30 | Rosen M. J. ; Kunjappu J. T. Surfactants and Interfacial Phenomena 4th ed Hoboken, NJ: John Wiley & Son, 2012. |