| | | |
| --- | --- | --- |
| ARTICLE | | |
Aggregation Behavior of Double-Chained Anionic Surfactant 1-Cm-C9-SO3Na at Air/Liquid Interface: Molecular Dynamics Simulation
Yi-Jian CHEN1,*(

),Hong-Tao ZHOU1,Ji-Jiang GE1,Gui-Ying XU2
1 College of Petroleum Engineering, China University of Petroleum(Huadong), Qingdao 266580, Shandong Province, P. R. China
2 Key Laboratory of Colloid and Interface Chemistry, Shandong University, Ministry of Education, Jinan 250100, P. R. China
Abstract
The aggregation behavior of the double-chained anionic surfactant 1-alkyl-decyl sodium sulfonate (1-Cm-C9-SO3-Na) at the air/liquid interface was investigated using molecular dynamics simulation. The influences of the m value on the interfacial properties of the surfactant were compared using density profile and radial distribution function (RDF). The results showed that the hydrophobic ability of the surfactant increase and the slant angles of hydrophobic carbon chains decrease with increasing m. For m=4, the 1-C4-C9-SO3Na form aggregates by lying on the interface; the S-S and S-Na+ interactions are the highest for m=4 among all systems studied, while the hydration ability of its polar head is the weakest. The simulation and experimental results show that the interfacial performance is the best for 1-C4-C9-SO3Na.
Received: 13 October 2016 Published: 07 April 2017
Fund: The project was supported by the Shandong Provincial Natural Science Foundation, China(ZR2014EZ002);National Natural Science Foundation of China(51574266)
Corresponding Authors: Yi-Jian CHEN E-mail: chenyijiancs@126.com
Fig 1 Scheme of chemical structures for 1-Cm-C9-SO3Na and charge distribution in molecules

Hydrogen atoms are not shown.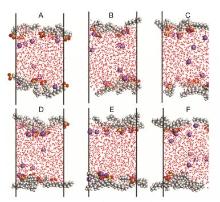 Fig 2 Balanced configurations for all systems (A) m = 0; (B) m = 2; (C) m = 4; (D) m = 6; (E) m = 8; (F) m = 9. Thecarbon atoms (gray), hydrogen atoms in the carbon chains (white), sulfur atoms (yellow) and Na+ ions (purple) are highlighted.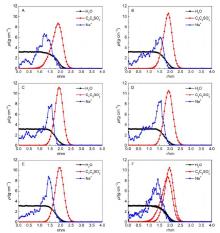 Fig 3 Density profiles of different components (A) m = 0; (B) m = 2; (C) m = 4; (D) m = 6; (E) m = 8; (F) m = 9
Table 1
Position and values of the highest peak of1-Cm-C9-SO3? and Na+ in the density profiles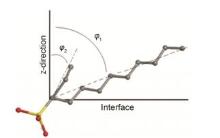 Fig 4 Scheme of slant angle of carbon chains atthe interface
Table 2
Balanced length and slant angles of carbon chains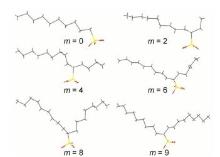 Fig 5 Balanced chemical structures of 1-Cm-C9-SO3-

The carbon atoms (gray), sulfur atoms (yellow) and oxygen atoms(red) are highlighted, hydrogen atoms are not shown. color online
Fig 6 Relation of critical micelle concentration andsurface pressure of 1-Cm-C9-SO3Na withthe change of carbon chain (45 ℃) 34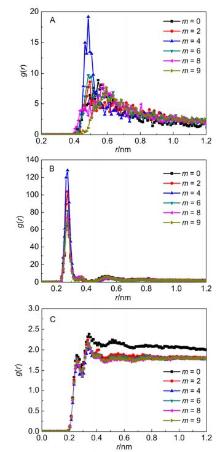 Fig 7 RDF between head group and othercomponents in the system A: S-S; B: S-Na+; C: S-Ow
Table 3
The peak positions and value in the RDFs
| | |
| --- | --- |
| 1 | Han D. ; Shen P. P. The Principle and Application of Surfactants in Enhanced Oil Recovery Beijing: Petroleum Industry Press, 2001, 24- 27. |
| 1 | 韩东; 沈平平. 表面活性剂驱油原理及应用, 北京: 石油工业出版社, 2001, 24- 27. |
| 2 | Misra S. K. ; Srivastava I. ; Tripathi I. ; Daza E. ; Ostadhossein F. ; Pan D. J. Am. Chem. Soc. 2017, 139, 1746. |
| 3 | Wedel B. ; Br?ndel T. ; Bookhold J. ; Hellweg T. ACS Omega 2017, 2, 84. |
| 4 | Sandhu S. ; Kumar R. ; Tripathi N. ; Singh H. ; Singh P. ; Kumar S. Sensor Actuat B-Chem. 2017, 241, 8. |
| 5 | Guan Z. ; Tang X. Y. ; Nishimura T. ; Huang Y. M. ; Reid B. J. J. Hazard Mater. 2017, 322, 205. |
| 6 | Liu Z. ; Cao M. W. ; Chen Y. ; Fan Y. X. ; Wang D. ; Xu H. ; Wang Y. L. J. Phys. Chem. B 2016, 120, 4102. |
| 7 | Li Z. P. ; Li Q. Y. Oilfield Chemistry 1985, 2 (3), 204. |
| 7 | 李之平; 李庆莹. 油田化学, 1985, 2 (3), 204. |
| 8 | Wang C. ; Yan P. ; Xiao J. X. Acta Phys. -Chim. Sin. 2009, 25 (9), 1775. |
| 8 | 王晨; 严鹏; 肖进新. 物理化学学报, 2009, 25 (9), 1775. |
| 9 | Xu G. Y. ; Luan Y. X. ; Liu J. Acta Phys. -Chim. Sin. 2005, 21 (4), 450. |
| 9 | 徐桂英; 栾玉霞; 刘军. 物理化学学报, 2005, 21 (4), 450. |
| 10 | De T. K. ; Maitra A. Adv. Colloid Interface Sci. 1995, 59, 95. |
| 11 | Yu T. ; Li Z. ; Ding W. ; Luo S. Q. ; Luan H. X. ; Tong W. ; Qu G.S. ; Cheng J. C. Acta Phys. -Chim. Sin. 2010, 26 (2), 317. |
| 11 | 于涛; 李钟; 丁伟; 罗石琼; 栾和鑫; 童维; 曲广淼; 程杰成. 物理化学学报, 2010, 26 (2), 317. |
| 12 | Yu T. ; Tong W. ; Su Y. B. ; Ding W. Chin. J. Appl. Chem. 2010, 27 (4), 466. |
| 12 | 于涛; 童维; 宿雅彬; 丁伟. 应用化学, 2010, 27 (4), 466. |
| 13 | Yu T. ; Luo S. Q. ; Ding W. ; Wang H. M. ; Yuan D. D. ; Qu G. M. ; Li Z. Chin. J. Appl. Chem. 2012, 29 (9), 1060. |
| 13 | 于涛; 罗石琼; 丁伟; 王会敏; 袁丹丹; 曲广淼; 李钟. 应用化学, 2012, 29 (9), 1060. |
| 14 | Pang J. Y. ; Zhao T. T. ; Xu G. Y. J. Surf. Deterg. 2016, 19, 1015. |
| 15 | Sun H. Q. ; Zhao T. T. ; Cao X. L. ; Yuan S. L. ; Wang Q. W. ; Li X.S. ; Xu G. Y. Acta Chim. Sin. 2011, 69 (9), 1047. |
| 15 | 孙焕泉; 赵涛涛; 曹绪龙; 苑世领; 王其伟; 李雪松; 徐桂英. 化学学报, 2011, 69 (9), 1047. |
| 16 | Griffin L. R. ; Browning K. L. ; Lee S. Y. ; Skoda M. W. A. ; Rogers S. ; Clarke S. M. Langmuir 2016, 32, 13054. |
| 17 | Yu Y. C. ; Xiao H. M. Acta Phys. -Chim. Sin. 2009, 25 (1), 30. |
| 17 | 于艳春; 肖鹤鸣. 物理化学学报, 2009, 25 (1), 30. |
| 18 | Poghosyan A. H. ; Arsenyan L. H. ; Shahinyan A. A. J. Surfact. Deterg. 2015, 18, 755. |
| 19 | Poghosyan A. H. ; Arsenyan L. H. ; Shahinyan A. A. Colloid Polym. Sci. 2014, 292, 3147. |
| 20 | Hu S. Q. ; Ji X. J. ; Fan Z. Y. ; Zhang T. T. ; Sun S. Q. Acta Phys. -Chim. Sin. 2015, 31 (1), 83. |
| 20 | 胡松青; 纪贤晶; 范忠钰; 张田; 孙霜青. 物理化学学报, 2015, 31 (1), 83. |
| 21 | You H. ; Zhao B. ; Wang Z. W. Acta Phys. -Chim. Sin. 2009, 25 (1), 67. |
| 21 | 游慧; 赵波; 王正武. 物理化学学报, 2009, 25 (1), 67. |
| 22 | Hughes Z. E. ; Walsha T. R. RSC Advances 2015, 5, 49933. |
| 23 | Cao X. L. ; He X. J. ; Zhao G. Q. ; Song X. W. ; Wang Q. W. ; Cao Y. B. ; Li Y. Chem. J. Chin. Univ. 2007, 28 (11), 2106. |
| 23 | 曹绪龙; 何秀娟; 赵国庆; 宋新旺; 王其伟; 曹嫣镔; 李英. 高等化学学报, 2007, 28 (11), 2106. |
| 24 | Ding W. ; Liu G. Y. ; Yu T. ; Qu G. M. ; Cheng J. C. ; Wu J. Z. Acta Phys. -Chim. Sin. 2010, 26 (3), 727. |
| 24 | 丁伟; 刘国宇; 于涛; 曲广淼; 程杰成; 吴军政. 物理化学学报, 2010, 26 (3), 727. |
| 25 | Liu Z. Y. ; Wei N. ; Wang C. ; Zhou H. ; Zhang L. ; Liao Q. ; Zhang L. AIP Advances 2015, 5, 117203. |
| 26 | He X. B. ; Guvench O. Jr. ; MacKerell A. D. ; Klein M. L. J. Phys. Chem. B 2010, 114, 9787. |
| 27 | Kabra V. S. ; Gaikar V. G. J. Mol. Liq. 2008, 142, 143. |
| 28 | Yuan S. L. ; Chen Y. J. ; Xu G. Y. Colloid Surf. A-Physicochem. Eng. Asp. 2006, 288, 108. |
| 29 | Pang J. Y. ; Xu G. Y. Chem. Phys. Lett. 2012, 537, 118. |
| 30 | Chen Y. J. ; Xu G. Y. ; Yuan S. L. ; Sun H. Y. Colloids Surf. 2006, 273, 174. |
| 31 | Pang J. Y. ; Wang Y. J. ; Xu G. Y. ; Han T. T. ; Lv X. ; Zhang J. J. Phys. Chem. B 2011, 115, 2518. |
| 32 | Zhao T. T. ; Xu G. Y. ; Yuan S. L. ; Chen Y. J. ; Yan H. J. Phys. Chem. B 2010, 114, 5025. |
| 33 | Chen Y. J. ; Xu G. Y. Colloid Surf. A-Physicochem. Eng. Asp. 2013, 424, 26. |
| 34 | Granet R. ; Piekarski S. Colloids Surf. 1988, 33, 321. |
| 35 | Gu T. R. ; Sj?blom J. Acta Chemica Scandinavica 1991, 45, 762. |
| 36 | Fekarcha L. ; Tazerouti A. J. Surf. Deterg. 2012, 15, 419. |