| | | |
| --- | --- | --- |
| REVIEW | | |
Progress on the Development of Inorganic Lead-Free Perovskite Solar Cells
Jin-Yu GU1,2,Peng-Wei QI1,2,Yang PENG1,2,*(

)
1 Soochow Institute for Energy and Materials Innovations, College of Physics, Optoelectronics and Energy & Collaborative Innovation Center of Suzhou Nano Science and Technology, Soochow University, Suzhou 215006, Jiangsu Province, P. R. China
2 Key Laboratory of Advanced Carbon Materials and Wearable Energy Technologies of Jiangsu Province, Soochow University, Suzhou 215006, Jiangsu Province, P. R. China
Abstract
Perovskite solar cells have undergone rapid development because of their high solar absorption efficiencies, long carrier lifetime and diffusion length, high tolerance to lattice defects, and tunable bandgaps. In the past few years, the solar energy conversion efficiency of the perovskite solar cells has increased to 22.1%. However, despite their promising prospects, as demonstrated by the laboratory-fabricated prototypes, lead toxicity and instability of perovskite solar cells severely impeded their industrialization and applications. Recently, inorganic lead-free perovskite solar cells (such as ABX3 and A2BB'X6), which use Sn, Ge, Bi, Ag, and other metals as replacements for Pb, and Cs and Rb as replacements for methylamine, have been pursued as potential solutions for the toxicity and stability issues. This review highlights the recent research efforts in the development of inorganic lead-free perovskite solar cells and provides a perspective on future developments.
Received: 15 December 2016 Published: 18 April 2017
Fund: The project was supported by the Natural Science Foundation of Jiangsu Province, China(BK20160323)
Corresponding Authors: Yang PENG E-mail: ypeng@suda.edu.cn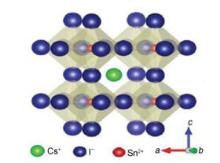 Fig 1 Crystal structure of CsSnI3 22.

Fig 2 Schematic representation of the one-step solution fabrication of B-γ-CsSnI3 thin films and device23.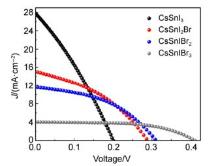 Fig 3 Current density?voltage (J?V) curves of different tin perovskite solar cells with Br, Ⅰ concentrations varying from CsSnI3?xBrx 26.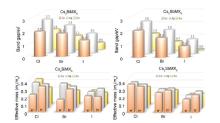 Fig 4 Electronic band gaps and Conductivity effective masses calculated for all compounds in the halide double perovskite family44.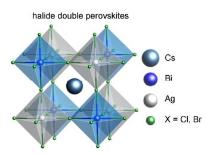 Fig 5 Schematic of crystal structure of Cs2BiAgX6 46.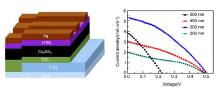 Fig 6 Schematic illustration of the architecture and J?V curves of the Cs2SnI6 based perovskite solar cells52.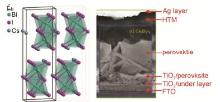 Fig 7 Schematic of crystal structure of Cs3Bi2I9 and cross-sectional SEM images for Cs3Bi2I9 based solar cells.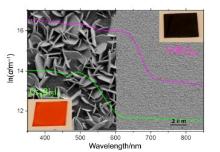 Fig 8 Ultraviolet absorption spectra and surface SEM images of Cs3Bi2I9 and CsBi3I10 59.

Fig 9 Schematic picture of the layer structure and SEM cross section of the CsBi3I10 solar cell59.
Table 1
Properties of various inorganic lead-free perovskite materials and their device efficiencies.
| | |
| --- | --- |
| 1 | Kojima A. ; Teshima K. ; Shirai Y. ; Miyasaka T. J. Am. Chem. Soc. 2009, 131, 6050. |
| 2 | Im J. H. ; Lee C. R. ; Lee J. W. ; Park S. W. ; Park N. G. Nanoscale 2011, 3, 4088. |
| 3 | Green M. A. ; Ho-Baillie A. ; Snaith H. J. Nat. Photonics 2014, 8, 506. |
| 4 | Kim H. S. ; Lee C. R. ; Im J. H. ; Lee K. B. ; Moehl T. ; Marchioro A. ; Moon S. J. ; Humphry-Baker R. ; Yum J. H. ; Moser J. E. ; Gr?tzel M. ; Park N. G. Sci. Rep. 2012, 2, 591. |
| 5 | Niu G. ; Guo X. ; Wang L. J. Mater. Chem. A. 2015, 3, 8970. |
| 6 | Hao F. ; Stoumpos C. C. ; Cao D. H. ; Chang R. P. H. ; Kanatzidis M. G. Nat. Photonics 2014, 8, 489. |
| 7 | Im J. ; Stoumpos C. C. ; Jin H. ; Freeman A. J. ; Kanatzidis M. G. J. Phys. Chem. Lett. 2015, 6, 3503. |
| 8 | Yamada K. ; Nakada K. ; Takeuchi Y. ; Nawa K. ; Yamane Y. Bull. Chem. Soc. Jp. 2011, 84, 926. |
| 9 | Chiarella F. ; Zappettini A. ; Licci F. ; Borriello I. ; Cantele G. ; Ninno D. ; Cassinese A. ; Vaglio R. Phys. Rev. B 2008, 77, 045129. |
| 10 | Yin W. J. ; Shi T. ; Yan Y. Adv. Mater. 2014, 26, 4653. |
| 11 | Yin W. J. ; Shi T. ; Yan Y. Appl. Phys. Lett. 2014, 104, 063903. |
| 12 | Amat A. ; Mosconi E. ; Ronca E. ; Quarti C. ; Umari P. ; Nazeeruddin M. K. ; Gr?tzel M. ; De Angelis F. Nano Lett. 2014, 14, 3608. |
| 13 | Huang L. Y. ; Lambrecht W. R. L. Phys. Rev. B 2016, 93, 195211. |
| 14 | Hao F. ; Stoumpos C. C. ; Chang R. P. H. ; Kanatzidis M. G. J. Am. Chem. Soc. 2014, 136, 8094. |
| 15 | Lin G. ; Lin Y. ; Huang H. ; Cui R. ; Guo X. ; Liu B. ; Dong J. ; Guo X. ; Sun B. Nano Energy 2016, 27, 638. |
| 16 | Feng J. Appl. Mater. 2014, 2, 081801. |
| 17 | Scaife D. E. ; Weller P. F. ; Fisher W. G. J. Solid State Chem. 1974, 9, 308. |
| 18 | Yamada, K.; Funabiki, S.; Horimoto, H.; Matsui, T.; Okuda, T.; Ichiba, S. Chem. Lett. 1991, 801. doi: 10.1246/cl.1991.801 |
| 19 | Chung I. ; Song J. H. ; Im J. ; Androulakis J. ; Malliakas C. D. ; Li H. ; Freeman A. J. ; Kenney J. T. ; Kanatzidis M. G. J. Am. Chem. Soc. 2012, 134, 8579. |
| 20 | Shum K. ; Chen Z. ; Qureshi J. ; Yu C. ; Wang J. J. ; Pfenninger W. ; Vockic N. ; Midgley J. ; Kenney J. T. Appl. Phys. Lett. 2010, 96, 221903. |
| 21 | Chen Z. ; Yu C. ; Shum K. ; Wang J. J. ; Pfenninger W. N. ; Vockic; Midgley J. ; Kenney J. T J. Luminescence 2012, 132, 345. |
| 22 | Xing G. ; Kumar M. H. ; Chong W. K. ; Liu X. ; Cai Y. ; Ding H. ; Asta M. ; Gr?tzel M. ; Mhaisalkar S. ; Mathews N. ; Sum T. C. Adv. Mater. 2016, 28, 8191. |
| 23 | Wang N. ; Zhou Y. ; Ju M. G. ; Garcès H. F. ; Ding T. ; Pang S. ; Zeng X. C. ; Padture N. P. ; Sun X. W. Adv. Energy Mater. 2016, 160, 1130. |
| 24 | Xu P. ; Chen S. ; Xiang H. J. ; Gong X. G. ; Wei S. H. Chem. Mater. 2014, 26, 6068. |
| 25 | Kumar M. H. ; Dharani S. ; Leong W. L. ; Boix P. P. ; Prabhakar R. R. ; Baikie T. ; Shi C. ; Ding H. ; Ramesh R. ; Asta M. ; Gr?tzel M. ; Mhaisalkar S. G. ; Mathews N. Adv. Mater. 2014, 26, 7122. |
| 26 | Sabba D. ; Mulmudi H. K. ; Prabhakar R. R. ; Krishnamoorthy T. ; Baikie T. ; Boix P. P. ; Mhaisalkar S. ; Mathews N. J. Phys. Chem.C. 2015, 119, 1763. |
| 27 | Peedikakkandy L. ; Bhargava P. RSC Adv. 2016, 6, 19857. |
| 28 | Seo D. K. ; Gupta N. ; Whangbo M. H. ; Hillebrecht H. ; Thiele G. Inorg Chem. 1998, 37, 407. |
| 29 | Thiele G. ; Rotter H. W. ; Schmidt K. D. Zeitschrift Fur Anorganische Und Allgemeine Chemie 1987, 545, 148. |
| 30 | Stoumpos C. C. ; Frazer L. ; Clark D. J. ; Kim Y. S. ; Rhim S. H. ; Freeman A. J. ; Ketterson J. B. ; Jang J. I. ; Kanatzidis M. G. J. Am. Chem. Soc. 2015, 137, 6804. |
| 31 | Krishnamoorthy T. ; Ding H. ; Yan C. ; Leong W. L. ; Baikie T. ; Zhang Z. ; Sherburne M. ; Li S. ; Asta M. ; Mathews N. ; Mhaisalkar S. G. J. Mater. Chem. A 2015, 3, 23829. |
| 32 | Ming W. ; Shi H. ; Du M. H. J. Mater. Chem. A 2016, 4, 13852. |
| 33 | Chen F. S. J. Appl. Phys. 1969, 40, 3389. |
| 34 | Choi T. ; Lee S. ; Choi Y. J. ; Kiryukhin V. ; Cheong S. W. Science 2009, 324, 63. |
| 35 | Chakrabartty J. P. ; Nechache R. ; Harnagea C. ; Rosei F. Opt. Exp. 2014, 22, 80. |
| 36 | Yang S. Y. ; Martin L. W. ; Byrnes S. J. ; Conry T. E. ; Basu S. R. ; Paran D. ; Reichertz L. ; Ihlefeld J. ; Adamo C. ; Melville A. ; Chu Y.H. ; Yang C. H. ; Musfeldt J. L. ; Schlom D. G. ; Ager J.W.Ⅲ ; Ramesh R. Appl. Phys. Lett. 2009, 95, 062909. |
| 37 | Qu T. L. ; Zhao Y. G. ; Xie D. ; Shi J. P. ; Chen Q. P. ; Ren T. L. Appl. Phys. Lett. 2011, 98, 173507. |
| 38 | Guo Y. ; Guo B. ; Dong W. ; Li H. ; Liu H. Nanotechnology 2013, 24, 275201. |
| 39 | Bhatnagar A. ; Chaudhuri A. R. ; Kim Y. H. ; Hesse D. ; Alexe M. Nat. Commun. 2013, 4, 2835. |
| 40 | Nechache R. ; Harnagea C. ; Li S. ; Cardenas L. ; Huang W. ; Chakrabartty J. ; Rosei F. Rosei. Nat. Photonics 2015, 9, 61. |
| 41 | Kamba S. ; Nuzhnyy D. ; Nechache R. ; Zaveta K. ; Niznansky D. ; Santava E.C. ; Harnagea ; Pignolet A. Phys. Rev. B 2008, 77, 104111. |
| 42 | Nechache R. ; Cojocaru C. V. ; Harnagea C. ; Nauenheim C. ; Nicklaus M. ; Ruediger A. ; Rosei F. ; Pignolet A. Adv. Mater. 2011, 23, 1724. |
| 43 | McClure E. T. ; Ball M. R. ; Windl W. ; Woodward P. M. Chem. Mater. 2016, 28, 1348. |
| 44 | Volonakis G. ; Filip M. R. ; Haghighirad A. A. ; Sakai N. ; Wenger B. ; Snaith H. J. ; Giustino F. J. Phys. Chem. Lett. 2016, 7, 1254. |
| 45 | Xiao Z. ; Meng W. ; Wang J. ; Yan Y. ChemSusChem 2016, 9, 2628. |
| 46 | Filip M. R. ; Hillman S. ; Haghighirad A. A. ; Snaith H. J. ; Giustino F. J. Phys. Chem. Lett. 2016, 7, 2579. |
| 47 | Slavney A. H. ; Hu T. ; Lindenberg A. M. ; Karunadasa H. I. J. Am. Chem. Soc. 2016, 138, 2138. |
| 48 | Gou G. ; Young J. ; Liu X. ; Rondinelli J. M. Inorg. Chem. 2016, 56, 26. |
| 49 | Saparov B. ; Sun J. P. ; Meng W. ; Xiao Z. ; Duan H. S. ; Gunawan O. ; Shin D. ; Hill I. G. ; Yan Y. ; Mitzi D. B. Chem. Mater. 2016, 28, 2315. |
| 50 | Kaltzoglou A. ; Antoniadou M. ; Perganti D. ; Siranidi E. ; Raptis V. ; Trohidou K. ; Psycharis V. A. ; Kontos G. ; Falaras P. Electrochim. Acta 2015, 184, 466. |
| 51 | Lee B. ; Stoumpos C. C. ; Zhou N. ; Hao F. ; Malliakas C. ; Yeh C. Y. ; Marks T. J. ; Kanatzidis M. G. ; Chang R. P. H. J. Am. Chem. Soc. 2014, 136, 15379. |
| 52 | Qiu X. ; Cao B. ; Yuan S. ; Chen X. ; Qiu Z. ; Jiang Y. ; Ye Q. ; Wang H. ; Zeng H. ; Liu J. ; Kanatzidis M. G. Sol. Energy Mater. Sol. Cells 2017, 159, 227. |
| 53 | Qiu X. ; Jiang Y. ; Zhang H. ; Qiu Z. ; Yuan S. ; Wang P. ; Cao B. Phys. Status Solidi-Rapid Res. Lett 2016, 10, 587. |
| 54 | Lehner A. J. ; Fabini D. H. ; Evans H. A. ; Hebert C. A. ; Smock S. R. ; Hu J. ; Wang H. ; Zwanziger J. W. ; Chabinyc M. L. ; Seshadri R. Chem. Mater. 2015, 27, 7137. |
| 55 | Park B. W. ; Philippe B. ; Zhang X. ; Rensmo H. ; Boschloo G. ; Johansson E. M. J. Adv. Mater. 2015, 27, 6806. |
| 56 | Saparov B. ; Hong F. ; Sun J. P. ; Duan H. S. ; Meng W. W. ; Cameron S. ; Hill I. G. ; Yan Y. F. ; Mitzi D. B. Chem. Mater. 2015, 27, 5622. |
| 57 | Kim Y. ; Yang Z. ; Jain A. ; Voznyy O. ; Kim G. H. ; Liu M. ; Quan L.N. ; de Arquer F. P. G. ; Comin R. ; Fan J. Z. ; Sargent E. H. Angew. Chem. Int. Ed. 2016, 55, 9585. |
| 58 | Xiao Z. ; Meng W. ; Mitzi D. B. ; Yan Y. J. Phys. Chem. Lett. 2016, 7, 3903. |
| 59 | Johansson M. B. ; Zhu H. ; Johansson E. M. J. J. Phys. Chem. Lett. 2016, 7, 3467. |