| | | |
| --- | --- | --- |
| REVIEW | | |
Advances in Covalent Organic Frameworks
Lu-Lu LI,Shuai LIU,Qin ZHANG,Nan-Tao HU,Liang-Ming WEI,Zhi YANG,Hao WEI*(

)
Key Laboratory for Thin Film and Microfabrication Technology of Ministry of Education, School of Electronic Information and Electrical Engineering, Shanghai Jiao Tong University, Shanghai 200240, P. R. China
Abstract
Covalent organic frameworks (COFs) are a class of crystalline porous organic polymers, constructed with lightweight elements by covalent bonds. Owing to their low density, high thermal stability, and inherent porosity, COFs have many potential applications in gas adsorption, heterogeneous catalysis, energy storage, etc. This article reviews the latest progress in COFs, including their structural design, synthesis, purification, characterization methods, and applications in gas adsorption, catalysis, and photoelectricity. Finally, the prospects of COFs are also discussed.
Received: 29 March 2017 Published: 19 May 2017
Fund: the National Natural Science Foundation of China(61376003);Shanghai Pujiang Program, China(16PJD027);Medical-Engineering Crossover Fund of Shanghai Jiao Tong University, China(YG2015MS23);Medical-Engineering Crossover Fund of Shanghai Jiao Tong University, China(YG2016MS71)
Corresponding Authors: Hao WEI E-mail: haowei@sjtu.edu.cn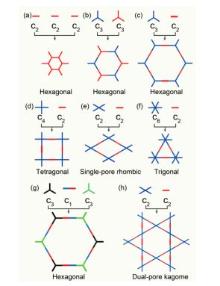 Fig 1 Topology diagrams for designing 2D COFs 8.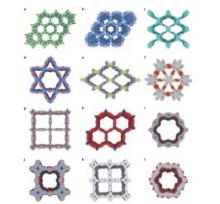 Fig 2 Crystal Structure of 2D COFs 8.
Table 1
Important nets in the chemistry of covalent organic frameworks 50.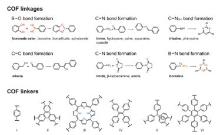 Fig 3 Linkages and linkers of COFs 50.
Fig 4 Condensation of aniline A with benzaldehyde B forms the molecular N-benzylidene-aniline C. Condensation of divergent D with ditopic E leads to the rod-like bis-imines F which will join together the tetrahedral building blocks to give the diamond structure of COF-300: G single framework (space filling, C gray and pink, N green, H white) and H representation of the dia-c5 topology 46.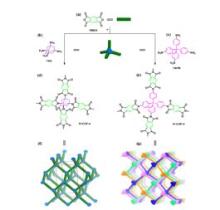 Fig 5 Condensation of pyromellitic dianhydride (PMDA) (a) and tetrahedral 1, 3, 5, 7-tetraaminoadamantane (TAA) (b) or tetra(4-aminophenyl)methane (TAPM) (c) gives PI-COF-4 (d) or PI-COF-5 (e). 3D structures based on non-interpenetrated(f) or interpenetrated (g) diamond nets 47.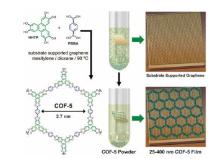 Fig 6 Preparation of two -dimensional Covalent Organic Frame materials by solvothermal method 78.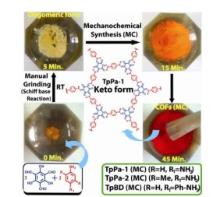 Fig 7 Schematic representation of the MC synthesis of TpPa-1(MC), TpPa-2(MC), and TpBD (MC) 83.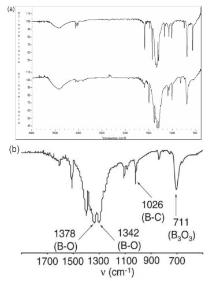 Fig 8 (a)FTIR spectra of triphenylboroxine(top) and COF-1 (bottom); (b)FTIR spectra of COF-1 28.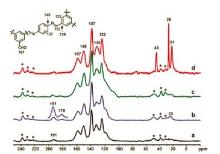 Fig 9 13C CP/MAS NMR spectra of COF-LZU1 (a, black), Pd/COF-LZU1 (b, blue), Pd/COF-LZU1 after the first cycle use (c, green)and after the fourth cycle use (d, red) (color online)88.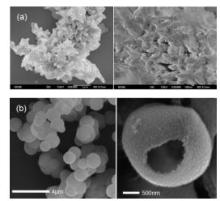 Fig 10 (a) SEM images of Py-An COF13; (b) SEM images of COF-DhaTab hollow spheres 89.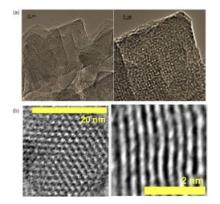 Fig 11 (a) TEM images of Py-An COF13; (b) TEM images of TPB-DMTP-COF 90.
Fig 12 (a) XRA profiles of Py–An-COF experimentally observed (red), simulated by using AA-stacking (green) and AB-stacking (orange) modes; (b) XRA profiles of Py-An-COF experimentally observed (red), Pawley refinement (blue), and their difference (black); Crystal structures of (c)the AA-stacking and (d) the AB-stacking modes 13.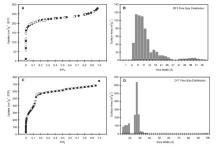 Fig 13 Nitrogen gas adsorption isotherms for COF-1 (A) and COF-5 (C) measured at 77 K and pore size histograms for (B) COF-1 and (D) COF-5 calculated after fitting DFT models to adsorption data 28.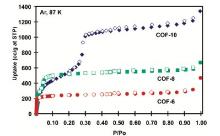 Fig 14 Reversible gas adsorption and desorption isotherms for COF-6 (red), -8 (green), and -10 (blue) 31.

Color online.
| | |
| --- | --- |
| 1 | Wu D. ; Xu F. ; Sun B. ; Fu R. ; He H. ; Matyjaszewski K. Chem. Rev. 2012, 112, 3959. |
| 2 | Xu S. ; Luo Y. ; Tan B. Macromol. Rapid Comm. 2013, 34, 471. |
| 3 | McKeown N. B. ; Budd P. M. Chem. Soc. Rev. 2006, 35, 675. |
| 4 | Xu Y. ; Jin S. ; Xu H. ; Nagai A. ; Jiang D. Chem. Soc. Rev. 2013, 42, 8012. |
| 5 | Ben T. ; Ren H. ; Ma S. ; Cao D. ; Lan J. ; Jing X. ; Wang W. ; Xu J. ; Deng F. ; Simmons J. M. ; Qiu S. ; Zhu G. Angew. Chem. Int. Ed. 2009, 121, 9621. |
| 6 | Feng X. ; Ding X. ; Jiang D. Chem. Soc. Rev. 2012, 41, 6010. |
| 7 | Ding S.-Y. ; Wang W. Chem. Soc. Rev. 2013, 42, 548. |
| 8 | Huang N. ; Wang P. ; Jiang D. Nat. Rev. Mater. 2016, 1, 16068. |
| 9 | Yang H. ; Du Y. ; Wan S. ; Trahan G. D. ; Jin Y. ; Zhang W. Chem. Sci. 2015, 6, 4049. |
| 10 | Qian H.-L. ; Yang C.-X. ; Yan X. -P. Nat. Commun. 2016, 7, 12104. |
| 11 | Zeng Y. ; Zou R. ; Zhao Y. Adv. Mater. 2016, 28, 3032. |
| 12 | Wei H. ; Chai S. ; Hu N. ; Yang Z. ; Wei L. ; Wang L. Chem. Commun. 2015, 51, 12178. |
| 13 | Wu Y. ; Xu H. ; Chen X. ; Gao J. ; Jiang D. Chem. Commun. 2015, 51, 10096. |
| 14 | Xu H. ; Chen X. ; Gao J. ; Lin J. ; Addicoat M. ; Irle S. ; Jiang D. Chem. Commun. 2014, 50, 1292. |
| 15 | Wan S. ; Guo J. ; Kim J. ; Ihee H. ; Jiang D. Angew. Chem. Int. Ed. 2009, 48, 5439. |
| 16 | Furukawa H. ; Yaghi O. M. J. Am. Chem. Soc. 2009, 131, 8875. |
| 17 | Pachfule P. ; Kandambeth S. ; Díaz D. D. ; Banerjee R. Chem. Commun. 2014, 50, 3169. |
| 18 | El-Kaderi H. M. ; Hunt J. R. ; Mendoza-Cortés J. L. ; C?té A. P. ; Taylor R. E. ; O'Keeffe M. ; Yaghi O. M. Science 2007, 316, 268. |
| 19 | Zang L. ; Che Y. ; Moore J. S. Acc. Chem. Res. 2008, 41, 1596. |
| 20 | O'Keeffe M. Chem. Soc. Rev. 2009, 38, 1215. |
| 21 | Thomas A. Angew. Chem. Int. Ed. 2010, 49, 8328. |
| 22 | Mastalerz M. Angew. Chem. Int. Ed. 2008, 47, 445. |
| 23 | Tan J. ; Namuangruk S. ; Kong W. ; Kungwan N. ; Guo J. ; Wang C. Angew. Chem. Int. Ed. 2016, 128, 14185. |
| 24 | Huang N. ; Zhai L. ; Coupry D. E. ; Addicoat M. A. ; Okushita K. ; Nishimura K. ; Heine T. ; Jiang D. Nat. Commun. 2016, 7, 12325. |
| 25 | Medina D. D. ; Rotter J. M. ; Hu Y. ; Dogru M. ; Werner V. ; Auras F. ; Markiewicz J. T. ; Knochel P. ; Bein T. J. Am. Chem. Soc. 2015, 137, 1016. |
| 26 | Huang N. ; Ding X. ; Kim J. ; Ihee H. ; Jiang D. Angew. Chem. Int. Ed. 2015, 127, 8828. |
| 27 | Pang Z.-F. ; Zhou T.-Y. ; Liang R.-R. ; Qi Q.-Y. ; Zhao X. Chem. Sci. 2017. |
| 28 | C?té A. P. ; Benin A. I. ; Ockwig N. W. ; O'Keeffe M. ; Matzger A. J. ; Yaghi O. M. Science 2005, 310, 1166. |
| 29 | Kuhn P. ; Antonietti M. ; Thomas A. Angew. Chem. Int. Ed. 2008, 47, 3450. |
| 30 | Jackson K. T. ; Reich T. E. ; El-Kaderi H. M. Chem. Commun. 2012, 48, 8823. |
| 31 | C?té A. P. ; El-Kaderi H. M. ; Furukawa H. ; Hunt J. R. ; Yaghi O. M. J. Am. Chem. Soc. 2007, 129, 12914. |
| 32 | Spitler E. L. ; Koo B. T. ; Novotney J. L. ; Colson J. W. ; Uribe-Romo F. J. ; Gutierrez G. D. ; Clancy P. ; Dichtel W. R. J. Am. Chem. Soc. 2011, 133, 19416. |
| 33 | Kandambeth S. ; Mallick A. ; Lukose B. ; Mane M. V. ; Heine T. ; Banerjee R. J. Am. Chem. Soc. 2012, 134, 19524. |
| 34 | Zeng Y. ; Zou R. ; Luo Z. ; Zhang H. ; Yao X. ; Ma X. ; Zou R. ; Zhao Y. J. Am. Chem. Soc. 2015, 137, 1020. |
| 35 | Chen X. ; Addicoat M. ; Jin E. ; Xu H. ; Hayashi T. ; Xu F. ; Huang N. ; Irle S. ; Jiang D. Sci. Rep. 2015, 5, 14650. |
| 36 | Ding X. ; Guo J. ; Feng X. ; Honsho Y. ; Guo J. ; Seki S. ; Maitarad P. ; Saeki A. ; Nagase S. ; Jiang D. Angew. Chem. Int. Ed. 2011, 50, 1289. |
| 37 | Ding X. ; Feng X. ; Saeki A. ; Seki S. ; Nagai A. ; Jiang D. Chem. Commun. 2012, 48, 8952. |
| 38 | Feng X. ; Liu L. ; Honsho Y. ; Saeki A. ; Seki S. ; Irle S. ; Dong Y. ; Nagai A Jiang D. Angew. Chem. Int. Ed. 2012, 51, 2618. |
| 39 | Feng X. ; Ding X. ; Chen L. ; Wu Y. ; Liu L. ; Addicoat M. ; Irle S. ; Dong Y. ; Jiang D. Sci. Rep. 2016, 6, 32944. |
| 40 | Dalapati S. ; Jin S. ; Gao J. ; Xu Y. ; Nagai A. ; Jiang D. J. Am. Chem. Soc. 2013, 135, 17310. |
| 41 | Jin S. ; Sakurai T. ; Kowalczyk T. ; Dalapati S. ; Xu F. ; Wei H. ; Chen X. ; Gao J. ; Seki S. ; Irle S. ; Jiang D. Chem-Eur. J. 2014, 20, 14608. |
| 42 | Alahakoon S. B. ; Thompson C. M. ; Nguyen A. X. ; Occhialini G. ; McCandless G. T. ; Smaldone R. A. Chem. Commun. 2016, 52, 2843. |
| 43 | Dalapati S. ; Addicoat M. ; Jin S. ; Sakurai T. ; Gao J. ; Xu H. ; Irle S. ; Seki S. ; Jiang D. Nat. Commun. 2015, 6, 7786. |
| 44 | Zhou T.-Y. ; Xu S.-Q. ; Wen Q. ; Pang Z.-F. ; Zhao X. J. Am. Chem. Soc. 2014, 136, 15885. |
| 45 | Dalapati S. ; Jin E. ; Addicoat M. ; Heine T. ; Jiang D. J. Am. Chem. Soc. 2016, 138, 5797. |
| 46 | Uribe-Romo F. J. ; Hunt J. R. ; Furukawa H. ; Kl?ck C. ; O'Keeffe M. ; Yaghi O. M. J. Am. Chem. Soc. 2009, 131, 4570. |
| 47 | Fang Q. ; Wang J. ; Gu S. ; Kaspar R. B. ; Zhuang Z. ; Zheng J. ; Guo H. ; Qiu S. ; Yan Y. J. Am. Chem. Soc. 2015, 137, 8352. |
| 48 | Waller P. J. ; Lyle S. J. ; Osborn Popp T. M. ; Diercks C. S. ; Reimer J. A. ; Yaghi O. M. J. Am. Chem. Soc. 2016, 138, 15519. |
| 49 | El-Kaderi H. M. ; Hunt J. R. ; Mendoza-Cortes J. L. ; C?té A. P. ; Taylor R. E. ; O'Keeffe M. ; Yaghi O. M. Science 2007, 316, 268. |
| 50 | Diercks C. S. ; Yaghi O. M. Science 2017, 355, 6328. |
| 51 | O'Keeffe M. ; Yaghi O. M. Chem. Rev. 2012, 112, 675. |
| 52 | O'Keeffe M. ; Peskov M. A. ; Ramsden S. J. ; Yaghi O. M. Acc. Chem. Res. 2008, 41, 1782. |
| 53 | Ockwig N. W. ; Delgado-Friedrichs O. ; O'Keeffe M. ; Yaghi O. M. Acc. Chem. Res. 2005, 38, 176. |
| 54 | Dalapati S. ; Addicoat M. ; Jin S. ; Sakurai T. ; Gao J. ; Xu H. ; Irle S. ; Seki S. ; Jiang D. Nat. Commun. 2015, 6, 7786. |
| 55 | Lin G. ; Ding H. ; Yuan D. ; Wang B. ; Wang C. J. Am. Chem. Soc. 2016, 138, 3302. |
| 56 | Fang Q. ; Gu S. ; Zheng J. ; Zhuang Z. ; Qiu S. ; Yan Y. Angew. Chem. Int. Ed. 2014, 53, 2878. |
| 57 | Hunt J. R. ; Doonan C. J. ; Levangie J. D. ; C?té A. P. ; Yaghi O. M. J. Am. Chem. Soc. 2008, 130, 11872. |
| 58 | Du Y. ; Yang H. ; Whiteley J. M. ; Wan S. ; Jin Y. ; Lee S. H. ; Zhang W. Angew. Chem. 2016, 128, 1769. |
| 59 | Uribe-Romo F. J. ; Doonan C. J. ; Furukawa H. ; Oisaki K. ; Yaghi O. M. J. Am. Chem. Soc. 2011, 133, 11478. |
| 60 | Nagai A. ; Chen X. ; Feng X. ; Ding X. ; Guo Z. ; Jiang D. Angew. Chem. Int. Ed. 2013, 52, 3770. |
| 61 | Guo J. ; Xu Y. ; Jin S. ; Chen L. ; Kaji T. ; Honsho Y. ; Addicoat M.A. ; Kim J. ; Saeki A. ; Ihee H. ; Seki S. ; Irle S. ; Hiramoto M. ; Gao J. ; Jiang D. Nat. Commun. 2013, 4, 2736. |
| 62 | Zhuang X. ; Zhao W. ; Zhang F. ; Cao Y. ; Liu F. ; Bi S. ; Feng X. Polym. Chem 2016, 7, 4176. |
| 63 | DeBlase C. R. ; Silberstein K. E. ; Truong T. T. ; Abru?a H. D. ; Dichtel W. R. J. Am. Chem. Soc. 2013, 135, 16821. |
| 64 | Waller P. J. ; Lyle S. J. ; Osborn Popp T. M. ; Diercks C. S. ; Reimer J. A. ; Yaghi O. M. J. Am. Chem. Soc. 2016, 138, 15519. |
| 65 | Jackson K. T. ; Reich T. E. ; El-Kaderi H. M. Chem.Commun. 2012, 48, 8823. |
| 66 | Nath B. ; Li W.-H. ; Huang J.-H. ; Wang G.-E. ; Fu Z.-H. ; Yao M.-S. ; Xu G. CrystEngComm. 2016, 18, 4259. |
| 67 | Li Y. ; Yang R. T. AIChE J. 2008, 54, 269. |
| 68 | Lanni L. M. ; Tilford R. W. ; Bharathy M. ; Lavigne J. J. J. Am. Chem. Soc. 2011, 133, 13975. |
| 69 | DeBlase C. R. ; Silberstein K. E. ; Truong T.-T. ; Abru?a H. D. ; Dichtel W. R. J. Am. Chem. Soc. 2013, 135, 16821. |
| 70 | Matsumoto M. ; Dasari R. R. ; Ji W. ; Feriante C. H. ; Parker T. C. ; Marder S. R. ; Dichtel W. R. J. Am. Chem. Soc. 2017, 139, 4999. |
| 71 | Li Z. ; Zhi Y. ; Feng X. ; Ding X. ; Zou Y. ; Liu X. ; Mu Y. Chem. Eur. J. 2015, 21, 12079. |
| 72 | Li Z. ; Zhang Y. ; Xia H. ; Mu Y. ; Liu X. Chem. Commun. 2016, 52, 6613. |
| 73 | Fang Q. ; Zhuang Z. ; Gu S. ; Kaspar R. B. ; Zheng J. ; Wang J. ; Qiu S. ; Yan Y. Nat. Commun. 2014, 5, 4503. |
| 74 | Palkovits R. ; Antonietti M. ; Kuhn P. ; Thomas A. ; Schüth F. Angew. Chem. Int. Ed. 2009, 48, 6909. |
| 75 | Chan-Thaw C. E. ; Villa A. ; Katekomol P. ; Su D. ; Thomas A. ; Prati L. Nano Lett. 2010, 10, 537. |
| 76 | Chan-Thaw C. E. ; Villa A. ; Prati L. ; Thomas A. Chem. Eur. J. 2011, 17, 1052. |
| 77 | Peng Y. ; Wong W. K. ; Hu Z. ; Cheng Y. ; Yuan D. ; Khan S. A. ; Zhao D. Chem. Mater. 2016, 28, 5095. |
| 78 | Colson J. W. ; Woll A. R. ; Mukherjee A. ; Levendorf M. P. ; Spitler E. L. ; Shields V. B. ; Spencer M. G. ; Park J. ; Dichtel W. R. Science 2011, 332, 228. |
| 79 | Bojdys M. J. ; Jeromenok J. ; Thomas A. ; Antonietti M. Adv. Mater. 2010, 22, 2202. |
| 80 | Kappe C. O. Angew. Chem. Int. Ed. 2004, 43, 6250. |
| 81 | Kappe C. O. ; Dallinger D. Mol. Divers. 2009, 13, 71. |
| 82 | Campbell N. L. ; Clowes R. ; Ritchie L. K. ; Cooper A. I. Chem. Mater. 2009, 21, 204. |
| 83 | Biswal B. P. ; Chandra S. ; Kandambeth S. ; Lukose B. ; Heine T. ; Banerjee R. J. Am. Chem. Soc. 2013, 135, 5328. |
| 84 | Tilford R. W. ; Gemmill W. R. ; zur Loye H. C. ; Lavigne J. J. Chem. Mater. 2006, 18, 5296. |
| 85 | Tilford R. W. ; Mugavero S. J. ; Pellechia P. J. ; Lavigne J. J. Adv. Mater. 2008, 20, 2741. |
| 86 | Yang C.-X. ; Liu C. ; Cao Y.-M. ; Yan X. -P. Chem. Commun. 2015, 51, 12254. |
| 87 | Nagai A. ; Guo Z. ; Feng X. ; Jin S. ; Chen X. ; Ding X. ; Jiang D. Nat. Commun. 2011, 2, 536. |
| 88 | Ding S.-Y. ; Gao J. ; Wang Q. ; Zhang Y. ; Song W.-G. ; Su C.-Y. ; Wang W. J. Am. Chem. Soc. 2011, 133, 19816. |
| 89 | Kandambeth S. ; Venkatesh V. ; Shinde D. B. ; Kumari S. ; Halder A. ; Verma S. ; Banerjee R. Nat. Commun. 2015, 6, 6786. |
| 90 | Xu H. ; Gao J. ; Jiang D. Nature Chem. 2015, 7, 905. |
| 91 | Kandambeth S. ; Shinde D. B. ; Panda M. K. ; Lukose B. ; Heine T. ; Banerjee R. Angew. Chem. 2013, 125, 13290. |
| 92 | Zhao S. ; Dong B. ; Ge R. ; Wang C. ; Song X. ; Ma W. ; Wang Y. ; Hao C. ; Guo X. ; Gao Y. RSC Adv. 2016, 6, 38774. |
| 93 | Huang N. ; Krishna R. ; Jiang D. J. Am. Chem. Soc. 2015, 137, 7079. |
| 94 | Stegbauer L. ; Hahn M. W. ; Jentys A. ; Savasci G. ; Ochsenfeld C. ; Lercher J. A. ; Lotsch B. V. Chem. Mater. 2015, 27, 7874. |
| 95 | Lin S. ; Diercks C. S. ; Zhang Y.-B. ; Kornienko N. ; Nichols E. M. ; Zhao Y. ; Paris A. R. ; Kim D. ; Yang P. ; Yaghi O. M. ; Chang C. J. Science 2015, 349, 1208. |
| 96 | Stegbauer L. ; Schwinghammer K. ; Lotsch B. V. Chem. Sci 2014, 5, 2789. |
| 97 | Waller P. J. ; Lyle S. J. ; Osborn Popp T. M. ; Diercks C. S. ; Reimer J. A. ; Yaghi O. M. J. Am. Chem. Soc. 2016, 138, 15519. |
| 98 | Schlapbach L. ; Züttel A. Nature 2001, 414, 353. |
| 99 | Graetz J. Chem. Soc. Rev. 2009, 38, 73. |
| 100 | Lin C.-Y. ; Zhang L. ; Zhao Z. ; Xia Z. Adv. Mater. 2017, 1606635. |
| 101 | Corma A. Chem. Rev. 1997, 97, 2373. |
| 102 | Kalidindi S. B. ; Yusenko K. ; Fischer R. A. Chem. Commun. 2011, 47, 8506. |
| 103 | Wang X. ; Han X. ; Zhang J. ; Wu X. ; Liu Y. ; Cui Y. J. Am. Chem. Soc. 2016, 138, 12332. |
| 104 | Xu H.-S. ; Ding S.-Y. ; An W.-K. ; Wu H. ; Wang W. J. Am. Chem. Soc. 2016, 138, 11489. |
| 105 | Sun Q. ; Aguila B. ; Perman J. ; Nguyen N. Ma. S. J. Am. Chem. Soc. 2016, 138, 15790. |
| 106 | Pachfule P. ; Panda M. K. ; Kandambeth S. ; Shivaprasad S. M. ; Díaz D. D. ; Banerjee R. J. Mater. Chem. A. 2014, 2, 7944. |
| 107 | Ding X. ; Chen L. ; Honsho Y. ; Feng X. ; Saengsawang O. ; Guo J. ; Saeki A. ; Seki S. ; Irle S. ; Nagase S. ; Parasuk V. ; Jiang D. J. Am. Chem. Soc. 2011, 133, 14510. |
| 108 | Huang N. ; Ding X. ; Kim J. ; Ihee H. ; Jiang D. Angew. Chem. 2015, 127, 8828. |
| 109 | Butchosa C. ; Mcdonald T. O. ; Cooper A. I. ; Adams D. J. ; Zwijnenburg M. A. J. Phys. Chem. C. 2014, 118, 4314. |
| 110 | Chandra S. ; Chowdhury D. R. ; Addicoat M. ; Heine T. ; Paul A. ; Banerjee R. Chem. Mater 2017, 29, 2074. |
| 111 | Doonan C. J. ; Tranchemontagne D. J. ; Glover T. G. ; Hunt J. R. ; Yaghi O. M. Nat. Chem. 2010, 2, 235. |
| 112 | Wan S. ; Guo J. ; Kim J. ; Ihee H. ; Jiang D. Angew. Chem. 2008, 120, 8958. |