| | | |
| --- | --- | --- |
| REVIEW | | |
Recent Progress on Electrochemical Reduction of Carbon Dioxide
Xiao-Fang BAI1,2,Wei CHEN2,*(

),Bai-Yin WANG1,2,Guang-Hui FENG1,2,Wei WEI2,Zheng JIAO1,Yu-Han SUN2,*(

)
1 Shool of Environmental and Chemical Engineering, Shanghai University, Shanghai 200444, P. R. China
2 CAS Key Laboratory of Low-carbon Conversion Science and Engineering, Shanghai Advanced Research Institute, Chinese Academy of Sciences, Shanghai 201210, P. R. China
Abstract
Conversion of carbon dioxide (CO2) to value-added chemicals and fuels driven by low-grade renewable electricity is of significant interest since it serves the dual purpose of reducing atmospheric content of CO2 by utilizing it as a feedstock and storing it in the form of high-energy-density fuels. In this regard, there are an increasing number of interesting developments taking place in the popular research focus area of electrochemical reduction of CO2. This review first introduces the general principles of CO2 electroreduction. Next, the latest progress relating to electrocatalytic materials and experimental and theoretical studies of the reaction mechanism has been discussed. Finally, the challenges and prospects for further development of CO2 electroreduction have been presented.
Received: 10 April 2017 Published: 13 June 2017
Fund: the Ministry of Science and Technology, China(2016YFA0202800);the Hundred Talents Program of Chinese Academy of Sciences, China
Corresponding Authors: Wei CHEN,Yu-Han SUN E-mail: chenw@sari.ac.cn;sunyh@sari.ac.cn
Table 1
Half reactions and potentials of CO2 electrochemical reduction reactions7.

Fig 1 Characterization and Tafel analysis of np-Ag11.

(a) A schematic diagram of a nanopore of the silver electrocatalyst with highly curved internal surface. (b) Scanning electron micrograph (scale bar, 500?nm). (c) High-resolution transmission electron micrograph (scale bar, 2?nm). (d) Tafel slope analyses.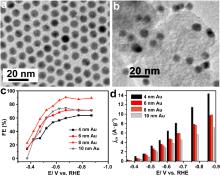 Fig 2 Characterization and Electrocatalytic performance of Au NPs39.

TEM images of (a) the 8 nm Au NPs and (b) the C-Au NPs. (c) CO FEs. (d) Current densities for CO formation.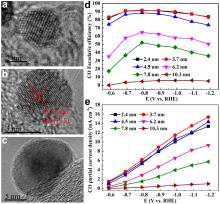 Fig 3 Characterization and Electrocatalytic performance of Pd NPs40.

TEM image and HRTEM images of (a) 3.7, (b) 6.2, and (c) 10.3 nm Pd, (d) Faradaic efficiencies and (e) current densities for CO production.
Fig 4 Characterizations for the partially oxidized Co 4-atom-thick layers obtained at 220 ℃ for 3 h 50.

(a) High-resolution TEM image. (b, c) Enlarged high-resolution TEM images. (d, e) The related schematic atomic models. (F–h) Elemental mapping. (i) Faradaic efficiency of formate.

Fig 5 (a) SEM image of a polycrystalline Cu foil annealed at 500 ℃ for 12 h after CO2 reduction electrocatalysis at ?0.5 V (vs RHE). (b) Faradaic efficiencies for the production of CO and HCOOH29.

Fig 6 Morphological and chemical analysis of plasma-activated Cu foils55. EDS elemental maps of Cu foils treated with O2 plasma for before and after reaction, (a) 20 W 2 min; (b) 100 W 2 min; and (c) 100 W 2 min + H2 plasma. (d) Faradaic efficiency of C2H4.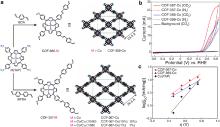 Fig 7 Space-filling structural models and electrochemical performance of cobalt porphyrin‐based 2D covalent organic frameworks60.

(a) structural models, (b) Cyclic voltammograms, (c) Tafel plots.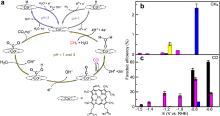 Fig 8 Proposed mechanistic scheme and FE of carbon dioxide reduction on Co protoporphyrin30. (a) Proposed mechanistic scheme, (b) FE of CH4, (c) FE of CO.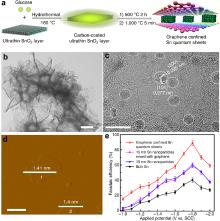 Fig 9 Formation process and characterizations of the Sn quantum sheets confined in grapheme78.

(a) Scheme illustration for the formation of Sn quantum sheets confined in graphene, (b) TEM image, (c) HRTEM image, (d) AFM image, (e) electrocatalytic performances of the composites at different potentials.

Fig 10 (a) Current densities at different potentials, (b) Tafel plots of the products87.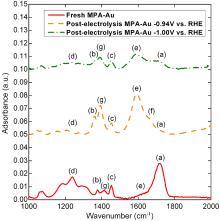 Fig 11 Comparison of ATR-IR spectra for MPA modified Au90.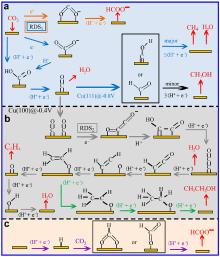 Fig 12 Possible reaction pathways for the electrocatalytic reduction of CO2 to products on transition metals and molecular catalysts7. (a) pathways from CO2 to CO, CH4, CH3OH, and HCOO-; (b) pathways from CO2 to ethylene and ethanol; (c) pathway of CO2 insertion into a metal–H bond yielding formate.
| | |
| --- | --- |
| 1 | Goeppert A. ; Czaun M. ; Jones J. P. ; Surya Prakash G. K. ; Olah G. A. Chem. Soc. Rev. 2014, 46, 7995. |
| 2 | Windle C. D. ; Reisner E. Chimia 2015, 69, 435. |
| 3 | Pakhare D. ; Spivey J. Chem. Soc. Rev. 2014, 43, 7813. |
| 4 | Kondratenko E. V. ; Mul G. ; Baltrusaitis J. ; Larrazábal G. O. ; Pérezramírez J. Energy Environ. Sci. 2013, 6, 3112. |
| 5 | Hanc-Scherer F. A. ; Montiel M. A. ; Montiel V. ; Herrero E. ; Sánchez-Sánchez C. M. Phys. Chem. Chem. Phys. 2015, 17, 23909. |
| 6 | http://djfj.renewable.org.cn (accessed March 31, 2017). |
| 7 | Kortlever R. ; Shen J. ; Schouten K. J. P. ; Calle-Vallejo F. ; Koper M. T. M. J. Phys. Chem. Lett. 2015, 6, 4073. |
| 8 | Zhang X. ; Wu Z. S. ; Zhang X. ; Li L. W. ; Li Y. Y. ; Xu H. M. ; Li X. X. ; Yu X. L. ; Zhang Z. S. ; Liang Y. Y. ; Wang H. L. Nat. Commun. 2017, 8, 14675. |
| 9 | Appel A. M. ; Bercaw J. E. ; Bocarsly A. B. ; Dobbek H. ; Dubois D. L. ; Dupuis M. ; Ferry J. G. ; Fujita E. ; Hille R. ; Kenis P. J. A. Chem. Rev. 2013, 113, 6621. |
| 10 | Lu Q ; Rosen J ; Jiao F. Chemcatchem 2015, 46, 2. |
| 11 | Lu Q. ; Rosen J. ; Zhou Y. ; Hutchings G. S. ; Kimmel Y. C. ; Chen J. G. ; Jiao F. Nat. Commun. 2014, 5, 3242. |
| 12 | Rosen J. ; Hutchings G. S. ; Lu Q. ; Rivera S. ; Zhou Y. ; Vlachos D. G. ; Jiao F. ACS Catal. 2015, 5, 4293. |
| 13 | Wang Q. Q. ; Chen C. Z. ; Zhong J. H. ; Zhang B. ; Cheng Z. M. Aust. J. Chem. 2016, 3, 293. |
| 14 | Ma S. ; Lan Y. ; Perez G. M. J. ; Moniri S. ; Kenis P. J. A. Chemsuschem 2014, 7, 866. |
| 15 | Hsieh Y. C. ; Senanayake S. D. ; Zhang Y. ; Xu W. ; Polyansky D. E. ACS Catal. 2015, 46, 2584. |
| 16 | Kim D. ; Resasco J. ; Yu Y. ; Asiri A. M. ; Yang P. Nat. Commun. 2014, 5, 4948. |
| 17 | Kortlever R. ; Peters I. ; Koper S. ; Koper M. T. M. ACS Catal. 2015, 5, 3916. |
| 18 | Rasul S. ; Anjum D. H. ; Jedidi A. ; Minenkov Y. ; Cavallo L. ; Takanabe K. Angew. Chem., Int. Ed. 2014, 127, 2174. |
| 19 | Liu Y. ; Chen S. ; Quan X. ; Yu H. J. Am. Chem. Soc. 2016, 137, 11631. |
| 20 | Varela A. S. ; Ranjbar ; Sahraie N. ; Steinberg J. ; Ju W. ; Oh H. S. ; Strasser P. Angew. Chem., Int. Ed. 2015, 127, 10908. |
| 21 | Asadi M. ; Kumar B. ; Behranginia A. ; Rosen B. A. ; Baskin A. ; Repnin N. ; Pisasale D. ; Phillips P. ; Zhu W. ; Haasch R. Nat. Commun. 2014, 5, 4470. |
| 22 | Nakata K. ; Ozaki T. ; Terashima C. ; Fujishima A. ; Einaga Y. Angew. Chem. 2014, 126, 890. |
| 23 | Hoang T. H. ; Ma S. ; Gold J. I. ; Kenis P. J. A. ; Gewirth A. A. ACS Catal. 2017, 7, 3313. |
| 24 | Rosen J. ; Hutchings G. S. ; Lu Q. ; Forest R. V. ; Moore A. ; Jiao F. ACS Catal. 2015, 5, 4586. |
| 25 | Kuhl K. P. ; Hatsukade T. ; Cave E. R. ; Abram D. N. ; Kibsgaard J. ; Jaramillo T. F. J. Am. Chem. Soc. 2014, 136, 14107. |
| 26 | Lum Y. ; Kwon Y. ; Lobaccaro P. ; Chen L. ; Clark E. L. ; Bell A. T. ; Ager J. W. ACS Catal. 2015, 202. |
| 27 | Zhang S. ; Kang P. ; Bakir M. ; Lapides A. M. ; Dares C. J. ; Meyer T. J. Proc. Natl. Acad. Sci. 2015, 112, 15809. |
| 28 | Li F. ; Zhao S. F. ; Chen L. ; Khan A. ; Macfarlane D. R. ; Zhang J. Energy Environ. Sci. 2015, 9, 216. |
| 29 | Li C. W. ; Kanan M. W. J. Am. Chem. Soc. 2012, 134, 7231. |
| 30 | Shen J. ; Kortlever R. ; Kas R. ; Birdja Y. Y. ; Diaz-Morales O. ; Kwon Y. ; Ledezma-Yanez I. ; Schouten K. J. P. ; Mul G. ; Koper M. T. M. Nat. Commun. 2015, 6, 8177. |
| 31 | Zhu W. ; Michalsky R. ; Metin ?. ; Lv H. ; Guo S. ; Wright C. J. ; Sun X. ; Peterson A. A. ; Sun S. J. Am. Chem. Soc. 2013, 135, 16833. |
| 32 | Costentin C. ; Robert M. ; Saveant J. M. Chem. Soc. Rev. 2012, 42, 2423. |
| 33 | Qu Y. ; Duan X. Chem. Soc. Rev. 2013, 42, 2568. |
| 34 | Qiao J. ; Liu Y. ; Hong F. ; Zhang J. Chem. Soc. Rev. 2013, 43, 631. |
| 35 | Back S. ; Yeom M. S. ; Jung Y. ACS Catal. 2015, 5, 5089. |
| 36 | Baturina O. A. ; Lu Q. ; Padilla M. A. ; Xin L. ; Li W. ; Serov A. ; Artyushkova K. ; Atanassov P. ; Xu F. ; Epshteyn A. ; Brintlinger T. ; Schuette M. ; Collins G. E. ACS Catal. 2014, 4, 3682. |
| 37 | Zhu W. ; Zhang Y. J. ; Zhang H. ; Lv H. ; Li Q. ; Michalsky R. ; Peterson A. A. ; Sun S. J. Am. Chem. Soc. 2014, 136, 16132- 16135. |
| 38 | Li Q. ; Sun S. Nano Energy. 2016, 29, 178- 197. |
| 39 | Zhu W. ; Michalsky R. ; Lv H. ; Guo S. ; Wright C. J. ; Sun X. ; Peterson A. A. ; Sun S. J. Am. Chem. Soc. 2013, 135, 16833. |
| 40 | Gao D. ; Zhou H. ; Wang J. ; Miao S. ; Yang F. ; Wang G. ; Wang J. ; Bao X. J. Am. Chem. Soc. 2015, 137, 4288. |
| 41 | Peterson A. A. ; N?rskov J. K. J. Phys. Chem. Lett. 2012, 3, 251. |
| 42 | Hansen H. A. ; Varley J. B. ; Peterson A. A. ; N?rskov J. K. J. Phys. Chem. Lett. 2013, 4, 388. |
| 43 | Luc W. ; Collins C. ; Wang S. ; Xin H. ; He K. ; Kang Y. ; Jiao F. J. Am. Chem. Soc. 2017, 139, 1885. |
| 44 | Zhong H. ; Qiu Y. ; Zhang T. ; Li X. ; Zhang H. ; Chen X. J. Mater. Chem. A 2016, 4, 13746. |
| 45 | Lv W. ; Zhou J. ; Bei J. ; Zhang R. ; Wang L. ; Xu Q. ; Wang W. Appl. Surf. Sci. 2017, 393, 191. |
| 46 | Chen Y. ; Li C. W. ; Kanan M. W. J. Am. Chem. Soc. 2012, 134, 19969. |
| 47 | Li C. W. ; Ciston J. ; Kanan M. W. Nature 2014, 508, 504. |
| 48 | Chen Y. ; Kanan M. W. J. Am. Chem. Soc. 2012, 134, 1986. |
| 49 | Sun Y. ; Gao S. ; Lei F. ; Xiao C. ; Xie Y. Acc. Chem. Res. 2015, 48, 3. |
| 50 | Gao S. ; Lin Y. ; Jiao X. ; Sun Y. ; Luo Q. ; Zhang W. ; Li D. ; Yang J. ; Xie Y. Nature 2016, 529, 68. |
| 51 | Zhang S. ; Kang P. ; Meyer T. J. J. Am. Chem. Soc. 2014, 136, 1734. |
| 52 | Gu J. ; Wuttig A. ; Krizan J. W. ; Hu Y. ; Detweiler Z. M. ; Cava R. J. ; Bocarsly A. B. J. Phys. Chem. C 2013, 117, 12415. |
| 53 | Watkins J. D. ; Bocarsly A. B. ChemSusChem. 2014, 7, 284. |
| 54 | Gao S. ; Sun Z. ; Liu W. ; Jiao X. ; Zu X. ; Hu Q. ; Sun Y. ; Yao T. ; Zhang W. ; Wei S. ; Xie Y. Nat. Commun. 2017, 8, 14503. |
| 55 | Mistry H. ; Varela A. S. ; Bonifacio C. S. ; Zegkinoglou I. ; Sinev I. ; Choi Y. W. ; Kisslinger K. ; Stach E. A. ; Yang J. C. ; Strasser P. ; Cuenya B. R. Nat. Commun. 2016, 7, 12123. |
| 56 | Chen L. ; Guo Z. ; Wei X. G. ; Gallenkamp C. ; Bonin J. ; Anxolabéhère-Mallart E. ; Lau K. C. ; Lau T. C. ; Robert M. J. Am. Chem. Soc. 2015, 137, 10918. |
| 57 | Costentin C. ; Savéant J. M. Science 2012, 338, 90. |
| 58 | Yao S. A. ; Ruther R. E. ; Zhang L. ; Franking R. A. ; Hamers R. J. ; Berry J. F. J. Am. Chem. Soc. 2017, 134, 15632. |
| 59 | Tornow C. E. ; Thorson M. R. ; Ma S. ; Gewirth A. A. ; Kenis P. J. J. Am. Chem. Soc. 2012, 134, 19520. |
| 60 | Lin S. ; Diercks C. S. ; Zhang Y. B. ; Kornienko N. ; Nichols E. M. ; Zhao Y. ; Paris A. R. ; Kim D. ; Yang P. ; Yaghi O. M. Science 2015, 349, 1208. |
| 61 | Hod I. ; Farha O. K. ; Hupp J. T. Nat. Mater. 2015, 14, 1192. |
| 62 | Kornienko N. ; Zhao Y. ; Kley C. S. ; Zhu C. ; Kim D. ; Lin S. ; Chang C. J. ; Yaghi O. M. ; Yang P. J. Am. Chem. Soc. 2015, 137, 14129. |
| 63 | Hod I. ; Sampson M. D. ; Deria P. ; Kubiak C. P. ; Farha O. K. ; Hupp J. T. Acs Catal. 2015, 5, 6302. |
| 64 | Hinogami R. ; Yotsuhashi S. ; Deguchi M. ; Zenitani Y. ; Hashiba H. ; Yamada Y. ECS Electrochem. Lett. 2012, 1, 17. |
| 65 | Senthil K. R. ; Senthil Kumar S. ; Anbu Kulandainathan M. Electrochem. Commun. 2012, 25, 70. |
| 66 | Kang X. ; Zhu Q. ; Sun X. ; Hu J. ; Zhang J. ; Liu Z. ; Han B. Chem. Sci. 2016, 7, 266. |
| 67 | Roberts F. S. ; Kuhl K. P. ; Nilsson A. Angew. Chem.Int. Ed. 2015, 54, 5179. |
| 68 | Kas R. ; Kortlever R. ; Milbrat A. ; Koper M. T. M. ; Mul G. ; Baltrusaitis J. Phys. Chem. Chem. Phys. 2014, 16, 12194. |
| 69 | Kuhl K. P. ; Cave E. R. ; Abram D. N. ; Jaramillo T. F. Energ.Environ. Sci. 2012, 5, 7050. |
| 70 | Zhang Z. ; Qi Z. M. ; Zhang R. J. Acta Phys. -Chim. Sin. 2012, 28, 1163. |
| 70 | 张喆; 祁志美; 张蓉君. 物理化学学报, 2012, 28, 1163. |
| 71 | Zuo K. ; Liang S. ; Liang P. ; Zhou X. ; Sun D. ; Zhang X. ; Huang X. Bioresour. Technol. 2015, 185, 426. |
| 72 | Katuri K. P. ; Werner C. M. ; Jimenez-Sandoval R. J. ; Chen W. ; Jeon S. ; Logan B. E. ; Lai Z. ; Amy G. L. ; Saikaly P. E. Environ. Sci. Technol. 2014, 48, 12833. |
| 73 | Kas R. ; Hummadi K. K. ; Kortlever R. ; de Wit P. ; Milbrat A. ; Luiten-Olieman M. W. J. ; Benes N. E. ; Koper M. T. M. ; Mul G. Nat. Commun. 2016, 7, 10748. |
| 74 | Chen S. ; Duan J. ; Ran J. ; Jaroniec M. ; Qiao S. Z. Energy Environ. Sci. 2013, 6, 3693. |
| 75 | Gao S. ; Jiao X. ; Sun Z. ; Zhang W. ; Sun Y. ; Wang C. ; Hu Q. ; Zu X. ; Yang F. ; Yang S. Angew. Chem. Int. Ed. 2016, 128, 708. |
| 76 | Liang L. ; Lei F. ; Gao S. ; Sun Y. ; Jiao X. ; Wu J. ; Qamar S. ; Xie Y. Angew. Chem. Int. Ed. 2015, 54, 13971. |
| 77 | Deng J. ; Ren P. ; Deng D. ; Bao X. Angew.Chem. Int. Ed. 2015, 54, 2100. |
| 78 | Lei F. ; Liu W. ; Sun Y. ; Xu J. ; Liu K. ; Liang L. ; Yao T. ; Pan B. ; Wei S. ; Xie Y. Nat. Commun. 2016, 7, 12697. |
| 79 | Wu J. ; Yadav R. M. ; Liu M. ; Sharma P. P. ; Tiwary C. S. ; Ma L. ; Zou X. ; Zhou X-D ; Yakobson B. I. ; Lou J. ; Ajayan P. M. ACS Nano 2015, 9, 5364. |
| 80 | Wu J. ; Liu M. ; Sharma P. P. ; Yadav R. M. ; Ma L. ; Yang Y. ; Zou X. ; Zhou X-D ; Vajtai R. ; Yakobson B. I. ; Lou J. ; Ajayan P. M. Nano Lett. 2016, 16, 466. |
| 81 | Kumar B. ; Asadi M. ; Pisasale D. ; Sinha-Ray S. ; Rosen B. A. ; Haasch R. ; Abiade J. ; Yarin A. L. ; Salehi-Khojin A. Nat. Commun. 2013, 4, 2819. |
| 82 | Zhang S. ; Kang P. ; Ubnoske S. ; Brennaman M. K. ; Song N. ; House R. L. ; Glass J. T. ; Meyer T. J. J. Am. Chem. Soc. 2014, 136, 7845. |
| 83 | Sreekanth N. ; Nazrulla M. A. ; Vineesh T. V. ; Sailaja K. ; Phani K. L. Chem. Commun. 2015, 51, 16061. |
| 84 | Wu J. ; Ma S. ; Sun J. ; Gold J. I. ; Tiwary C. ; Kim B. ; Zhu L. ; Chopra N. ; Odeh I. N. ; Vajtai R. ; Yu A. Z. ; Luo R. ; Lou J. ; Ding G. ; Kenis P. J. A. ; Ajayan P. M. Nat. Commun. 2016, 7, 13869. |
| 85 | Prakash G. K. S. ; Viva F. A. ; Olah G. A. J. Power Sources 2013, 223, 68. |
| 86 | Se ok ; Ki K. ; Yin-Jia Z. ; Helen B. ; Ronald M. ; Andrew P. ACS Catal. 2016, 6, 2003. |
| 87 | Hatsukade T. ; Kuhl K. P. ; Cave E. R. ; Abram D. N. ; Jaramillo T. F. Phys. Chem. Chem. Phys. 2014, 16, 13814. |
| 88 | Alves D. C. B. ; Silva R. ; Voiry D. ; Asefa T. ; Chhowalla M. Mater. Renew. Sustain. Energy 2015, 4, 2. |
| 89 | Baruch M. F. ; Pander J. E. ; White J. L. ; Bocarsly A. B. ACS Catal. 2015, 5, 3148. |
| 90 | Fang Y. ; Flake J. C. J. Am. Chem. Soc. 2017, 139, 3399. |
| 91 | Morais J. P. ; Rosa M. F. ; De S. F. M. S. ; Nascimento L. D. ; do Nascimento D. M. ; Cassales A. R. Carbohydr. Polym. 2013, 91, 229. |
| 92 | Shi L. ; Liu Q. ; Guo X. ; Wu W. ; Liu Z. Fuel Process. Technol. 2013, 108, 125. |
| 93 | Puthiyapura V. K. ; Dan J. L. B. ; Russell A. E. ; Lin W. F. ; Hardacre C. ACS Appl. Mater. Interfaces. 2016, 8, 12859. |
| 94 | Calle-Vallejo F. ; Koper M. T. M. Electrochim. Acta 2012, 84, 3. |
| 95 | Wu Z. ; Lv Y. ; Xia Y. ; Webley P. A. ; Zhao D. J. Am. Chem. Soc. 2012, 134, 2236. |
| 96 | Kong B. ; Selomulya C. ; Zheng G. ; Zhao D. Chem. Soc. Rev. 2015, 44, 7997. |
| 97 | Tang J. ; Liu J. ; Torad N. L. ; Kimura T. ; Yamauchi Y. Nano Today 2014, 9, 305. |
| 98 | Malgras V. ; Ataee-Esfahani H. ; Wang H. ; Jiang B. ; Li C. ; Wu K. C. W. ; Kim J. H. ; Yamauchi Y. Adv Mater. 2016, 28, 993. |
| 99 | Hall A. S. ; Yoon Y. ; Wuttig A. ; Surendranath Y. J. Am. Chem. Soc. 2015, 137, 14834. |
| 100 | Jones J. P. ; Prakash G. K. S. ; Olah G. A. Isr. J. Chem. 2014, 54, 1451. |
| 101 | Liu Y. ; Chen S. ; Quan X. ; Yu H. J. Am. Chem. Soc. 2015, 137, 11631. |